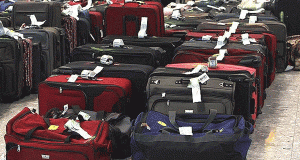 Want to make sure you're making a smart move when you look at the best penny stocks to buy now?
Want to avoid the bad baggage?
Be skeptical.  In fact, even if you're an optimist by nature, set your sunny disposition aside when it comes to investing in penny stocks.
You should operate on the basis that if something is going to go wrong, it will.
If you are looking at a company where a lot of different things need to go right in order to make a decent profit, you're probably looking at an investment that won't work out.
As you probably know, a lot of investing success is driven by psychology.
We Americans are by and large an optimistic lot.  It's in our nature.  Our families came here as immigrants and our families figured we would make a better life here.
Looking for things to get better is literally in our DNA.
But looking for things to get better can be dangerous when you're looking for the best penny stocks to watch.
We get excited about trends like renewable energy.
Are there opportunities?  Sure… you can find some great penny stocks to buy in renewable energy.
Just don't confuse a business sector you like with a good penny stock.
The Best Penny Stocks To Buy Now Don't Have Baggage
What kind of baggage?
Well, first of all there's debt.  Why invest in a company where the balance sheet reeks of debt when you can find a company that's in healthier shape?
Optimists figure the company will start to generate revenue, pay off the debt, and become profitable.
Pessimists figure that before there's even a shot at paying down the debt, the company needs to bring in some revenue, and they don't bank on this.
Revenue should never be assumed.  Even when the so-called experts say that things are looking good, be skeptical.  Proceed with caution when you're buying penny stocks.
The same goes with forecasts, outlooks, and earnings guidance you get directly from the company.  When you hear the CEO tell you that there are some promising deals in the works, don't get too excited.
There are all kinds of other baggage…
Lawsuits, the departure of a key employee, a well-funded new competitor.  The list is long.
The less baggage, the better.
So if this is what you DON'T want in a penny stock, what's the #1 thing you DO want?
Profit margin growth.
Unless profit margins are growing, the company is going nowhere.  Except maybe out of business.
Want to see what happens when profit margin growth slows down?
This Penny Stock Is Going South
Sirius XM Holdings $SIRI is a satellite radio company.
Net income is skidding… for the quarter ending June 30th, 2015, it was $103 million.
The quarter ending September 30th 2014, it was $136 million.
That's a 24% slide.
This means the company can't make meaningful progress paying off its debt, which is huge, more than $4.4 billion.  At the end of 2012, long-term debt was $2.4 billion.
Long-term debt soaring, revenue skidding… how can you possibly find something about this company to be optimistic about?
Sirius executives sell the sizzle, not the substance.
They like to talk about their programming content, not their financials.
Superstar guests like Keith Richards and Don Henley are terrific.  So are NFL play-by-play broadcasts.
But what needs to be tackled at Sirius XM is debt.  Massive debt and revenues that are stuck in neutral.
Also stuck in neutral is the $SIRI stock price…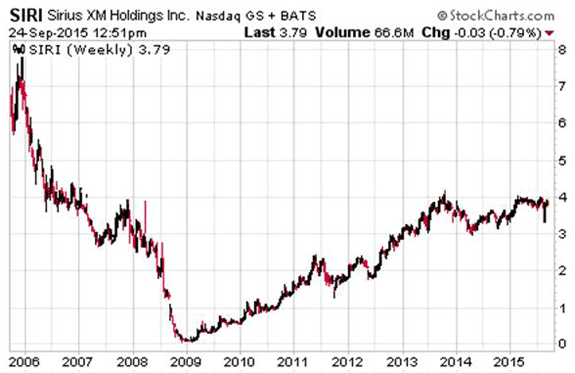 What happened back in 2009?
Investors rushed into Sirius XM because they thought Liberty Media, run by John Malone, would acquire the company.
Liberty did take a 50% position, but a few years later, it soured on Sirius and dropped a bid to acquire the rest of the company.
Pessimism Pays Off
When you see a smart guy like John Malone back off, you learn two things.
First, admitting a mistake might not be good for your ego, but it's good for your net worth.
Second, a little old-fashioned skepticism is fine.
Being skeptical about a company's future, even a company you've invested a lot of money in, is healthy behavior.
It just might keep you from riding a penny stock down the chute to bankruptcy.
So there you go.  A good reason why you should be skeptical, maybe even a little bit grumpy, when you're sizing up penny stocks.
Don't let the glitz and glamor like the stuff Sirius tries to spin blind you to ugly financial facts tucked away backstage.
Don't let big names like Don Henley and Keith Richards take your eye off the ball… the revenues, the income, the rate of income growth, and what kind of job the company's doing paying down whatever debt it has.
If you have a question about a stock or investment idea, shoot us an email or leave us a comment on the website.
Better yet, if you own Sirius XM, or you're planning to buy it, shoot me an email and let me know why!
Good investing…
Brian Kent
Note:  If you're interested in learning more about Brian Kent's Penny Stock All-Stars premium service… and learning about the stocks we're trading for profit… you can get the inside scoop on penny stocks here.
Category: Trading Penny Stocks