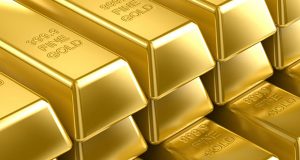 Gold has been in a state of flux for some time now.  After reaching a 52-week high in October of last year, gold started another multi-month decline.  Along the way, the world's second-largest ETF, SPDR Gold Shares (GLD), has fallen right along with the spot price of gold (as we'd expect).
Now, when looking at the two-year chart of gold and GLD, the bulls are making an argument that this is simply a consolidation before yet another move higher as it trades between $1,550 and $1,800.
Take a look at the chart to see for yourself…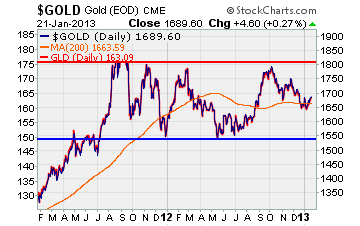 As you can see, the precious metal bounced off of the $1,540 level last June and shot straight up to almost $1,800 an ounce.  But since then, the precious metal has headed back down to below the $1,700 level.
Unfortunately, the problem the bulls are facing is two-fold…
First, much of the buying of gold and its ETF counterpart GLD have centered on the premise of its role as either a safe haven or an inflation hedge.  And right now, with the EuroZone debt crisis easing, there is less demand for safe haven investments such as the Yen, US Dollar… and of course gold.
In fact, ETF Channel detected approximately $278 million in outflows from GLD.  That's a 0.4% decrease week over week.
What's more, inflation in most major countries is well under control.  In the US, the Bureau of Labor Statistics reported that in December of 2012, consumer prices gained just 1.7%… safely below the 2.0% target set by the Federal Reserve.
What is working in the favor of gold bulls is the fact that the precious metal continues to trade above its 200-day moving average (orange trend line on the chart above).  Unfortunately, technical analysis alone isn't likely to keep gold afloat.
As we well know… it always boils down to the fundamentals.
Over the next few months, if gold can't hold the $1500 level, we're bound to see it head much lower… particularly if there's no fundamental driver keeping the price elevated.  In other words, if the markets remain relatively calm and there are no big crises that ensue, gold demand should subside… and prices will fall.
With that in mind, penny stock investors owning junior mining companies should stay on their toes.  Given the responsiveness gold miners have to the price of gold, these stocks may be headed lower if gold sees a significant drop.
Of course there are exceptions to any rule…
For instance, if a junior miner drills and hits a HUGE deposit of gold, their stock often become more valuable in line with the increase in underlying assets.  As always, keep your eyes open and do your homework- the price of gold is just one factor to keep in mind.
Until next time,
Brian Walker
Category: Gold Stocks