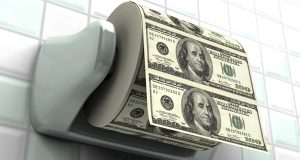 This week we're exposing one of the most popular Pump & Dumps:  Global Resource Energy (GBEN).
That said, welcome to Pump and Dump Friday, where every week we identify at least one of the many potentially "bogus" promotions going on in penny stocks today.
If you don't know how these schemes work, be sure to check out this free report that exposes the whole thing.
Without further ado, here is today's "disasters waiting to happen":
Global Resource Energy (GBEN)
Not even a single month has passed, and the pumpers are hard at work on GBEN once again…
This is now the 7th time we're exposing the paid stock promotion of Global Resource Energy.  And that's just between July of 2012 and January of 2013!  Apparently the folks over at Classic Distribution LTD have no problem sleeping at night after paying $100,000 to Research Driven Investors to pump shares of GBEN…
They've gone back to the proverbial well yet again to see if they can make more cash.  They paid $100K last month to the same pumper- so something must be working.
In addition, the same third party paid Equity Trading Alert the bargain-basement price of just $17,000.  What a deal!  And before that, Epic Stock Picks was touting these shares for just $25,000.
So the stock itself is all over the charts as you'd expect. Take a look for yourself…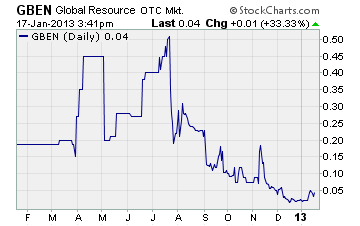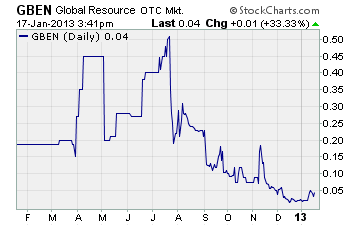 This penny stock is trading just off its lows and it looks as though the recent pumping has helped… but that the effectiveness has worn off.  Remember, back when I first warned you, it was trading around $0.45.
I'm hoping to get the new readers to our site to understand that no matter how cheap a pumped penny stock looks, nor how good the pumpers make it sound- eventually they all end up with a chart just like the one above…
From a fundamental standpoint, GBEN hasn't improved their financial performance one bit.
GBEN posted yet another quarterly loss for their October quarter of 2012.  If you don't recall, I told you the company's July quarter showed a loss of $85,000 after a first quarter's loss of $77,000 loss.  This time around, the loss is just $68,698.  And for the nine months ending October 31st, GBEN lost over $231,000!
Of course the loss isn't the scary part…
GBEN still has $0 cash and generates $0 revenue.
I asked this question in December, and I'll ask it again… do you want to buy the stock?
Now don't worry… the company only issued another 30,000 shares for the settlement of accounts payable last year.   That's what they have to do, and honestly… I'm surprised they found anyone at all to buy those shares.
Let's do some math…
At $0.043, the company issued 30,000 shares to pull in all of $1,200!  That's sad and pathetic at best.
If you still want to buy shares after what I just showed you about GBEN, then you need to have your head checked!
Other Penny Stocks Being Pumped This Week
TGRO – My Best Stock Alerts was paid $2,000
ZPPB – CF Inc. is expected to pay Global Investment Alert $100,000
A final word (and warning).
This is just one of the potential "pump and dumps" we've seen lately.
Remember, there's a lot more of this going on than we can highlight here.
As you know, penny stocks are a great place to invest your money.  You just have to do your due diligence to stay away from all the schemes and scams out there these days!
Until next time,
Brian Walker
Category: Pump & Dump Alerts