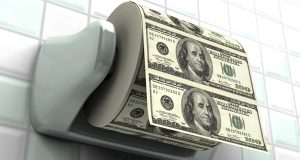 This week we're exposing one of the most popular Pump & Dumps:  Crown Marketing (CWNM).
That said, welcome to Pump and Dump Friday, where every week we identify at least one of the many potentially "bogus" promotions going on in penny stocks today.
If you don't know how these schemes work, be sure to check out this free report that exposes the whole thing.
Without further ado, here is today's "disaster waiting to happen":
Crown Marketing (CWNM)
Here we are again, dealing with yet another company with a shady, mixed up past…
Prior to 2010, Crown Marketing was known as Green4Green… so the history on CWNM is a bit thin to say the least.   With that said, the pumpers are relying on the future potential of the company, a patented controlled drug delivery technology.
The company's website looks very professional, and at quick glance a potential investor might think they're getting in on some big-time pharma company.  But nothing could be further from the truth!  Of course, the press releases have been coming fast and furious since January 16th…
Coincidence- I think not.
Given the number of pumpers and the money out there on CWNM, it comes as no great surprise.  It's a tactic often used by pumpers when they plan a big campaign.  They need to make sure the company gets news out there for them to discuss!
And there's more than just one pumper touting Crown Marketing.  Here's a partial list-
Stock Mister was paid $85,000 by Bayside Financial
Mad Money Penny Stocks was paid $60,000 by Winning Media, LLC
Buzz Stocks expects to be paid $5,000 by Galaxy, LLC
The Bull Report was paid $15,000
James Connelly and Penny Stock Prophet expect $30,000 from Winning Media, LLC
By my count, that's $195,000 being spent to pump a $0.15 stock!  And these "third parties" do stand to make more money by getting the stock pumped than by investing in the stock itself.  That's because the financials at Crown Marketing are horrid!
For the three months ending September 30, 2012 (yep, that's last year), CWNM lost $11,493 on $0 revenue.  Additionally, outstanding share count grew from the year prior- 43.4 million to 64.7 million… a roughly 50% increase in shares!
Hey, they have to pay the bills somehow, so they need to issue shares to keep the lights on.  Oh yes, cash in hand jumped from $132 in March of last year, all the way to $15,229.  And that's on $0 revenue!  (It's amazing how that happens.)
That means the shares of Crown Marketing have no underlying value… except for what future business the company may potentially become profitable in someday – maybe (if you're lucky).
After hearing all that, I hope you'll ignore the pumpers and avoid buying shares of CWNM!
Other Penny Stocks Being Pumped This Week
SWVI – Victory Stocks expects to be paid €10,000
SFPI – Shazam Stocks was paid $100,000 by Full Corp Trading Limited
A final word (and warning).
This is just one of the potential "pump and dumps" we've seen lately.
Remember, there's a lot more of this going on than we can highlight here.
As you know, penny stocks are a great place to invest your money.  You just have to do your due diligence to stay away from all the schemes and scams out there these days!
Until next time,
Brian Walker
Category: Pump & Dump Alerts