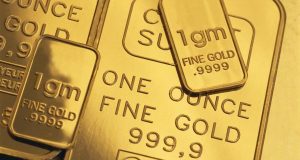 Let's start with the obvious… there's no way you're getting an ounce of gold for $4.
Instead, I offer you a way to invest in gold for just $4… something near and dear to penny stock investors everywhere.
We'll get back to that in just a minute.  First you need to know why gold is on the rise yet again.
In anticipation of more stimulus spending from the world's central banks, gold has rallied its way back up to $1,700 an ounce.  You see, if the Fed rolls out QE3 or the ECB implements a bond buying program… commodities such as gold will surge in value.
The crazy part is gold has gone on a massive run even without action being taken by either central bank!  If the Fed and/or the ECB back up their big talk, these assets will simply soar, and you're going to want to be in position to profit.
As I'm sure you're aware, there's an endless supply of gold investment options out there.  The most popular of the bunch is SPDR Gold Shares ETF (GLD).  But at roughly $164 a share, you'd better be ready to invest a bundle to see a decent return. 
Just think – if gold returns to its highs made earlier this year, you'd see around a $9 per share gain.  That's less than a 10% return, and not quite the kind of stuff speculative investors are looking for…
Certainly the cost of GLD is much lower than buying the physical asset itself.  There's no question about that.
If you're looking for an even better return from gold's pending rally, there are plenty of options left for you to choose from.  However, if you're not interested in diving into the world of futures or options, then your focus should be on gold mining stocks.
Even the small sub-segment of gold mining stocks can be tricky waters to navigate.  There's a lot to know about mining besides simply the price of gold.  And if you get into the world of gold penny stocks… issues become even more complex.
With that said, I've found a small gold mining penny stock that could serve as a great way for you to invest in gold.  And it's only about $4 a share – just like I promised…
The best part is this penny stock tracks the price of gold very closely, which is important if you're simply looking to track the spot price of gold.
The company in question is Nevsun Resources (NSU). 
Take a look at the chart below to see its correlation to gold (yellow line)…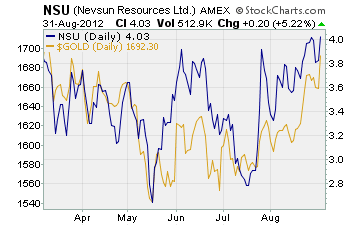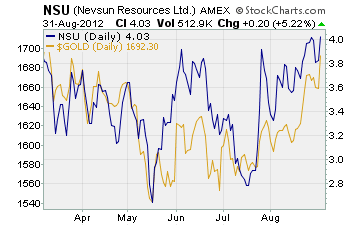 As you can see, the chart pattern is pretty similar.  That means you'll be using a $4 penny stock to track the price of gold.  And that's music to any penny stock investor's ears!
Certainly there's a much wider universe of investment options out there that you can use to invest in gold.  I mentioned a couple of them earlier.
But if you're looking for a low cost way to track the spot price of gold in anticipation of a stimulus-based rally, then shares of NSU may just be the ticket for you.
Editor's Note:  If you want to discover how to pick your own winning penny stocks, our in-house guru Gordon Lewis has created a "must read" guide showing you how to profit from individual penny stocks.  Click here to check it out.
Until next time,
Brian Walker
Category: Gold Stocks