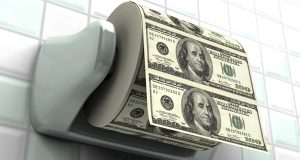 This week we're exposing these three popular Pump & Dumps:  SEFE (SEFE), Kading Companies (KDNG), and CUBA Beverage Co. (CUBV).
That said, welcome to Pump and Dump Friday, where every week we identify a few of the potentially "bogus" promotions going on in penny stocks today.
If you don't know how these schemes work, be sure to check out this free report that exposes the whole thing.
Without further ado, here are today's "disasters waiting to happen":
I thought the pump and dumpers were done abusing SEFE stock, but just like P.T. Barnum said, "There's a sucker born every minute."
Well, I know our long-term subscribers won't be fooled by the hype machine on this classic pump and dump.  All I have to do is point back to April when this penny stock was being heavily touted by Stock Digest, LLC.
For comparison purposes, Stock Digest was paid over $2.2 million to pump these shares… one of the biggest paydays I've ever witnessed.  But hey, the stock was $1.25 at the time – so there were big bucks on the line.
Fast forward to today…
Well, the pumpers this time around, Stock Appeal, picked up just $25,000 to promote shares of SEFE.  That's just a fraction of the payday – my how things have changed.
But there's a good reason for it.  Take a look at the chart below to see where SEFE shares are now…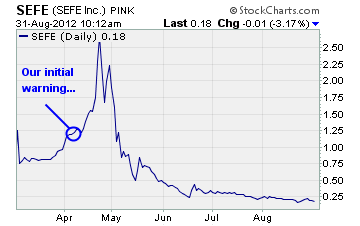 You can see the stock nearly doubled after we warned you to get out.
But right on cue, someone decided to sell out their shares and the stock price came crashing down – like it always does with pump and dumps. Now shares are trading at a loss greater than 85% from when we warned you about them.
By comparison, the $25,000 payday for the pumper is fitting… they're now hyping an $0.18 stock!
The take away here my friends is, listen when we speak.  We're not warning you for our own health and it's your money on the line.  Our cash wouldn't be anywhere near a pump and dump penny stock like this!
Kading Companies (KDNG)
I had to chuckle when I first read this name – Kading.   If you say it three times fast, it sounds like you're ringing a bell to start a boxing round.  (In this corner, ladies and gentlemen…)
Unfortunately, that's about the best thing I can say about KDNG.
If you listen to the pumpers, they'll tell you different.  Stock Chat, LLC was paid $25,000 to pump up this stock and here's the best they could come up with…
This is a company that "searches for opportunities in developed technologies that it can build a company around, technologies that can penetrate $1 billion plus marketplaces and have a unique user friendly application that are cost competitive with existing similar technologies.

This is what what caught our attention on this company, they aren't going after the small business, they are shooting straight for the big bucks.
I could spend all day tearing these lines apart, but what jumps out at me first is these guys need to learn basic grammar.  They didn't even bother to hit the spell-check button on MS Word, it would have alerted them there's a "what what" in the sentence.
Better still, how about that open ended quotation in the first line?
Ok, ok… enough abusing the writing skills.  Let's get into the real issues with KDNG – how are they going to penetrate a $1 billion marketplace with $5,541 in cash?  Seriously… that's all they're holding.  What I'd like to know is how Kading will make any acquisitions with that kind of money.
Oh, I get it… they're going to buy the little girl down the street's lemonade stand, huh?
But even that's in question…
You see, Kading's most recent complete annual report is for the year 2010 – which they just published a month ago! 
Better still, the CPA that compiled the company balance sheet openly states she didn't review the financial statements.  In the same letter, she advised that "management has elected to omit substantially all of the disclosures required by accounting principles generally accepted in the United States of America."
And that would make sense, because KDNG stock is not registered with the SEC!
Obviously, there's no reason to believe anything the pumper has to say about this $0.02 stock.  Even their own accountant says they're in trouble!
CUBA Beverage Co. (CUBV)
No, we're not exposing a Cuban company trying to pull a fast one over on investors.  Actually, someone is trying to scam possible investors – and it's the pumper.
Penny Stock Pros was paid $25,000 to hype shares of CUBV.  And the latest pumper to jump on the CUBA Beverage train is Liquid Tycoon.  They picked up a sweet $50,000 from Omnipeer, Inc. for a two day pump of this penny stock.
It's the same old hype said the same old way – "CUBV is at the forefront of creating a unique category for Herbal Energy Juices in a global energy beverage market, valued at $17 billion in sales."
Don't you love how they lump CUBV and $17 billion into the same sentence?  It's one of the oldest tricks in the pump and dump play book – validate your crappy little stock by putting it next to a meaningful statistic or company.
Of course, the pumper proceeds to highlight the technical analysis by showing you indicators like MACD and RSI.
Just filler on the page my friends… filler on the page.
Of course they won't tell you that CUBV is no longer registered with the SEC – and hasn't filed a single 10-Q with the agency since May of 1998!
What's even scarier is this company has a major identity crisis… that dates all the way back to 1980!  I won't bore you with every single name change, because there are close to half a dozen over the years.
The most recent, however, are bad enough.  It's not like they've even stayed in the same industry!
CUBV has gone from International Precious Metals (ILCI.PK) back in 2007 to Green America Land Holdings (GALH.PK) in March of 2008.   That lasted all of two years when they turned themselves into CUBV in September of 2010.
If I haven't scared you off yet, then this should do it – for the second quarter of 2012, CUBV has $0 revenue and lost $72,196.  They don't even sell anything yet!
With all the great penny stocks you could buy out there, CUBV should stay far away from your portfolio… at all costs.
A final word (and warning).
These are just a few of the potential "pump and dumps" we've seen lately.
Remember, there's a lot more of this going on than we can highlight here.
As you know, penny stocks are a great place to invest your money.  You just have to do your due diligence to stay away from all the schemes and scams out there these days!
***Editor's Note***  Just a quick note to tell you to make sure you're buying technology stocks.  The entire sector is at a 10-year high…  and looks poised to skyrocket even higher!   For trading ideas, check out this advisory.
Until next time,
Brian Walker
Category: Pump & Dump Alerts