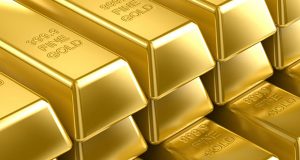 For a while now, I've been writing about the possibility of a gold rally.  Actually, it's not just me.  Lots of analysts are bullish about gold these days.  There's a general belief that gold is positioned for another run higher.
So where's the rally already?
It's been several weeks since the bullish gold talk started.  And yet, gold is within one percent of where it was trading a month ago.
Is it time to give up on gold, or is a rally still in the cards?
Here's the deal…
The major catalyst expected to drive gold prices higher is the expectation that central banks will provide stimulus to the ailing economy.
The Fed could engage in QE3 – another round of asset backed security purchases.  Plus, the ECB could buy up sovereign debt in an effort to stabilize the struggling countries in the region.
One of the chief effects of these massive stimulus measures is to flood the economy with money.  The additional money supply typically depresses the value of the dollar.  And since gold tends to move opposite the dollar… up goes gold.
The thing is, no stimulus measures have occurred – yet.  So far, the Fed and the ECB are doing nothing more than talking about stimulus.
However, that doesn't mean stimulus won't occur.  I still think it's inevitable.  For reasons we can only speculate on, the Fed and the ECB are taking their sweet time making actual decisions.
More importantly, I'm not the only one who thinks stimulus is a foregone conclusion (and gold is going higher).
You see, hedge fund billionaires John Paulson and George Soros both added significantly to their gold positions last quarter.
Paulson increased his holdings of SPDR Gold Shares (GLD) by 26% to nearly 22 million shares.  Meanwhile Soros doubled his stake in GLD to just under 900,000 shares.
Clearly, these world-class investors strongly believe a gold rally is on the way.  Not to mention, the third quarter has traditionally been a strong one for gold.
Here's the bottom line…
A gold rally hasn't happened yet, but it looks like the yellow metal could be set for a breakout in the coming weeks.  Much of it depends on when (or if) the Fed and ECB implement additional stimulus measures.
I believe now's a good time to allocate at least some of your portfolio to gold.  What's more, instead of going for expensive bullion plays like GLD, take a look at junior gold miners.  They typically trade at penny stock prices and are lagging behind gold in terms of performance this year.
***Editor's Note***  If you like the potential of biotech penny stocks, take a look at this resource.  It's an established, and legitimate, source of tiny biotech stock picks.  Click here for more.
Yours in profit,
Gordon Lewis
Category: Gold Stocks, Penny Stocks to Watch