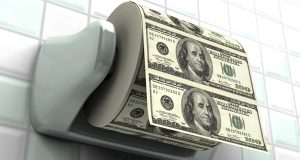 This week we're exposing these three popular Pump & Dumps:  Feel Golf (FEEL), Hollund Industrial Marine (HIMR), and Green Endeavors (GRNE).
That said, welcome to Pump and Dump Friday, where every week we identify a few of the potentially "bogus" promotions going on in penny stocks today.
If you don't know how these schemes work, be sure to check out this free report that exposes the whole thing.
Without further ado, here are today's "disasters waiting to happen":
Feel Golf (FEEL)
For any of my fellow golfers out there, I'd bet you're shocked to see Feel Golf show up in our Friday Pump and Dump Alert.  I mean, these guys make real products… and I've even taken a few swings with their wedges.
But alas, a paid stock promotion happens for a reason… to pump up shares of a company in hopes of making the third party involved some quick coin.
The pumper in question on this stock is The Penny Stock Chief.  They were paid $40,000 for touting FEEL shares… and as usual, the pumper seems to be expounding on the facts.
Of course they start off by giving an upbeat company bio in their write up, and then add in some product information.  But then it seems the pumper is taking liberty with the facts.  In this write up, the pumper says –
FEEL is well established and has offices located around the world including:
Australia
New Zealand
Canada
Germany
Switzerland
Italy
Thailand
Hong Kong
India
Netherlands
I couldn't believe a company with a handful of golf products would have "offices located around the world."  And it seems I'm right.
If you take a spin over to FEEL's own website, look under investor relations and you'll find that the company is located in Sanford, FL.  Better still, Feel Golf reports having 6 employees.  Yes, just 6!
So how could it be possible that Feel Golf has offices in 10 other countries around the globe?
Maybe the pumper is confusing offices with distributors, but I didn't see anything like that anywhere I looked.  I couldn't possibly imagine how or where the pumper picked up this info when there's nothing current on FEEL's own website.
Now, it may appear I'm focusing on these seemingly unimportant details.  But this just goes to show that paid stock promoters will say anything they believe they can get away with to try and suck you into buying shares – true or not.
Even worse, nothing was mentioned about Feel Golf's financial condition…which is a real mess!
Seeing that we're in August 2012, FEEL is way behind in reporting financial information.  The most recent complete filing is from November of last year… showing results from Q3 of 2011.  In this report, FEEL disclosed losing around $1million for the quarter.  What's more, the company lists an accumulated deficit of nearly $14 million!
And that was a year ago… things may be even worse now.
More recently, the company made an acquisition and bought Pro Line for their golf ball retrievers.  Unfortunately, things ended in April 2012 before they really got going… and FEEL is telling investors "the rescission was very costly and time consuming".
Remember, the company was already in a deep hole before this happened.  I wouldn't want to be caught holding any shares when they do release updated filings.  Of course, that's if they even make it that far.
There's a good reason this sub-penny stock is trading at $0.005 – there's not much you're getting for your money.
Hollund Industrial Marine (HIMR)
There are really strange niche companies that come across my desk every so often, but Hollund might just be one of the strangest.  Let me quote the pumper's email direct on this…
"HIMR seeks to align the interests of businesses, communities, utilities and governments by offering an integrated business model for underwater forest management."
Come again?  You're saying underwater forest?
Before I could continue reading this email from Hot Stock Profits, I had to search the internet to find out what the heck an underwater forest is.
You wouldn't believe it, but it's true.  Underwater forests do exist… but it's very rare.  For example, in Volta Lake located in Ghana, there's a major underwater forest.   There are underwater forests in reservoirs in British Columbia and even one near Lake Tahoe, CA.
Now, HIMR may be in a very niche business… but it doesn't change the fact their stock is being pumped.  Hot Stock Profits did pick up $2,500 early in August and another $2,000 just this past week to hype up shares.
While there's no doubt Hollund Industrial Marine is in a very unique business category, their financials are just as messy as the rest of the penny stocks we expose here…
For starters, their SEC registration was terminated way back in 2007.  That's not what I like to see in any of my investments.
And as of this past quarter, HIMR is using stock to pay for consultants and accrued interest.  What's more, they are sitting on an accumulated deficit of over $4.1 million.
But here's the worst part…
The company has common stock, Class A preferred, Class B preferred, and Class C preferred shares issued.  And in the past, HIMR had seen reverse stock splits of 1000:1 and 100:1.
And if that's not all, Hollund has lost their key technology, Tiger-Lynk.  They had to give it back to the former owners for release of debt.  Now that brings up the question of what the company is actually going to do from here out.
With all that's going on, it looks like HIMR is headed underwater themselves.  The stock is just about there already, trading at just $0.001.
It's pretty clear you can ignore anything the pumpers are putting out on this stock.
Green Endeavors (GRNE)
Now I've seen plenty of sub-penny stocks being pumped over the years… but rarely do you find a sub, sub, sub-penny stock being pumped.
That's what we have here with GRNE.  The stock currently trades at $0.0003 – 10,000 shares will cost you all of $3.00.  Just imagine if your broker charges by the share… it could cost you hundreds of dollars just to get $3 worth of GRNE.
And that begs the question – Who exactly would bother pumping a sub-penny stock this cheap?
Well, Microcap Innovations, LLC paid a whopping $2,500 to Penny Stock Explosion for a two day pump on GRNE shares.
But averages investors need to steer clear of GRNE.
For starters, the company posted a net loss of $319,351 last year… on more than $2.8 million in revenue.  That's certainly a red flag.
But it gets even worse…
GRNE hasn't issued any quarterly financial reports since their 2011 annual report.  That's two quarters of data that's missing in action.  So what did the company tell investors?
Check out this statement from May 11, 2012 –
"The Company is unable to timely complete the preparation of the quarterly report for the period ended March 31, 2012 as a result of the resignation of its CFO during the fourth quarter of 2011, the subsequent failure of a computer system in February of 2012 that delayed the gathering of final financial reports necessary to the compilation of the financial records for the year 2011 and that delayed the preparation of the first quarter information."
Yes, and uh… the dog ate my homework too.  That's insanity, pure insanity!
It's pretty clear you'll do yourself a favor by avoiding Green Endeavors' shares… if you can even afford the commission to buy them.
A final word (and warning).
These are just a few of the potential "pump and dumps" we've seen lately.
Remember, there's a lot more of this going on than we can highlight here.
As you know, penny stocks are a great place to invest your money.  You just have to do your due diligence to stay away from all the schemes and scams out there these days!
***Editor's Note***  Our colleague and friend over at Biotech Supertrader released the name of a "cancer drug" stock that you should take a look at.  The stock is trading in the $5 range but could be a lot higher in the near term.  Click here for details on this development.
Until next time,
Brian Walker
Category: Pump & Dump Alerts