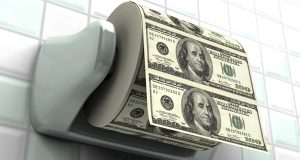 This week we're exposing these two popular Pump & Dumps:  TNI BioTech (TNIB) and Empowered Products (EMPO).
That said, welcome to Pump and Dump Friday, where every week we identify a few of the potentially "bogus" promotions going on in penny stocks today.
If you don't know how these schemes work, be sure to check out this free report that exposes the whole thing.
Without further ado, here are today's "disasters waiting to happen":
TNI BioTech (TNIB)
At first glance, TNIB looks like a straight up great biotech company.  They're researching new treatments for cancer, HIV/AIDS, and other infectious diseases.  The company just announced they'd be opening up a cancer clinic in Malawi, as well as a new pharmaceutical plant in Nicaragua.
That all sounds great doesn't it?
Well, that's where the good stuff ends.  TNIB stock is the last place I'd put a single penny.
You see, the notorious pumper Research Driven Investors (RDI) is at it again.  RDI also owns David Cohen, as well as a handful of other pumping outlets.  And to tout shares of TNIB stock, the pumper was paid $35,000 by BBC, Inc. 
So right off the bat, we have no reason to trust a word they say about the stock.
But when the pumpers write up stocks, it's all sunshine and daisies.  And after doing a little research on my end, that's the last thing going on here.
For starters, TNIB does not file any documents with the SEC – they're an unregistered stock.  That means a layer of protection for investors is missing.  The reports can come out in any fashion or time frame TNIB wants… not in the format dictated by the SEC.
Next, the company has $369 in cash in the bank as of June 30th.  Of course they're claiming their patents are worth $900,000.  There's no real way to know what they could be worth so why don't we just say they're worth a gazillion bazillion dollars?
Dicing up TNIB's expenses is enough to make me vomit…
The three largest categories of spending by this company were Wages, Travel Expense, and Legal and Professional Fees.   And all combined, the company lost $146,611 in the second quarter.
Now, never mind the pumping, the lack of SEC registration, and the crappy financials.  Take a look at this chart…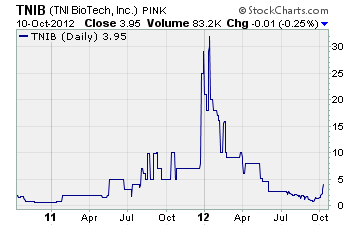 From $5 to over $30, and back to $5 again in no time… that's a classic pump and dump.
And that's the two year chart of this biotech stock.  TNIB seems like a screaming bargain when looking at it from this distance, right?  But let's dial in and see how the stock looks from up close.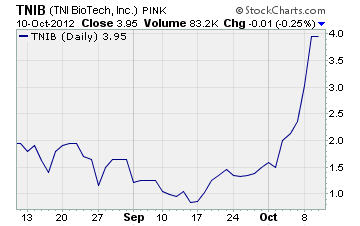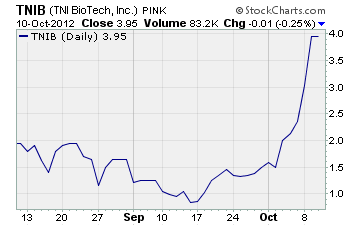 Whoa… can someone say overbought?  I'd say so, considering there's no earnings news out to justify the price action, and the pumping started from RDI on 9/5/12.  We've seen this before, and we'll see it again.
All I'm saying is, when a stock is being pumped by a notorious pumper like RDI– it's best to just stay away… this thing will more than likely be back below $1 in no time!
Empowered Products (EMPO)
Oh yeah, empowered alright.  I feel so empowered that I'm going to run out and buy this crappy penny stock… not!
Now, you're not going to believe who's behind all the pumping here.  Yep, RDI and David Cohen are also promoting EMPO at the same time they're pumping TNIB.  It must be busy season for penny stock scams because they cashed in for another $35,000 from Crown Pacifica Media Services for this penny stock promotion!
That's $70,000 for pumping two stocks for what… a week?  Man… I'm on the wrong side of this deal.
The cold, hard facts are clear as day – EMPO loses money.  Yeah, sure, Empowered actually has revenue.  The problem is their cost of revenue chews up most of their gross sales.  And that leads to loss after loss, after loss.
In fact, EMPO has somehow found a way to increase their losses year over year.  In 2011, EMPO lost $119,637 for the quarter ending June 30th.  This year, that amount has more than doubled to $261,614!
And before you invested, you'd certainly need to know this info… EMPO just completed a reverse merger.  Yes sir, on June 30th the company executed a 44-1 forward stock split.   And the board of directors approved increasing total authorized shares common stock from 50 million to 2.2 billion.
Talk about dilution potential.
Finally, to remove any reason you may have to buy this stock, I'm showing you the chart since the pumping started in early October.  Check it out…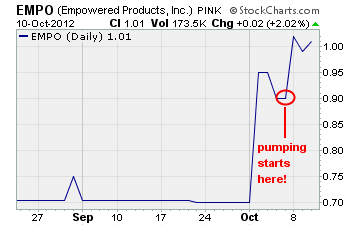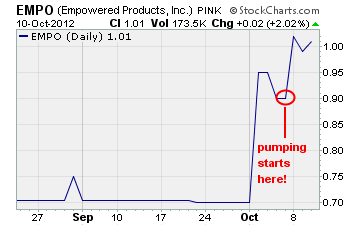 No doubt we've seen this pattern before.  Climb, climb, climb, higher and higher… and then Boom, the stock crashes in a single day (or 2).
Given the fact the company is losing money hand over fist, the rapid rise in EMPO can be attributed to the pumping.  That's just pure manipulation in my book.  And you should never buy stocks that are outright manipulated… you almost always end up on the losing end of that equation.
Other Penny Stocks Being Pumped This Week
PUNL – Stock Mister was paid $12,500 by Tumaco Ventures (BAS, LLC)
CNET – Penny Stock Advice expects to receive €10,000
GRST – Equity Trading Alert was paid $7,500 by RDI, LLC
A final word (and warning).
These are just a few of the potential "pump and dumps" we've seen lately.
Remember, there's a lot more of this going on than we can highlight here.
As you know, penny stocks are a great place to invest your money.  You just have to do your due diligence to stay away from all the schemes and scams out there these days!
Until next time,
Brian Walker
Category: Pump & Dump Alerts