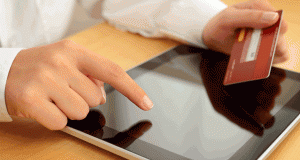 Holiday season is rapidly approaching and companies are already ramping up their marketing campaigns.  Of course, this is prime season for most retailers.  A large part of their annual revenue will be generated over the next three months.
Here's the thing…
Each year brings changes to what people are shopping for and – more importantly – how they are shopping.
Over the last few years, one clear change has been how many people do their holiday shopping online.  More and more consumers are avoiding the crowds and ordering from retailers like Amazon (AMZN) instead.
And now, brick and mortar retailers are desperately trying to fight back.  Just last week, Best Buy (BBY) announced they would price match any of the major online dealers.
Whether or not the strategy works, one thing is clear.  Online shoppers are a force to be reckoned with.  While physical store locations will never go away, the business models are going to look very different five years from now.
So how can small cap and penny stock investors profit from this trend?
Well, we're obviously not in the market to buy Amazon or Best Buy.  Fortunately, there are other important ramifications due to the growth of online shopping.
The more people who buy online, the more companies are going to have to find efficient ways to deliver their products.
There's a boatload of ramifications to a massive increase in shipping and delivery.  It's especially true since the United States Postal Service appears to be in significant decline.
While there are obviously a few really big players in the industry, there are also plenty of smaller companies that specialize in more specific areas of the process.
For instance, there's an entire industry based on logistics – basically, the management of getting products from one point to another.  And, don't forget all the focus companies place on supply chain management.  That includes everything from inventory management to warehousing to order fulfillment.
Fortunately, there are plenty of small cap companies competing in these more focused areas.  We're talking about trucking companies, logistics companies, supply chain consulting firms, and more.
Here's the bottom line…
The holidays are going to be here faster than you realize.  And this year, more people than ever will be ordering products online.
If your favorite online retailers are too expensive, consider the companies that benefit from shipping and delivering goods in the most efficient way possible.  There are plenty of first-rate, small and micro cap companies to choose from in this space.
Yours in profits,
Gordon Lewis
Category: Investing in Penny Stocks