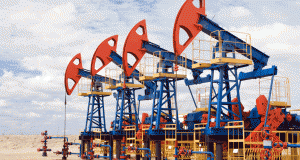 A bold statement made last fall by the International Energy Association's (IEA) Chief Economist, Fatih Birol, is starting to look rather prophetic. At a news conference in London this past November, Mr. Birol said…
"We expect in 2015 the U.S. to be the largest oil producer in the world."
Well… according to a new report from the Energy Information Administration (EIA), the US is well on its way toward making good on Mr. Birol's forecast. The EIA reports that US oil production reached hit a 28-year high last week as output rose by 78,000 barrels per day to 8.4 million.
That marks the highest daily production level since October 1986.
The US shale boom is largely responsible for the huge gains in US oil production. And according to Bloomberg, John Kilduff, a partner at New York-based hedge fund, Again Capital LLC, recently said…
"There's a long way to go before we explore and exploit all of the shale deposits out there."
The EIA appears to agree with Mr. Kilduff's bullish assertion. In its Short-Term Energy Outlook, the EIA projects US oil production will average 8.46 million barrels a day this year and 9.24 million barrels in 2015.
That's up from 7.45 million barrels a day in 2013.
The EIA mostly credits surging production from US shale fields for its bullish forecast. But it also claims that greater production from offshore oil rigs in the Gulf of Mexico will provide a boost as well.
There's no question that rapidly rising oil production in the US is great news for everyone concerned about America's energy security. But it also bodes well for small oil and gas companies operating in the US.
One such company is ZaZa Energy (NASDAQ: ZAZA)…
ZaZa is focusing on the exploitation and development of shale resources in the Eagle Ford and Eaglebine trends of East Texas. Last year, the company produced 131.3 million barrels of oil equivalent, up nearly 6% from the prior year's level. And as of December 31, 2013, the company had proved reserves of 687 million barrels of oil equivalent.
But that's not all…
ZAZA is surging after the company reported first quarter numbers on Tuesday. Take a look at the chart…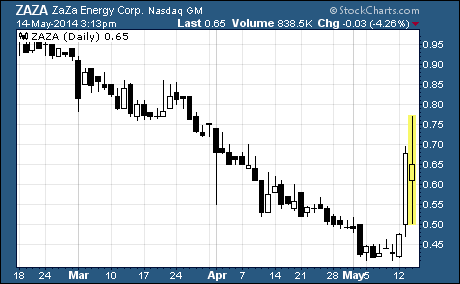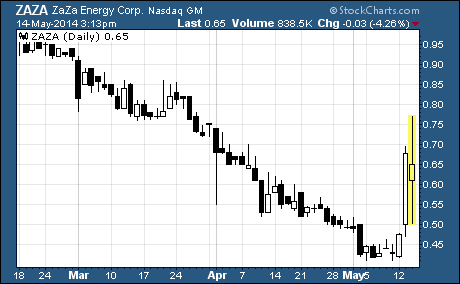 As you can see, ZAZA has traded up from a low of $0.41 last Friday to a current price of $0.65 per share. That's a 59% rise in short order. And if you take into account today's intra-day high of $0.77, the stock at one point had a gain of 88% off Friday's low.
Investors are clearly excited about the company's first quarter results.
And for good reason…
Revenue rose 7% year-over-year to $3 million. Operating expenses declined by nearly 26% to just $6.4 million. And net loss improved from $2.9 million ($0.03 per share) in the year ago period to $1.4 million ($0.01 per share).
Based on these numbers it certainly looks like ZaZa is on its way toward becoming profitable in the very near future. If you're looking for a penny oil stock to add to your portfolio, you may want to do further research on ZAZA.
Profitably Yours,
Robert Morris
Category: Penny Stocks to Watch