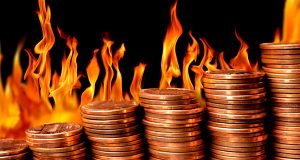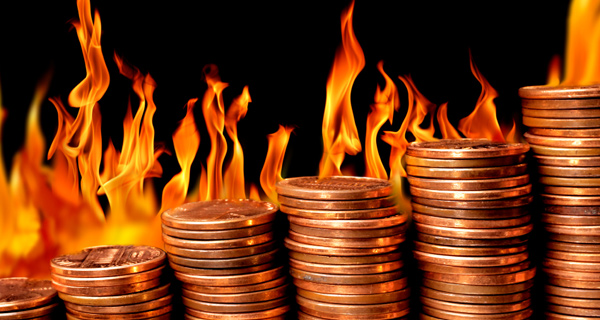 It's an exciting time for penny stocks, especially hot penny stocks like Hyperdynamics (HDY), RadNet (RDNT), and Chelsea Therapeutics International (CHTP)…
Hyperdynamics (NYSE: HDY)
Shares of this tiny oil and gas exploration company jumped last week!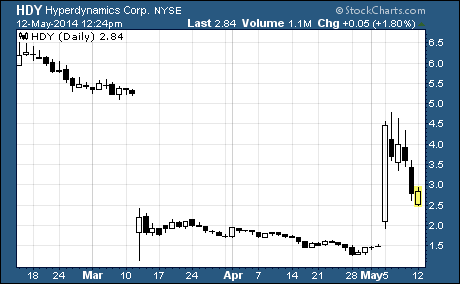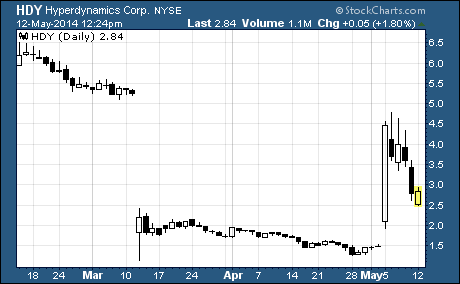 HDY started the week strong by tripling in value last Monday. But the stock couldn't hang on to its stunning gains. By the close of trading on Friday, HDY had dropped from Monday's close of $4.46 to just $2.79.
With that said, HDY did manage to register an eye-popping 87% rise for the week.
Hyperdynamics is engaged in the acquisition, exploration and development of oil and gas properties in the Republic of Guinea, which is located in Northwest Africa. The company owns a 37% working interest in a concession that covers an area of approximately 9,650 square miles in offshore Guinea.
Why did the stock take off?
On Monday, the company's drilling partner, Tullow Oil, announced it has lifted its force majeure on the Guinea offshore exploration block.
Tullow imposed the force majeure on March 12th after the Justice Department and the SEC initiated an investigation into Hyperdynamics. The regulators are scrutinizing the company's activities in obtaining and retaining its rights to the Guinea concession.
HDY plunged 58% the day the news came out.
While there has been no word on the outcome of the investigation yet, it appears investors are viewing Tullow's actions as a positive sign. Tullow had previously stated it imposed the force majeure because "it cannot proceed with activities on the license until these issues are resolved."
By lifting the force majeure, Tullow appears to be saying that the regulatory investigation of Hyperdynamics has been resolved to its satisfaction. If so, then perhaps last week's surge is the beginning of a larger rally for HDY.
RadNet (NASDAQ: RDNT)
RadNet is a national market leader providing high-quality, cost-effective diagnostic imaging services through a network of 250 fully-owned and operated outpatient imaging centers. The company's core markets include California, Maryland, Delaware, Rhode Island, New Jersey, and New York.
On Friday, the company reported a narrower first quarter loss than analysts' were expecting.
While revenue declined 2.4% year-over-year to $168.9 million, net loss remained flat at $0.03 per share. The bottom-line number impressed investors as analysts' had been expecting a much wider loss of $0.06 per share.
And management suggested the numbers would have been even better had it not been for bad weather on the East Coast during the quarter.
What's more, the company raised its full-year EBITDA guidance by $2 million to a range of $112 to $122 million. The original guidance had forecasted EBITDA of $110 to $120 million.
Thanks to the bullish news… RDNT finished the week with a bang!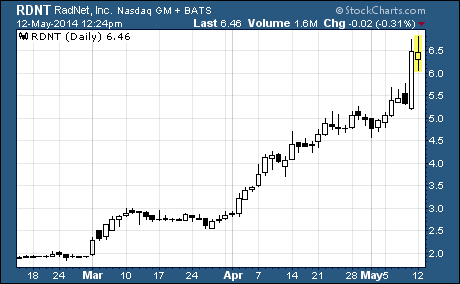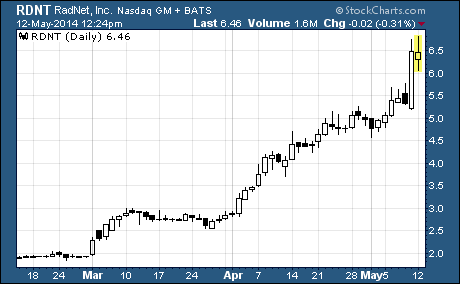 As you can see, the shares jumped nearly 22% on Friday and set a new 52-week high of $6.80 in the process. The rally capped off a strong week for the stock which finished with a 31% gain.
For the year, RDNT is now up by a whopping 288%!
It doesn't appear that the stock has much more upside in the near-term. At a current price of $6.46, RDNT is trading just below analysts' mean price target of $6.50 per share.
Chelsea Therapeutics International (NASDAQ: CHTP)
CHTP surged on big news last week…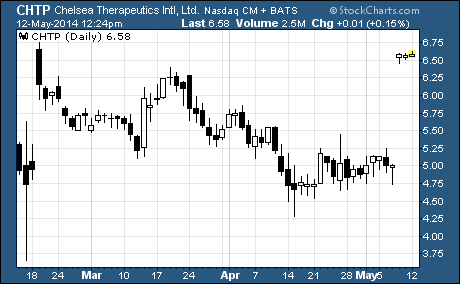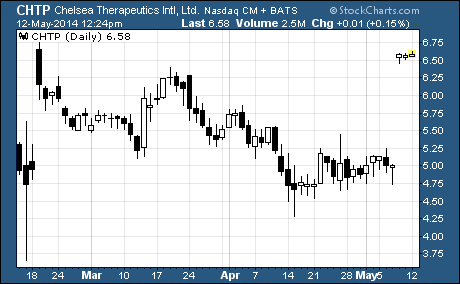 The small biotech's shares jumped $1.58 on Thursday for a one-day gain of 32%. And the stock finished the week at $6.57 for a gain of 28% for the week.
What spurred the sudden rise in CHTP?
Early Thursday morning, management announced that Chelsea will be acquired by privately-owned, Dutch pharmaceutical company, H. Lundbeck A/S. The deal values Chelsea at approximately $658 million.
Lundbeck is buying Chelsea to get its hands on Northera, Chelsea's FDA-approved drug for symptomatic neurogenic orthostatic hypotension.
According to a joint press release, Lundbeck will offer Chelsea shareholders $6.44 per share in cash and up to $1.50 per share in contingent value rights. The total potential consideration of up to $7.94 per share represents a 59% premium over Chelsea's closing price of $5.00 on May 7th.
Chelsea's board of directors has unanimously approved the transaction. And the deal is expected to close in the third quarter.
It's not clear at this time just how much the contingent value rights will ultimately be worth. Their value depends on future net sales of Northera, which the companies expect to launch in the second half of 2014.
With CHTP currently trading at $6.58 per share, there doesn't seem to be much upside remaining in the shares. We suggest you look for better opportunities in the penny stock space.
Profitably Yours,
Robert Morris
Category: Hot Penny Stocks