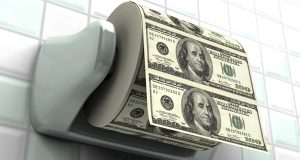 Welcome to Pump and Dump Friday, our weekly feature where we identify potentially"bogus" promotions going on in penny stocks.
Today we're exposing one of the most extensive penny stock pump and dump campaigns of the week… Consorteum Holdings (OTCPINK: CSRH).
If you don't know how these schemes work, be sure to check out our free report that exposes the whole thing.
Without further ado, here is today's disaster waiting to happen:
Consorteum Holdings (OTCPINK: CSRH)
CSRH is one of the most heavily hyped penny stocks of the past week. Our sources indicate that 13 promoters are pumping the stock through 32 different newsletters. And we've discovered that over $15,000 has been spent this month to entice investors to buy the stock.
While it's clearly not the largest penny stock promotion campaign we've ever seen, it does appear to be working.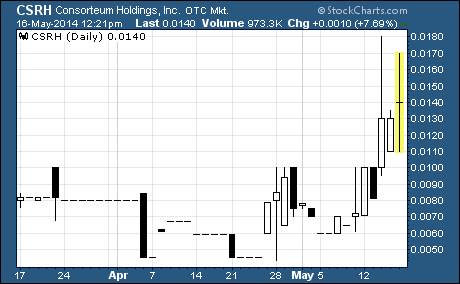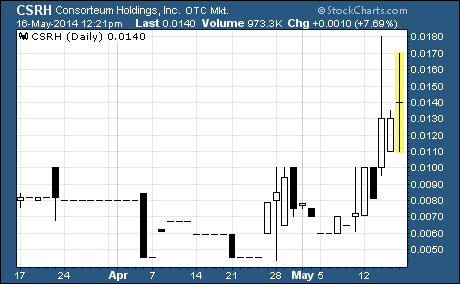 As you can see, CSRH has climbed from $0.006 on May 5th to a current price of $0.014. That's a stunning gain of 133% in just under two weeks' time. And at one point on Wednesday, the stock hit a high of $0.018 for a triple off the May 5th closing price.
No question about it, the pumpers have succeeded in driving up the price of CSRH.
But the campaign's success raises several new questions…
Will CSRH hold on to its recent gains? Will the stock continue to move higher? Or will the pumpers unload their shares and cause CSRH to plunge?
We'll discuss the stock's likely future in a moment. But first, a brief description of the company…
Consorteum was incorporated in Nevada in 2005 under the name Implex Corporation. The company changed its name in 2009 to Consorteum and then changed its business in July 2013.
The firm's latest business plan is to provide digital content across mobile devices through its two subsidiaries, Bad Rabbit Inc. and ThreeFiftyNine Inc. It also plans to provide traditional banking and payment services to its customers.
But so far, Consorteum is not having much success…
According to the most recent quarterly report (March 2014), the company has not generated a penny of revenue since July 2011. And it has racked up a net loss of $9.1 million over that same time frame, including a net loss of $2.7 million for the first nine months of fiscal year 2014.
As you can imagine, this poor performance has left Consorteum with a shaky balance sheet.
At the end of March 2014, the company had just $78,146 in current assets compared to over $10 million in current liabilities. And the total shareholder deficit had grown by nearly $2 million to $9.9 million.
What's more, the company admits that "certain debt is past due and is secured by all assets of the company."
It's hard to understand why investors have recently been buying shares of a company that appears to be on the brink of bankruptcy. The only logical explanation is that some investors are being suckered into the stock by the latest promotion campaign.
If that's the case, it's only a matter of time before the dumping begins and CSRH drops like a stone.
We suggest that holders of CSRH cash in their shares before the dumping phase begins. And if you don't own the stock, you should look for better opportunities in the penny stock space than CSRH.
Profitably Yours,
Robert Morris
Other Penny Stocks Being Pumped This Week
Well Power (OTCQB: WPWR) – 41 promoters with 107 newsletters have been paid over $100,000 to hype WPWR in May.
Peoplesway.com (OTCPINK: PLWY) – 35 promoters with 95 newsletters have been paid more than $130,000 in May to plug PLWY.
Category: Pump & Dump Alerts