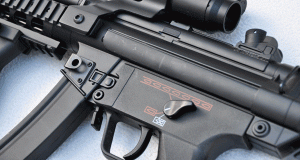 In the wake of the horrific gun violence in Connecticut, President Obama, as well as other legislators, are already starting to discuss assault weapons bans.
It seems as if events in 2012 have given legislators a case for passing such laws.  Public outbreaks of high capacity gun violence by emotionally unstable, and/or the mentally ill seemed to have risen exponentially this past year.
Below I've used data compiled by the Washington Post to recap the series of killings that have taken place over the past year alone.
I suspect a number of you may have forgotten about most of these events as the larger shooting sprees, such as in Colorado and Connecticut, have overshadowed them.
Here is the list…
February 21: Norcross, GA- 4 killed in addition to the shooter.

February 27: Chardon, OH- 3 killed and 2 injured.

March 8: Pittsburgh, PA- 1 killed and 7 injured.  Shooter also dead.

April 2: Oakland, CA- 7 killed and 3 injured.

April 6: Tulsa, OK- 3 killed and 2 injured.

May 30: Seattle, WA- 5 killed and 1 injured.  Shooter also dead.

July 20: Aurora, CO- 12 killed and 58 injured.

August 5: Oak Creek, WI- 6 killed and 3 more injured.  Shooter also dead.

August 13: College Station, TX- 2 killed and 4 more injured.  Shooter dead.

September 27: Minneapolis, MN- 6 killed and 3 more injured.  Shooter dead.

October 21: Brookfield, WI- 3 killed and 4 more injured.  Shooter also dead.

December 11: Happy Valley, OR- 2 killed and 1 more injured.  Shooter dead.

December 14: Newtown, CT- 26 killed, incl. 20 children.  Shooter also dead.
If you add up the total carnage, more than 80 innocent and unsuspecting people died during 13 public, mass-shootings in 2012 alone. That doesn't include the 9 shooters who took their own lives, nor the 88 innocent bystanders injured during these horrific events.
But we're not talking about isolated incidents here…
According to the nonprofit Brady Campaign to Prevent Gun Violence, there have been a total of 431 shootings with more than one victim since 2005.  Armed with this data, it seems as if politicians certainly have a strong case to bring about legislation to ban high-capacity weapons in the US.
Now, for weapons manufacturing companies and dedicated re-sellers, this could be a huge deal.  What's more, even if no such ban is immediately passed… the expectation and tabling of such legislation will present "headline risk".  This process could drag out for months, if not another year or more.
The bottom line…
Gun stocks are not where you want to be investing right now.  And one of the penny stocks which may be of interest to our readers is Smith & Wesson (SWHC). 
After a huge run up this year, the stock already seems to be taking a hit.  See the chart below for yourself…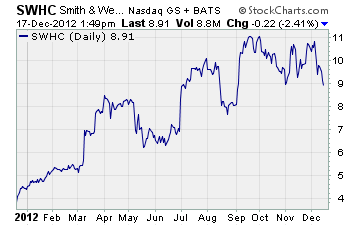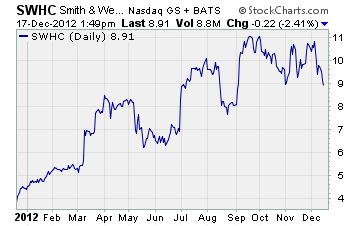 Investors in SWHC have seen a return of more than 109% this year, including the recent 8% fall over the past week.  But it's the recent selling that has me concerned.
In order to lock in gains, I'd recommend anyone holding this stock right now to sell, as the potential downside outweighs the upside in the short-term.
If no such legislation is passed in the US, you can expect to see this stock, as well as other gun makers stocks, rally.  It's just the headline risk that seems to be an issue right now.
Until next time,
Brian Walker
Category: Penny Stock Alerts