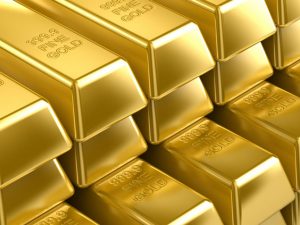 In early April, Newmont Mining (NEM) completed a very important acquisition… but nobody seemed to be paying attention.
Newmont, for those of you who don't know, is one of the largest gold mining companies in the world.  They have operations throughout North and South America as well as Australia and Indonesia.  They employ more than 35,000 people.
What's more, their financial performance has been stunning.
Right after the acquisition was completed, Newmont announced plans to increase gold production to over seven million ounces by 2017… that's a 37% increase over prior estimates.  Even more amazing is their plan to increase copper production by 90% to over 400 million pounds.
But this article isn't about copper… it's about GOLD!
Back in April, the company acquired Fronteer Gold for just over $2.2 billion… paying a 37% premium to the stock price.
Don't be surprised if this deal creates a tidal wave of acquisitions in the precious metals industry.  As gold and silver prices continue to climb, the value of companies in the industry are sure to surge.
It's easy to see why investing in junior mining companies can be so exciting.
Bigger mining organizations are struggling to discover new opportunities for precious metals production.  Most virgin territory remains undiscovered in very difficult to access or politically unstable areas.
That's what made the Fronteer deal so interesting…
Their main mine site was located right here in the good old "US of A"!  Nevada to be exact.
But it doesn't end there…
Companies in the metals and mining industry have been doing very well as of late.  Just look at the Market Vectors Junior Gold Miners ETF (GDXJ).  As you can see, it doubled in value right up until the time the acquisition of Fronteer was completed.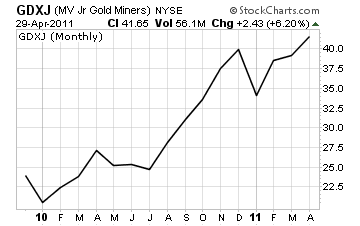 This is just the beginning.
GDXJ holds a big basket of mid cap stocks and penny stocks companies with a focus on gold or silver mining.  While the value of these companies has accelerated, they're far from the peak.
Many of the larger mining companies are sitting on massive amounts of cash.  Consider the big five operators: Barrick Gold (ABX), Goldcorp (GG), Newmont Mining (NEM), Kinross Gold (KGC), AngloGold Ashanti (AU).  Combined they have over $10.8 billion in cash.
It's dry powder that could be used for acquisitions.
Demand for precious metals is still strong.  And as new markets like China and India develop, we're only going to see that accelerate.  If you ask me, the small capitalization companies in this industry are a bargain.
And regardless of where the market in general heads, these penny stocks will continue moving higher with the price of gold and silver.
If you're looking for a great undervalued industry to focus on, look no further than the junior gold and silver miners.
If I haven't convinced you yet, just wait.
Watch the news and when you see two or three more acquisition announcements, you'll know the market is really heating up.  Even then it won't be too late to profit.
Until next time,
Brian Walker
Category: Gold Stocks