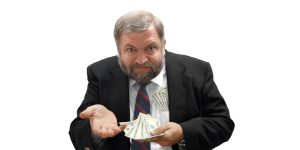 You know, you never know who's on your side… and who's going to stick a knife in your back (or their hands into your bank account).
I just read a crazy press release from the SEC on a stock broker stealing from their customers.
I'll give you the link to the news story at the end of this article… but first, here's how they did it.
The stock broker allegedly offered customers very, very low rates to trade stocks.  But they ended up extracting fees "…in some cases were more than 1,000 percent greater than represented."
Shocking!
I couldn't believe it… so I had to keep reading to see how they did it.
What they did was buy the stocks at one price, and tell the customer they actually paid a higher price for the stock trade.
They then pocketed the difference.
It's crazy to think that in today's day and age a scam like this is possible!
What's even more shocking is the amount of time this went on… it apparently started in 2005 and ended in 2009!  And here we are now, almost 10 years from the scheme starting, and the scam is just beginning to be exposed!
While the SEC may be catching these scammers, the delay in time is shocking.
It just goes to show, you've got to keep an eye on your money.  No one cares for your money more than you do.
Here's the link to that press release about the scam… I recommend you read it carefully.
http://www.sec.gov/News/PressRelease/Detail/PressRelease/1370542649183#.U_Dt2sVdXJk
Profitably Yours,
Penny Stock Research
Category: Breaking News