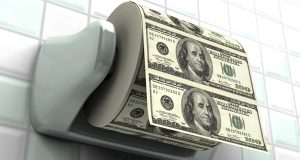 This week we're exposing these three popular Pump & Dumps: Sunpeaks Ventures (SNPK), Regency Resources (RSRS), and E-Waste Systems (EWSI).
That said, welcome to Pump and Dump Friday, where every week we identify a few of the potentially "bogus" promotions going on in penny stocks today.
If you don't know how these schemes work, be sure to check out this free report that exposes the whole thing.
Without further ado, here are today's "disasters waiting to happen":
Sunpeaks Ventures (SNPK)
For the second week in a row, I have to say "I told you so!"
It's like shooting fish in a barrel.  The pumpers telegraph their moves so plainly it's scary!   Last week I told you to watch out for a dead cat bounce and then shares would take another dive…
Well they have! 
Shares of SNPK closed trading on Thursday at just $0.55… down $0.30 on the day alone.
In the past, I've compared SNPK to the notoriously super-pumped mining stock, NSRS.  But now that the pumping is complete, the charts show the true story…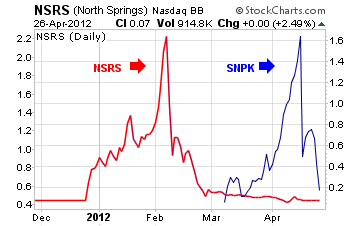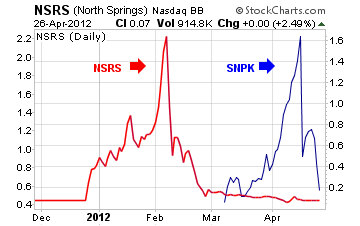 It's pretty scary, huh? 
When looking at the charts, NSRS is in red and SNPK is in blue.  While the price levels may be a bit different, the chart action is almost identical.
And right on cue, the flow of email blasts has been shut off by the pumpers.  You see, they have nothing to say for themselves.  Their job is done.
So if you're still holding shares, hoping and praying for a bounce… don't bother.  I don't see this stock trading much higher ever again.  More likely, we'll see it fall farther and flatten out.
In another week or two, we'll see The Bright Media Group's next pump and dump get fired up.  And we'll be here to keep you from jumping into the flames.
Regency Resources (RSRS)
While the symbol is close to NSRS, thankfully it's not the same.  But RSRS is being pumped, and a ton is being spent in the process.
The Penny Stock Chief was the latest to cash in on Regency, collecting $40,000 for their pumping efforts.  But they're not the first.  It seems Equities Awareness shelled out $75,000 to a handful of other pumpers like Darth Trader (I love that name – "Luke, you will come to the dark side").
So what's the deal with RSRS?  I mean, the stock is trading right around $1.00…
The deal is, they're broke!
A quick look at their balance sheet shows $0 in cash on hand and over $90,000 in current liabilities.  So, again… why is the stock trading over $1?
You see, in the first quarter of 2012, Regency had $0 in revenues.  In fact, they've never generated any revenue… dating all the way back to 2006!
Even worse, they've posted a $6,810 loss for the quarter.
Since there are over 73 million shares of common stock outstanding and the stock is trading at $1.00… then some quick math tells us RSRS has a nearly $73 million market cap.
But they don't have any revenue… never mind earnings.  How does this happen?  Well, it's the pumping of course.
RSRS hasn't made a single solitary dime.  And until they do, I wouldn't let this stock within 10 feet of my portfolio.
E-Waste Systems (EWSI)
Just like the name sounds, shares of EWSI are an e-normous waste of your money.
For starters, the Stock Exploder (amongst others) was paid $18,500 by ACN, LLC to pump shares of E-Waste.  That fact alone should certainly be reason enough to stay away from this stock.
But we have quite a bit more dirt to share on EWSI…
As with many companies gracing these pages, their financials are a mess.  And with just $6,493 in cash, they're going to have trouble keeping the lights on over there.
On top of having virtually no cash on hand, E-Waste has over $1.1 million in total liabilities on the books for 2011.
So how are sales going?
After booking $0 revenue in 2010 and $0 for the first nine months of 2011, EWSI finally banked $124,155 in revenue.  Unfortunately, the company racked up a $1.3 million loss for the year!
But here's what gets me ticked off about companies like this…
Their operating expenses include "officer and director compensation" of nearly $500,000!  Even worse, there were "professional fees" of $506,387!
What kind of a circus are they running over there anyway?  They grossed $71K (after the cost of sales were backed out)… and paid themselves quite nicely for doing – what exactly?
If I were a shareholder, I'd flip out!
Now, in addition to their current financial issues, EWSI wasn't always E-Waste.  Prior to becoming EWSI, the company started out as Dragon Beverages in 2008.  And did the company generate any revenue by selling energy drinks (that's what they supposedly did)?
Nope, they folded up shop and became EWSI. 
Now, the company freely admits they're in trouble.  In their latest financial statement, they reported that the company's ability to continue as a questionable going concern.   You see, EWSI needs to raise more capital, or as they put it themselves, "…we could be forced to cease operations", so they say.
Clearly, there's no case to be buying this stock for the prudent investor.  In fact, with no profits, I'd be hard pressed to see why anyone would hold EWSI shares!
A final word (and warning).
These are just a few of the potential "pump and dumps" we've seen lately.
Remember, there's a lot more of this going on each week than we highlight here.
As you know, penny stocks are a great place to invest your money.  You just have to do your due diligence to stay away from all the schemes and scams out there these days!
Until next time,
Brian Walker
Category: Pump & Dump Alerts