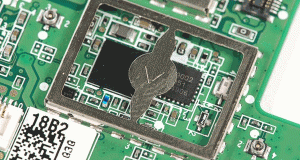 Short sellers are learning the hard way not to doubt Apple (AAPL).  The world's largest company once again caught many investors off guard last week with their blowout earnings.
Here's a look at some of Apple's incredible numbers…
Second quarter profits rose to $11.6 billion, a 94% year over year increase.  Over the same period earnings per share jumped from $6.40 to $12.30.  By the way – Wall Street had only predicted $10.02 per share in earnings.  Talk about a blowout.
Oh, did I mention sales?  $39.2 billion for the quarter.  That's a cool 59% year over year rise.
Those impressive numbers were driven by sales of 35.1 million iPhone, 11.8 million iPads, and 4 million Macs.  They even sold nearly 8 million iPods.  All those sales resulted in an incredible $14 billion in cash generated for the quarter.
And despite those unbelievable numbers, AAPL shares are trading at just 11.2x projected earnings.  Is it possible that the world's biggest, most popular company is undervalued?
Perhaps, but that's not what I'm focusing on.  After all, we're penny stock and small cap analysts here at Penny Stock Research.
Here's the thing…
I've been saying this for a long time now, but when huge companies like Apple do well, it boosts other tech small caps.
Let me show you what I mean…
The day after Apple's earnings were released, TriQuint (TQNT) jumped over 7%.
TriQuint provides radio frequency solutions and technology for communications, defense, and aerospace companies.  The company, with a market cap of just $790 million, also happens to supply components for the iPhone.  (The stock dropped later in the week after they lowered Q2 guidance, but it doesn't change the fact that shares jumped initially due to Apple's earnings.)
And that's not all…
Omnivision (OVTI), a company which makes camera sensors for Apple, shot up nearly 9% after Apple earnings.  OVTI also has a market cap of under a billion dollars.
What's more, Zagg (ZAGG) – with a market cap of $369 million, climbed 7.5% on the same day.  Zagg makes screen protectors for Apple products, so even the accessories companies joined the party!
It's plain to see, strong Apple earnings are a big deal for many companies – even the ones with small and micro cap valuations.  And it's not just suppliers, it's accessories makers as well, among others.
Bottom line… just because you're a penny stock investor doesn't mean you should ignore big companies like Apple.  Savvy investors will research how large and small companies impact each other and use that knowledge to their advantage.
Yours in profit,
Gordon Lewis
Category: Technology Stocks