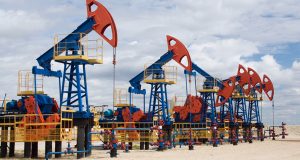 Small cap oil stocks are down significantly since the US government reached an historic nuclear accord with Iran in late November.  Using the IQ Global Oil Small Cap Equity ETF (IOIL) as a proxy, you can see that shares of small cap oil stocks have dropped by more than 7% since talks with Iran began in mid-October.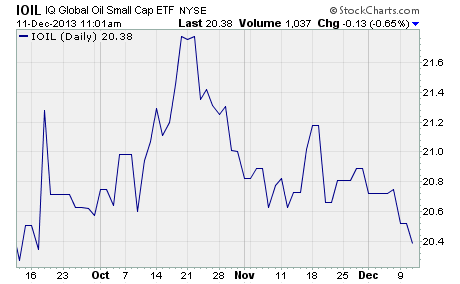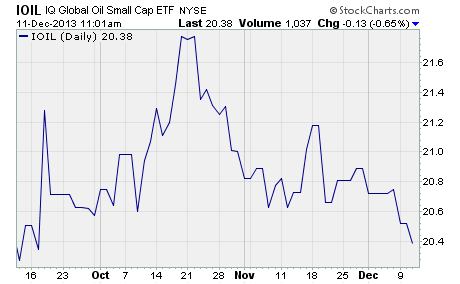 Under the accord, Iran will temporarily freeze its nuclear program in exchange for a suspension of sanctions on the country's oil exports.  More specifically, Iran is allowed to maintain oil production at current levels for the next six months with the possibility of increasing production levels later on. 
As you might expect, investors viewed the deal as a negative for oil stocks of all sizes.
The initial belief was that suspending sanctions would boost global oil supplies as Iranian oil hit the market.  Of course, more oil on the market would put downward pressure on the price of oil.  And lower oil prices would crimp earnings for oil companies across the board.
However, a report this morning from the International Energy Agency (IEA) appears to contradict that early negative outlook.
In its monthly oil market report, the IEA estimated that demand for oil will increase by 1.2 million barrels per day in 2014.  That's an increase of 240,000 barrels per day from last month's projection.  And it would represent a 1.3% increase in daily production over 2013 levels.
The agency raised its production estimate after US oil consumption rose above 20 million barrels per day in November.  It was the first time consumption had surpassed that level since 2008. 
The report also pointed to a recent plunge in global crude inventories. 
Thanks to rising demand in industrialized nations, crude stockpiles fell to 2.7 billion barrels in October.  That's a significant drop as it pushes supply 19.7 million barrels below the five-year average.
The implications of the IEA's new estimates are profound.
Increasing consumption in the US and other industrialized nations is rapidly depleting global oil supplies.  As a result, oil production is expected to increase next year to keep up with rising demand.  And therefore, the price of oil will likely move higher or at worst remain steady.
This is great news for small cap oil drilling and exploration companies.
Greater demand and stable to higher prices should provide a significant boost to sales and earnings.  And as these metrics rise, so too should the share prices of these companies.
If you're looking to play a rebound in small cap oil stocks, you may want to take a closer look at Vantage Drilling (NYSE: VTG), Halcon Resources (NYSE: HK), TransAtlantic Petroleum (NYSE: TAT), and Hercules Offshore (NASDAQ: HERO).
Each of these companies is expected to post positive earnings per share in 2014.  And analysts are forecasting huge percentage increases in both sales and earnings for each company as well.  Based on these bullish outlooks, I think these small cap oil stocks will provide big returns over the next 12 months.
Profitably Yours,
Robert Morris
Category: Energy Stocks, Oil Stocks