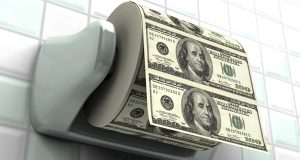 Welcome to Pump and Dump Friday, our weekly feature where we identify potentially "bogus" promotions going on in penny stocks.
Today we're exposing one of the most extensive penny stock pump and dump campaigns of the week:  SourcingLink.net (OTCPINK: SNET).
If you don't know how these schemes work, be sure to check out our free report that exposes the whole thing.
Without further ado, here is today's disaster waiting to happen:
SourcingLink.net (OTCPINK: SNET)
SNET is one of the most heavily hyped penny stocks of the past week.  According to our sources, 10 promoters have been paid over $37,000 this month to pump the stock through nearly 64 newsletters.
And so far, the campaign is having some success.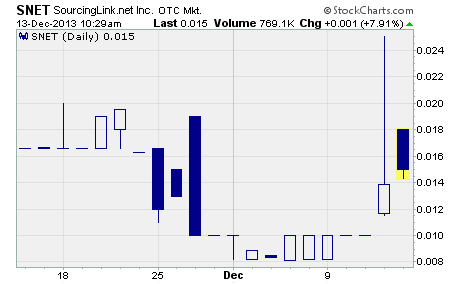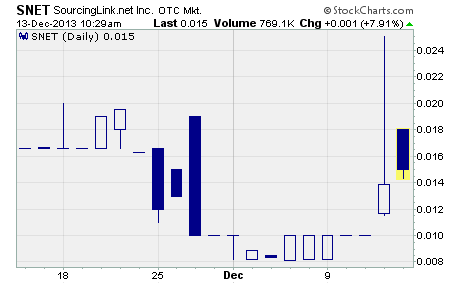 As you can see, SNET has climbed from a low of $0.008 last Friday to a recent price of $0.015.  That's an 88% gain in just one week's time.  And at one point yesterday, the stock traded as high as $0.025.
It boggles the mind.
After ditching its automotive business in March 2012, SourcingLink.net decided to get into the rare earth mining business.  And in August 2013, the company purchased certain mineral rights on the Eldor Property located in Quebec, Canada.
Now, the company and its promoters are trying to attract investors by reviving the old rare earth elements story that captivated the market back in 2010-11. 
In a recent press release (conveniently timed to coincide with the promotion campaign), management boasts about the company's recent acquisition of the Eldor Property.  They make a big deal about it being located next to another property with rare earth deposits estimated at over $2 billion in value.
You may recall that prices for rare earth metals were very high back in 2010-11. 
Demand had surged as rare earth materials are used extensively in smartphones and other electronic gadgets.  But supplies were extremely tight as China, which has the world's largest deposits of rare earth minerals, limited exports.
Of course, any stock with the words "rare earth" in its name soared in value.  It was reminiscent of the dot.com boom of the late 1990s. 
So, based on the company's press release, it sounds like SNET has hit the mother lode right?
Not quite.
The company has no idea at this point if there are any rare earth metals on the property.  Management is just now trying to identify the initial targets for exploratory drilling.  In other words, it's quite possible the company won't find any rare earth elements at all on its property.
What's more, even if the company does discover significant quantities of rare earth elements, it may still have a difficult time turning a profit.  You see, prices for several key rare-earth oxides plunged by 60% to 90% from 2011 to mid-2013 as China increased global supplies.
Take a look at MolyCorp (NASDAQ: MCP) for example.
MCP is one of the few companies outside of China that actually produces and sells rare earth metals.  Since hitting a high of $79.16 in May 2011, the stock has plunged 94% to a recent price of $4.57.  And shareholders have lost nearly $18 billion in the process.
If you're still not convinced SNET is unworthy of investment, you should check out their most recent quarterly report.
During the six month period ending September 2013, SNET produced a stunning net loss of $22 million on revenues of $19,315.  And the company's accumulated shareholder deficit rose to more than $48 million.
The really interesting thing though is that the net loss is due almost entirely to the payment of stock based compensation.  The income statement shows that a whopping $21,975,249 was paid in stock based compensation during the six month period.
In other words, management has paid itself nearly $22 million in stock even though the company has yet to generate any meaningful revenue.
There's no question SNET is moving higher solely on the back of the extensive stock promotion campaign.  It won't be long until the bottom drops out.  Do yourself a favor and avoid risking your hard earned money on this penny stock.
Other Penny Stocks Being Pumped This Week
Tiger Oil and Energy (OTCQB: TGRO) – 10 promoters with 78 newsletters have been paid more than $2.5 million this month to hype TGRO.
Digital Caddies (OTCPINK: CADY) – 22 promoters with 57 newsletters have been paid over $140,000 in December to plug CADY.
As you know, penny stocks are a great place to invest your money.  You just have to do your due diligence to stay away from all the schemes and scams out there these days!
Profitably Yours,
Robert Morris
Category: Pump & Dump Alerts