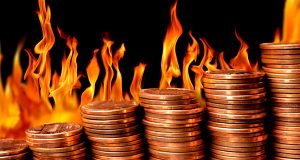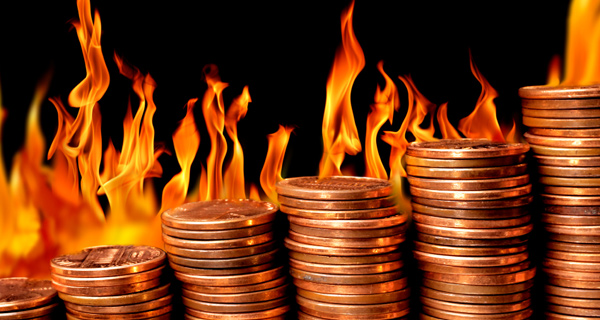 It's an exciting time for penny stocks, especially penny stocks like Plug Power (PLUG), B.O.S. Better Online Solutions (BOSC), and Oculus Innovative Sciences (OCLS)…
Plug Power (NASDAQ: PLUG)
Plug Power soared last week!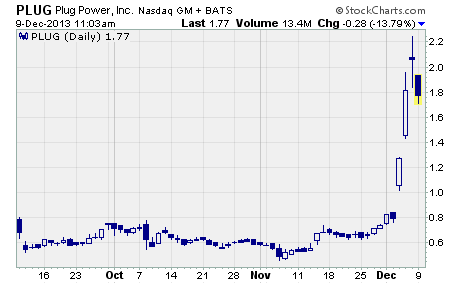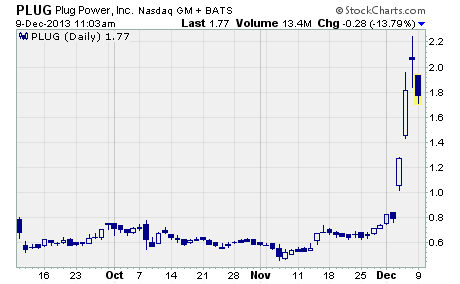 The fuel-cell maker's shares jumped from $0.74 to a high of $2.24 before finishing the week at $2.06.  That's a whopping one-week gain of 178%.  And PLUG is now trading at levels last seen in February 2012.
Why did the stock take off?
On Wednesday, the company announced it expects to finally turn a profit next year.  If so, it would be the first time in the company's 16-year history.
PLUG manufactures fuel-cell systems for forklifts and other material handling applications.  Its primary customers are Kroger, Proctor & Gamble, and Wal-Mart just to name a few.
B.O.S. Better Online Solutions (NASDAQ: BOSC)
BOSC shot higher last week after the company reported outstanding third quarter earnings.  We'll get to those numbers in a moment. But first, a quick look at the stock chart…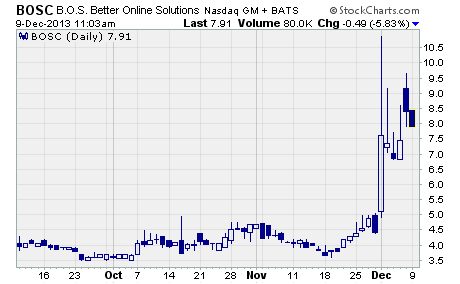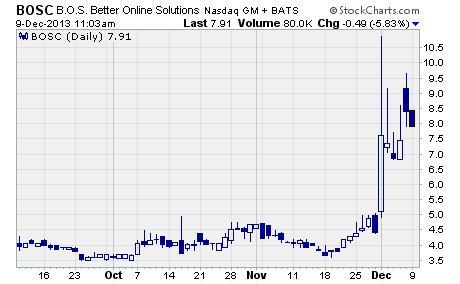 As you can see, the shares rallied from $4.41 to a high of $10.85 before closing at $8.40 on Friday.  That incredible move generated a 147% gain to the high and a 90% increase for the week.
What's more, the stock hit prices that it hadn't seen in more than two years!
B.O.S. Better Online Solutions is a leading provider of radio frequency identification (RFID) and supply chain solutions to global enterprises.  Its products and services help customers like Volvo, Boeing, and Coca-Cola automate the supply chain, improve asset-tracking, and better manage real-time business data.
Now, getting back to those impressive quarterly numbers…
Revenues rose 16% year-over-year to nearly $6.3 million.  Net income improved to $219,000 from a net loss of $66,000.  And earnings went from a loss of $0.04 to a profit of $0.19 per share.
Best of all, the company's CEO said he expects "to end the year with a net profit on a non-GAAP basis."
There's no question that the company's fundamentals are improving.  As such, BOSC may have room to run.  
Oculus Innovative Sciences (NASDAQ: OCLS)
OCLS had been trending lower since it hit a high of $2.97 in early November.  But last week, the stock took off like a rocket!    
Take a look at the chart…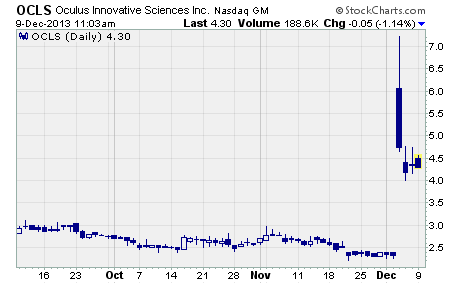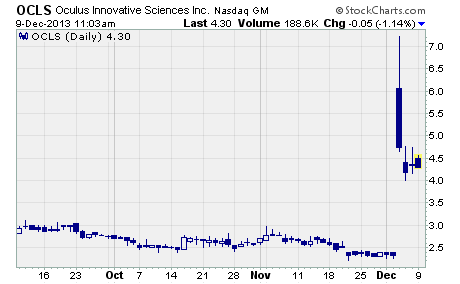 As you can see, the shares jumped from $2.40 to a high of $7.21 before closing out the week at $4.35.  And while the stock failed to hold onto Wednesday's stunning intra-day gain of 109%, it still finished the week with a terrific upside move of 81%.
Oculus is a global healthcare company that designs, manufactures, and markets prescription and non-prescription products in 27 countries.  Its products are used to treat patients in surgical/advanced wound management, dermatology, women's health, and animal health markets.
Here's why the stock soared…
Early Wednesday morning, Oculus announced that the FDA cleared the company's newest product, Microcyn® Scar Management HydroGel.  This amazing new prescription medication helps reduce itching and pain associated with scars produced by burns, surgical procedures, and trauma wounds.
According to a 2003 report by Frost & Sullivan, 93 million people in the US have 169 million scars that may benefit from treatment with Microcyn®.  And there are more than 62 million scars formed in the US alone each year.
What's more, OCLS may continue to move higher as the company has several near-term catalysts.
Oculus plans to launch Microcyn® into the US market during the first half of 2014.  And it intends to offer the product in select countries throughout Latin America, Asia, and the Middle East sometime after April 2014.  If Microcyn® is well received, investors may very well drive the stock higher.
Profitably Yours,
Robert Morris
Category: Hot Penny Stocks