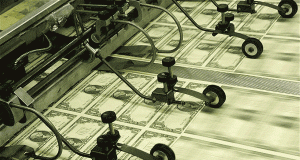 Last week I wrote about what could be in store for the stock market if a fresh round of stimulus (QE3) was announced.  And, right on cue, the Fed came through with a new, massive bond buying program.
In a nutshell, the Fed is implementing open ended bond buying that includes purchasing $40 billion per month in mortgage backed securities.
The new quantitative easing program also extends Operation Twist through the end of the year (converting short-term bond holdings into long-term bonds).  Plus, Fed officials intend to keep their zero rate policy in place into 2015.
Make no mistake, this is a huge stimulus bet.  And while I won't get into the merits of quantitative easing right now, I will say this… the stock market loved the news.  It's clear investors got what they were hoping for – and more – with major indices reaching 4-year highs.
So who wins and who loses with QE3?
Let's start with the winners…
First off, the Fed announcement gave an immediate boost to precious metals.  Gold is nearing $1,800 an ounce and silver is now just under $35 per ounce.  Last week's spike continues what has been a tremendous run for both metals.
With the dollar plummeting, both could be in store for much bigger gains (since they're used as a hedge against a lower dollar).
And that's not all…
Mortgage holders and prospective home buyers are both in better position after the introduction of QE3.
Mortgage holders should be able to refinance at historically low levels.  Plus, new homebuyers will see mortgage rates drop to rock-bottom levels.  To put it another way, both homebuilders and financial institutions could benefit.
And last but certainly not least… small cap stocks.
With investor confidence returning, investors will be looking for higher returning assets.  In other words, they'll be willing to take on more risk – such as investing in small caps and penny stocks.
That's why small caps tend to lead stock market rallies.  And this time should be no different.
So then, who loses from QE3?
Well, the clear losers from this new round of stimulus are those holding cash.
Interest rates will likely be at historically low levels for the next few years.  Things like savings accounts and CDs are going to pay virtually nothing.
Moreover, bondholders could also take it on the chin.  Bond prices are already extremely high, meaning yields are ultra low.  Treasury bills basically pay less than the cost of inflation.
Some corporate bonds may be worthwhile, but the safest bonds, particularly government bonds, just aren't paying out a whole lot.  More and more, I expect money to be pulled from bonds and put back into stocks.
But… that's great news for stock investors like us.  And, it's exactly what the Fed wants from QE3.
Yours in profit,
Gordon Lewis
Category: Investing in Penny Stocks