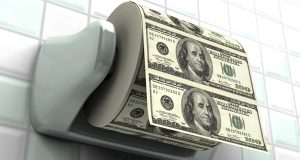 This week we're exposing these three popular Pump & Dumps:  MEDL Mobile Holdings (MEDL), Rainbow Coral (RBCC), and Yellow7 (YLLC).
That said, welcome to Pump and Dump Friday, where every week we identify a few of the potentially "bogus" promotions going on in penny stocks today.
If you don't know how these schemes work, be sure to check out this free report that exposes the whole thing.
Without further ado, here are today's "disasters waiting to happen":
MEDL Mobile Holdings (MEDL)
This type of shameless, paid stock promotion is one of my favorite to expose… company funded stock pumping!
Can you honestly respect a company that pays a pumper to promote their stock?  Well it seems as though MEDL Mobile Holdings thinks it's ok to have Red Chip Companies promote shares of their company.
You see, they're promoting the stock like it's going out of style.  They even have a "report" on the company where the pumper has a $1.45 price target and rates the company "Speculative Buy".
What the heck is a "Speculative Buy" rating anyway? 
Sounds like speculative nonsense to me.  And the price tag MEDL paid Red Chip for their services is absurd.  For the report and all associated stock promotional coverage, MEDL Mobile paid the pumper a whopping $4,000 and 200,000 shares for 12 months of promotion.
In addition, MEDL will be building (for free) an app for Red Chip that may cost as much as $30,000 to develop. 
What a deal!
Now, don't confuse what's going on here with real "investor relations" PR.  That type of stuff is frequently outsourced, but its releases are about the company and products – without home grown price targets and "ratings".
What… you're still confused?
That's exactly what everyone over at Red Chip wants!  Trust me when I say they're not a real PR firm… nor are they a real stock analysis firm.  They're simply trying to suck you in so you'll buy the stock – regardless of the product or its potential.
If they were the real deal, they wouldn't need to release this disclaimer:
"None of the profiles issued by RedChip Companies, Inc., constitutes a recommendation for any investor to purchase or sell any particular security or that any security is suitable for any investor."
Come again?
If you're telling us nothing you issue constitutes a recommendation – how can you give MEDL a "Speculative Buy" rating then?  Sounds fishy to me…
Getting to the meat of the matter here is the financials.  And that's info you'll never find on the pumper's "profile".   The pumper would never tell you that in the quarter ending June 2012, MEDL lost $867,471, or $0.02 a share.
Let me leave you with a final thought…
Sure, MEDL generates revenue and has products.  But why would a company pay a stock pumper to pump their stock, instead of paying an IR firm to do real IR?
If a company is resorting to that type of tactic, I'd stay far, far away from owning its stock!
Rainbow Coral (RBCC)
I'm surprised this company's tag line isn't "follow me to the end o' the rainbow – I promise you'll get me pot o' gold!"
Well, maybe that's a bit farfetched, but so is everything else the pumper is spewing about this gem of a stock…
For starters, Top Microcap Stocks has the amazing audacity to pump up the fact their stock recommendation returned investors 2% so far.
Now that's a new one… usually they're hyping 100 bazillion, gazillion percent returns are possible.  But 2% – wow, that's desperate.
But the pumper doesn't stop there.  Since they were paid $30,000 to pump the stock, they have to tell you stuff like "the company's promising work towards eradicating Parkinson's".
Really… a Coral farmer is going to do all that?
Ah yes, because that's what RBCC is… a coral farmer.  The reason they're saying this about Rainbow Coral is the company is on the verge of buying Amarantus Biosciences (AMBS).  That will give them a Parkinson's research company.
Here's the catch.  As of September 11th, there was no deal inked!  So the pumper is hyping stuff about this stock that's not even true – RBCC doesn't own AMBS yet!
For now, all we investors have to go on is the facts… and the facts don't point us to a pot o' gold at the end of the rainbow.
In their latest quarter ending in June this year, RBCC did about $10,000 in gross profit.  The problem is the company lost $657,000 – or roughly $1.06 a share!
Needless to say, we have plenty of reasons to keep a stock like RBCC away from our portfolio – no matter what the little leprechaun pumper may be telling you!
Yellow7 (YLLC)
It's funny… every time I see this stock I can't help but think of 7-11 – the convenience store.  Too bad it wasn't, because it certainly would be a major upgrade compared to this pump and dump favorite.
In the past, we've exposed paid stock promotions on this company twice.  Once it was in July, and then again earlier this week.  This time around, Hot Stock Profits was paid $5,000 to hype shares of YLLC.
But the pumping isn't helping one bit.  Take a look at the chart below to see for yourself…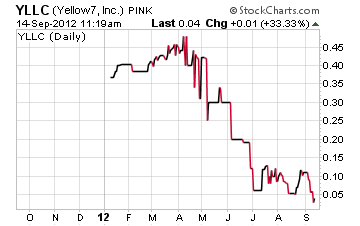 Ewww, now that's ugly!
Even if you bought back in July, "way near the bottom" at $0.10… you'd be sitting on a sweet 60% loss as of today! 
As far as the rest goes for Yellow7, they do generate revenue.  In fact, they hauled in over $200,000 in the first quarter of the year.   The problem is, even with such strong revenue, the company posted a loss of $6,230.
Your final takeaway…
Just because a company has a product to sell, doesn't mean they'll ever make any money – or that they'd be a good investment.  And when a known paid stock promoter is running around touting their stock, you should have nothing to do with owning it.
A final word (and warning).
These are just a few of the potential "pump and dumps" we've seen lately.
Remember, there's a lot more of this going on than we can highlight here.
As you know, penny stocks are a great place to invest your money.  You just have to do your due diligence to stay away from all the schemes and scams out there these days!
***Editor's Note***  Yesterday Gordon Lewis added a stock to his Penny Stock All-Stars Portfolio that just about every investor should buy.  It's a tiny company that has more cash in the bank than its entire market value… the kind of company Warren Buffett drools over!  Click here for more…
Until next time,
Brian Walker
Category: Pump & Dump Alerts