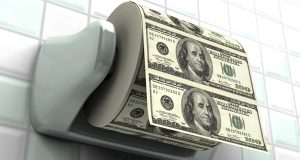 This week we're exposing one of the most popular Pump & Dumps:  Premier Holding (PRHL).
That said, welcome to Pump and Dump Friday, where every week we identify at least one of the many potentially "bogus" promotions going on in penny stocks today.
If you don't know how these schemes work, be sure to check out this free report that exposes the whole thing.
Without further ado, here is today's "disaster waiting to happen":
Premier Holding (PRHL)
Back to the ol' pump and dump well for the notorious Research Driven Investors group – AKA David Cohen.  They've been paid $80,000 to date to pump shares of PRHL- with recent activity this past week.
We've exposed various pump and dumps on this penny stock in the past.  In fact, Premier Holding was pumped by Level Stock last August- and they were only paid $10,000.
So to see this stock pop up again is no surprise to us… we see various penny stocks re-used all the time for "marketing".   It's interesting to see this one back in the mix, especially after the massive "dump" that happened in June/July of last year.
Take a look at this chart to see the painful pump and dump in action…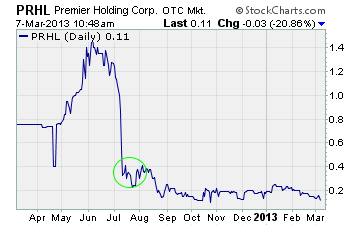 As you can see, I circled the "DUMP" part of the process in green.
What happens most times is that a random "third party" will buy up shares BEFORE the promotions even begin.  We exposed promoters starting to pump this thing before the big crash.
Then they simply dump them on the unsuspecting sheep buying into the stock promoter's BS…
And they were really pushing it AFTER the big crash happened…. They continued to get investors excited about a "rebound" in the stock.  You see how well THAT worked!
This time around, they're pumping their new CEO as the reason to buy the stock right now.  Good luck with that…
As smart investors, we know to look at the financials for investment direction.  And right now, the financials give us no reason to buy into the stock.  In fact, PRHL reported having just $2,694 in cash… yet $1.6 million in assets as of September of 2012.
The problem is, $1.2 million of it is listed as "goodwill"… kind of a "gray area" if you know what I mean.
In reality, the company has accumulated a $5.4 million deficit… and posted a net loss of $2.1 million for the first nine months of 2012!  Not exactly high grade investment material here.
The bottom line is the same… stay away from pumped penny stocks.  You'll almost always get burned!
Other Penny Stocks Being Pumped This Week
GEVO– Investor Soup bought 20,000 shares at $1.85 before pumping the stock
PMEA– Access Media Network (Wall Street Buzz Alerts) paid $4,000
A final word (and warning).
This is just one of the potential "pump and dumps" we've seen lately.
Remember, there's a lot more of this going on than we can highlight here.
As you know, penny stocks are a great place to invest your money.  You just have to do your due diligence to stay away from all the schemes and scams out there these days!
Until next time,
Brian Walker
Category: Pump & Dump Alerts