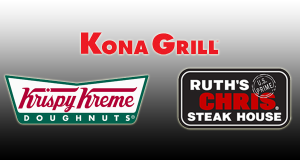 You might be surprised what the top performing industry has been over the last three months.  Despite challenging economic conditions, the Restaurant industry has gained a solid 10.6%.
What makes this interesting is it's logical to assume an industry based on retail spending would be hurting in this economy.  But clearly it's not the case.
So what's going on?
To understand why the restaurant industry is doing well, let's take a closer look at some of the industry's top performing companies…
As of this writing, the two best performers in the group are Krispy Kreme Doughnuts (KKD) and Domino's Pizza (DPZ).  Chipotle Mexican Grill (CMG) is also in the top ten.
You know what these companies all have in common?  They're cheap and convenient.It makes perfect sense.  Retail spending is down.  And with less money flowing through the economy, diners are looking for cheap and easy places to visit.  After all, even struggling consumers like to eat out (or order in) every now and then… particularly families with kids.
So, it shouldn't be too surprising to see pizza, doughnuts, and burritos in demand.
But wait… there's something about the top ten performing restaurant stocks which doesn't make sense.
Also on the list – Ruth's Hospitality Group (RUTH), owners of high end steak chain Ruth's Chris, along with other fancy steakhouses, and Kona Grill (KONA), also a high end, sit-down restaurant chain.
What gives?  I thought diners were trying to save money?
It turns out there are multiple factors at play in the Restaurant industry.
The average consumer may be struggling a bit with their finances, and spending less on dining out.  But on the other hand, many corporations are doing very well.  Just look at some of the recent earnings news.
So with some companies posting huge profits, we're seeing an uptick in business travel and business dining.  And that means high end restaurants are benefiting.
Here's the thing…
It's all good news for the restaurant industry – either way, the overall industry benefits.
What's more, several of the top performing restaurants are penny stocks.
Whether you believe in cheaper fast food restaurants or the fancier sit-down places, there are solid companies to choose from.  In fact, three of the companies I mentioned earlier are penny stocks, including Ruth's Hospitality Group, Kona Grill, and Krispy Kreme Doughnuts.
Bottom line… the economy may not be booming, but people need to eat.  That includes cost conscious families and business travelers.  Take a look at restaurant penny stocks.  And don't be afraid to gobble up shares of the companies with strong growth potential.
Yours in profit,
Gordon Lewis
Category: Penny Stocks to Watch, Retail Stocks