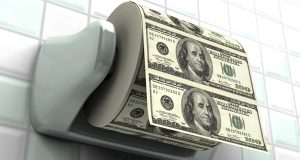 Welcome to Pump and Dump Friday, where every week we highlight a few of the "bogus" promotions that are going on in penny stocks.
If you don't know how these scams work, be sure to check out this free report that exposes the whole thing.
Without further ado, here are this week's disasters waiting to happen:
Cardio Infrared Technologies (CDOI)
This is a pump everyone seems to be jumping on.  More than 15 "famous" groups are highlighting this stock for their subscribers.
My favorite was Cheap Stock Alert who claimed the "Short Squeeze" was about to cause the stock to go "BERSERK!!"  (It's important to note the double exclamation point.  Apparently writing the word in all caps wasn't enough.)
Now this pumper claimed CDOI has a BioFit Bike that "could REVOLUTIONIZE the dieting and fitness industries!"  (Here we go again will all caps and exclamation points.)  It sounds exciting, so I'm sure their financials look good too… not so fast.
I'd love to share some solid financial research with you, but once again we have a company that hasn't made a single filing with the SEC!
What I did find online was very interesting…
The company wasn't always into health and fitness… nope, they were:
RTS Golf, Inc until November 2004…
FACE Biometrices, Inc until March 2005…
WIDE Entertainment, Inc until September 2005…
And, Omega Mining & Exploration Corp until Aug 2007…
Then they became Cardio Infrared Technologies… it's so difficult to keep straight.
Anyway, this "cutting edge" company, CDOI, has 32 BILLION shares outstanding.  You know who else has 32 billion shares outstanding?  Nobody does!
Consider the world's largest corporation… Exxon Mobil (XOM) only has 4.3 billion shares out.  So it makes perfect sense this tiny little company would have a share count more than seven times higher than Exxon!
What is this management team smoking?
So, a health and fitness company like this must attract a lot of attention from strong investors… right?  WRONG!!!
The biggest holder of the company stock is the CEO – Wayne Bailey.  According to page… well their information sheet doesn't have page numbers… that's helpful.  Anyway, in their "Information Document", it says our friend Wayne owns 29 BILLION shares of the company or 95%.
Congratulations!
He owns 95% of a company that last quarter made a whopping $49,200 in sales.  The company also lost over $30,700 that same quarter and has ZERO cash.
It kind of makes you wonder why somebody would pay Cheap Stock Alert $1 million in CASH to promote the stock.  That's a lot of money for a tiny company like this…
This is a fitness company I'd ride away from!
For The Earth Corp. (FTEG)
Pump & dumpers are all over this company… Like stink on "you know what"!
With 21 different promoters hyping this company, you're sure to have an email box full of spam.  The most recent email was from 777 Stocks… they have a gambling theme going.  True to their word, you're really gambling your money away when you follow their picks.
First off, let's get the money thing off the table.  777 Stocks is expecting to receive a cool, crisp $50,000 for promoting FTEG.  (Makes you wonder how much they're spending on the other 20 hypesters!)
Here's the problem…
FTEG could have used that $50,000!
This company is so hard up for cash they say right in their information packet they need to raise more money.  And it's crystal clear how cash strapped the company is when looking at the financial statements.
FTEG isn't profitable… they BURN MONEY!
Last quarter (March 2011) they posted revenue of $23,997… Down 68.5% from the same quarter last year!
On that $23,997 in revenue, the company posted a staggering loss of $221,553!
So for every dollar they generated in revenue, THEY LOST almost $10 in cold hard cash!  Like I said, this is a company that burns cash.
You'd do better trading dollar bills for quarters…
"But wait, there's more…"
This famous line is uttered from many a Television pitch man… Our pump & dump friends pointed to the famous Billy Mays and his selling of the company's products as a reason for "spurring the interest of million…"
I think they meant to say millions… with an "s".  But that's neither here nor there.
They have a bigger problem.  See, poor Billy died a few years ago. So who's going to sell these products now?
Oh, and when Billy was selling these products (back in 2009), orders came in so fast and furious the company couldn't keep up.  They didn't have enough working capital.
Sad but true.
One last note about this company before I go… their balance sheet is a mess.
They have NO CASH and only $22,532 in assets… but don't worry, their debts are only just over $1 million!
You're not going to clean up on this stock, you're going to get cleaned out!
Stay Away!
Shamika 2 Gold (SHMX)
SHMX is on fire!  The stock is up huge (over 81% right now).
And I say:  "RUN FOR YOUR LIFE!"
The company isn't surging on good news, a takeover, or fantastic numbers.  Nope, they're surging because the pump & dumpers have taken hold.
How do I know?
Because I checked the company's filings with the SEC… and they show nothing new with the company.
Yet, I have an inbox full of alerts about the stock… and it's up huge on massive volume.  Ten million shares (and counting) have traded hands today.  Their average trading activity is just over 400,000.
Now get this… Shamika runs a very lean organization.  According to their most recent filings,  "As of March 31, 2011, the Company had no full time employees."
Really, I couldn't make this up!
You know what else they don't have any of… CASH.
Let me give you another snippet right from their filings…
"At March 31, 2011, our cash was $0.  Since our inception on January 13, 2010, to the end of the period ended March 31, 2011, we have incurred losses of $721,686. We attribute our net loss to having no revenues to offset our operating expenses."
So they have No employees, No Cash, and No Revenue.
What exactly do shareholders get when they buy the stock?  My guess is NOTHING!
But I know one group who got something… the pump & dumpers.
Best Penny Alerts raked in $15,000.  That's right, fifteen grand for hyping a stock.  A stock that will be back trading for pennies in no time.
If you own this stock, take the money and RUN!!!
A final word (and warning).
So that takes care of a few of this week's inglorious "pump and dumps".
Remember, there's a lot more of this going on each week than we highlight here.
As you know, penny stocks are a great place to invest your money.  You just have to do your due diligence to stay away from all the scams out there these days!
Until next time,
Brian Walker
Category: Pump & Dump Alerts