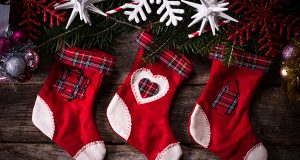 Santa Claus is showing up early.  And he's introducing you to a couple of penny stocks to buy.
As you know, our focus here is giving you information, showing you how to find good penny stocks to watch and buy.
That's why week after week, we like to show you how you can easily identify top penny stocks for today, tomorrow and the future.
But it's a festive time of year.  So we'll stuff a couple of the season's best penny stocks in your stocking.
Each one of these stocks has an important common denominator.  A big market cap, at least by penny stock standards.
This earns them the right to be penny stocks to watch.
Pump and dump scam artists try to promote penny stocks with no assets, no real businesses.
Sometimes, their penny stocks aren't much more than a post office box and a slick brochure.
Market cap is more substantial.  You can take it to the bank.
When a company has a market cap of more than $700 million, you've got a lot more than just a post office box.  You've probably got some decent assets.
And that's what you get with an interesting company up on the Canadian prairies.
But even with a $700 million market cap, this penny stock to consider stuffing in your stocking is not for the cautious trader.
Penn West Petroleum Ltd. $PWE is a Canadian oil company based in Calgary.  You can imagine the assault on the company's stock price since crude oil prices started plunging… take a look at this chart.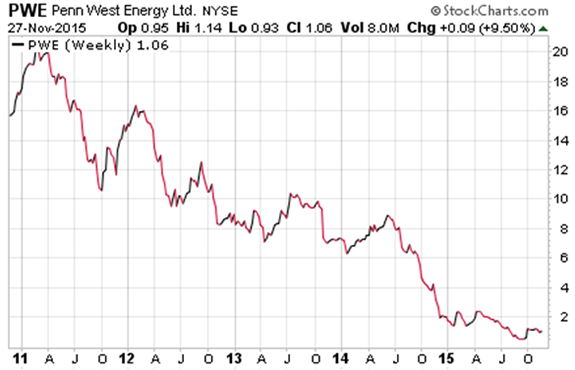 Why should you pump a little Penn West into your portfolio?
Well, it depends on your perspective.
One school of thought says Penn West is doomed, drowning in debt, selling off assets fire sale style, and taking a one-way trip to oblivion.
The other school of thought sees Penn West as troubled but hardly down for the count…
An energy company that's undervalued and a terrific deal.
But let's face it.  No matter how you feel about this company, you can't turn your back on the debt.
And that's because the company owes so much money… $1.6 billion.
There are clearly some serious financial issues, and there's a chance the company's future could be dimmed if it keeps selling off assets to keep the lenders off its back.
Earlier this fall, Penn West sold off more of what could be its crown jewel… some of the Weyburn oil field in the Canadian province of Saskatchewan.
If you think Penn West can ride it out, keep the bankers happy, and hang onto enough of its assets to be ready to light it up when oil prices rebound, you've found a good penny stock.
But if you're skeptical, and figure we'll all wait a long time for an uptick in energy prices, you might want to pass.
Just remember this… Penn West is very focused.  It is a pure play energy company.  All it does is explore, develop, and produce oil and natural gas.
And it doesn't stray far from home.  All of its operations are in western Canada.
Penny Stocks With Low Share Prices And Big Market Caps
There's something we should look at.
Just because a penny stock comes with a big market cap doesn't guarantee anything.
You're not necessarily safer.  What you are assured of is investing in what is more likely to be a real business.
Look at this shipping company based in Monaco, Scorpio Bulkers Inc. $SALT.
It owns eight freighters and has a market cap of more than $400 million.  Solid assets.
But then you can run into an outfit like AF Ocean Investment Management $AFAN.  It also has a $400 million+ market cap.
But assets?  Something like an oil field or a ship?  No.  It's a consulting firm that works on putting deals together between U.S. and Chinese firms and taking a cut for its efforts.
You've got to question the true value of assets on a balance sheet like you get with AF Ocean Investment Management.
What good is $294,000 in "Intangible Assets"?
Is AF Ocean Investment Management a real business?  As long as U.S. and Chinese firms want to connect, probably.  But the lack of hard assets should be a concern.
That's why you should take a harder look at a penny stock like Scorpio Builders.
Just last week, it pulled in $227 million when it sold off two ships it owns and another four vessels it has under construction.
What do you think?
Do you figure Penn West and Scorpio are a couple of penny stocks to buy for the holidays?
This time next year, will you look back on a couple of winners?
Will the assets make a difference?
Let me know your thoughts.
It would be great to hear from you.  And if you have a question about a stock or investment idea, shoot us an email.  You can also leave us a comment below.
Good investing…
Brian Kent
Note:  If you're interested in learning more about Brian Kent's Penny Stock All-Stars premium service… and learning about the stocks we're trading for profit… you can get the inside scoop on penny stocks here.
Category: Penny Stock Alerts