Oil Penny Stocks To Buy
As 2015 rapidly heads towards the exits, the financial news has shifted towards the plunging price of oil.  The somewhat surprisingly collapse of oil prices has given investors something to focus on besides the Fed and interest rates.
Is cheap oil a good thing or a bad thing?  It's actually a bit of both, but that's not our focus this time around.
With oil the cheapest it's been since the financial crisis of 2008, it definitely makes sense to take a closer look at black gold.  Is there opportunity there, or should we stay far away?  How are penny stocks impacted?
More importantly, what are the oil penny stocks to buy?
Take a look at this chart of West Texas Crude Oil: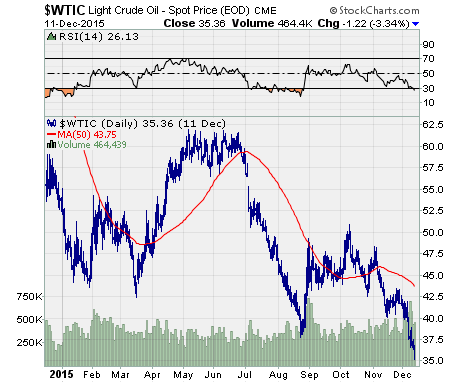 The chart of crude oil shows how black gold has done this year.  Prior to the summer, it actually hit $60 per barrel for a couple months.  However, the price has since plunged, and is now trading well below the 50-day moving average.
What's more, the price of oil has taken a sharp turn below the $40 mark.  That level seems to hold some significance among oil traders/investors as a sign oil's bear market will continue.
So what's this tell us about oil penny stocks?
Here's the thing…
Penny stock oil companies tend to be in the development stage.  They're generally focused on setting up operations to get oil out of the ground.  They are highly unlikely to be cash flow positive.
Development companies are already risky propositions because of the variety of factors and risks associated with the business.  Now, throw in ultra-cheap oil prices and you can see why finding a good oil penny stock is going to be extremely difficult.
You see, more sophisticated methods of oil extraction (fracking, offshore drilling) are expensive.  It already costs substantially more than the current price of oil (around $35 per barrel) to produce.  As such, I'd definitely avoid investing in those types of oil drillers right now.
More traditional oil drillers (land-based, non-fracking) do exist, but they're harder to find.  Most of the low hanging fruit has already been gobbled up.  And, if these companies do exist, they've probably been purchased by bigger players.
So how can you make money buying oil penny stocks?
Bottom line is, you have to be extra picky.  Try to find a company which is cash-flow positive and has lower expenses compared to others in the industry.  The stock should only be down because of the price of oil and nothing that has to do with operations.
This is the type of company which will see a boost in its share price when the price of crude oil recovers.   However, don't expect oil to rebound anytime soon.  Any investment in oil penny stocks should be considered a long-term purchase.
Nevertheless, if you find the right companies and are willing to wait, these investments could be huge winners down the line.
Good investing…
Brian Kent
Note:  If you're interested in learning more about Brian Kent's Penny Stock All-Stars premium service… and learning about the stocks we're trading for profit… you can get the inside scoop on penny stocks here.
Category: Penny Stock Tips