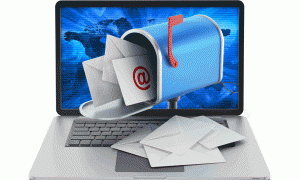 On Fridays we publish the extremely popular Pump And Dump Alert, which identifies penny stocks that are being pumped by penny stock promoters.  Our goal is to expose potentially "bogus" promotions happening in the penny stock universe.
By bringing these to light, we help our readers avoid getting taken out to the woodshed.
Now, since we started publishing the Pump And Dump Alert nearly four years ago, it has become a huge hit with our readers.  In fact, we receive email almost every day asking for our opinions on various penny stocks. 
Unfortunately, we just don't have the resources to personally respond to every email. 
To remedy this problem, we frequently publish the Penny Stock Research Mailbag to answer readers' questions about penny stocks.  So, if there's a penny stock you'd like our opinion on, just shoot us an email at customerservice@pennystockpublishing.com. 

Also, we'd appreciate any feedback you can give us about Penny Stock Research and my investment advisory, Penny Stock All-Stars. 

Let us know what you really think about the websites and the content we provide.  And if you've made money or avoided losses based on our research, analysis, or recommendations, we'd love to hear those stories too.

By the way, those of you who provide feedback and/or testimonials about Penny Stock Research or Penny Stock All-Stars will be more likely to have your questions answered here!
 

A Penny Stock Readers Are Asking About
We've received a number of emails lately asking for our opinion on Thinspace Technologies (OTCQB: THNS).  The company claims to be a global provider of cloud computing solutions to public and private companies of all sizes. 
But I hate to break it to you… the stock appears to be the subject of a pump and dump campaign.
Our sources show that various promoters have sent out more than 60 emails since early March to pump up the shares of THNS.  What's more, it looks like a good number of these penny stock hypesters have been paid around $250,000 for their efforts.
And if you look at a chart of THNS, you'll see it has been behaving like a pump and dump stock…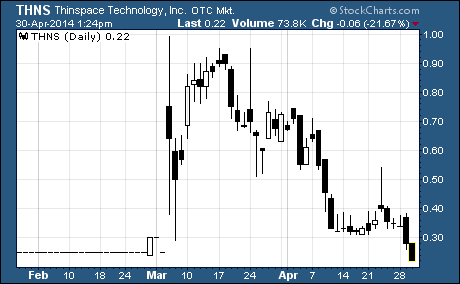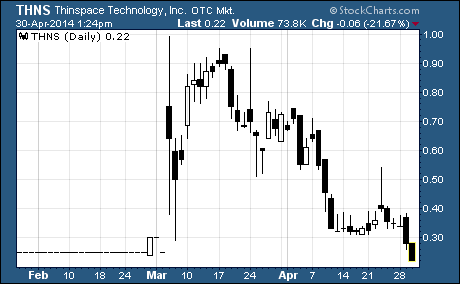 As you can see, THNS nearly quadrupled intraday when the campaign began in early March.  And after a brief pullback, the shares moved up over the next couple of weeks to a high of 95 cents. 
At that price, the stock had gained 280%.
However, that's when the dumpers stepped in and began unloading their shares.  Now, after a month-long decline, THNS is changing hands for just 22 cents per share – below where it was trading immediately prior to the campaign.
That's a whopping 78% drop in short order.
You know the old saying… if it looks like a duck, swims like a duck, and quacks like a duck, then it's probably a duck.
But that's not all…
The company bears other characteristics of a pump and dump.
First off, Thinspace is the result of a reverse merger that occurred in December 2013 between Vanity Events Holding, VAEV Merger Sub, and Thinkspace UK.  The shareholders of Thinspace UK now own a majority of the company's voting power and have assumed operational, management, and governance control.
Second, the company's financials paint a very different picture than the one presented in the flurry of press releases that have accompanied the stock promotion campaign. 
The company calls itself a "leading player in application delivery, virtualization, and cloud technology markets."  But check out this data from the most recent annual report…
As of December 31, 2013, the company had $341,000 in cash versus a working capital deficit of $13.3 million.  It presently does not have any other available credit, bank financing, or other external sources of liquidity.  And the company's ability to continue as a going concern depends entirely on it obtaining additional funds to continue operations.
So, how has the company been funding its operations?
You guessed it… "equity and debt financings, along with advances from related parties."
In fact, the company is party to 18 convertible notes with an aggregate outstanding principal balance of $1,173,825.  And the company owes $209,972 in accrued and unpaid interest on these notes.
What's more, 16 of the notes are convertible at discounts of between 75% and 90% to the market price of Thinspace's common stock.
No question about it, the holders of these convertible notes certainly stand to benefit from a sharp rise in the price of THNS.  And a rising stock price would likely make it easier for Thinspace to raise the millions of dollars it needs to keep the company going.
Bottom line…
We recommend you avoid trading penny stocks like THNS that are the subject of a promotion campaign.  If you already own the stock, you should consider selling it to limit your losses.
Profitably Yours,
Robert Morris
Category: Penny Stock Tips, Pump & Dump Alerts