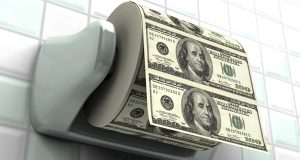 Welcome to Pump and Dump Friday, our weekly feature where we identify potentially "bogus" promotions going on in penny stocks.
Today we're exposing one of the most extensive penny stock pump and dump campaigns of the week… Montalvo Spirits (OTCQB: TQLA).
If you don't know how these schemes work, be sure to check out our free report that exposes the whole thing.
Without further ado, here is today's disaster waiting to happen:
Montalvo Spirits (OTCQB: TQLA)
TQLA is one of the most heavily hyped penny stocks of the past week. According to our sources, over $65,000 has been paid to many of the 25 promoters pumping the stock through more than 60 newsletters.
And the stock is benefiting as a result.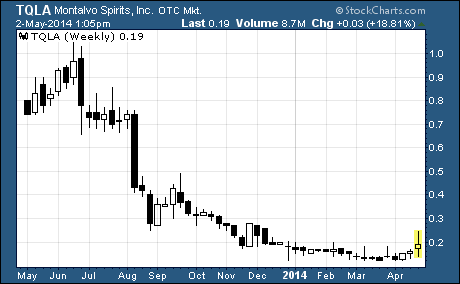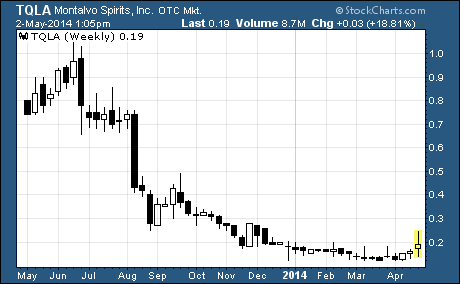 As you can see, TQLA has traded up from 16 cents a week ago to a current price of 19 cents per share. That's a 36% jump since this latest promotion began on Monday. And the stock is now up 58% from the low of 12 cents hit in mid-April.
The recent rally follows a massive meltdown that began during the stock's last pump campaign in the summer of 2013. While the campaign initially drove the stock over $1.00 per share, the dumpers ultimately took TQLA down to the recent low of 12 cents.
This devastating nine-month decline wiped out 88% of the company's value!
Montalvo Spirits is a development stage company that develops, markets, and distributes alcoholic beverages primarily in the US. It offers its products under the Montalvo Tequila brand name.
But that's not all…
The stock is getting a lot of attention after the latest pump emails revealed that Montalvo has moved into what else… the marijuana business. The company's Colorado-based subsidiary, Cannabis Beverage Group, has set up an ecommerce website that offers a variety of hemp-based products.
Of course, the company's decision is not all that surprising. With marijuana stocks acting like the dot-com stocks of the late 1990s, it has become a popular strategy among small companies to climb aboard the marijuana money train.
But as we saw with the dot-com stocks, it's likely that most of the marijuana stocks will fail as well.
What's more, a quick review of Montalvo's most recent quarterly report shows a company in desperate financial shape. At the end of 2013, it had just $11,365 in cash compared to current liabilities of $543,936. And since the company's inception in March 2010, it has generated just $138,350 in revenues compared to net losses of over $2.4 million.
No wonder management stated in the report that "there is substantial doubt about the Company's ability to continue as a going concern."
In our opinion, there are plenty of reasons to be skeptical of the rally that is currently taking place in TQLA. We suggest you look for better opportunities in the penny stock space.
Profitably Yours,
Robert Morris
Other Penny Stocks Being Pumped This Week
Tanke (OTCPINK: TNKE) – 38 promoters with 140 newsletters were paid nearly $100,000 to hype TNKE over the past month.
SK3 Group (OTCPINK: SKTO) – 42 promoters with 105 newsletters were paid over $160,000 in April to plug SKTO.
Category: Pump & Dump Alerts