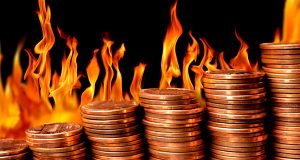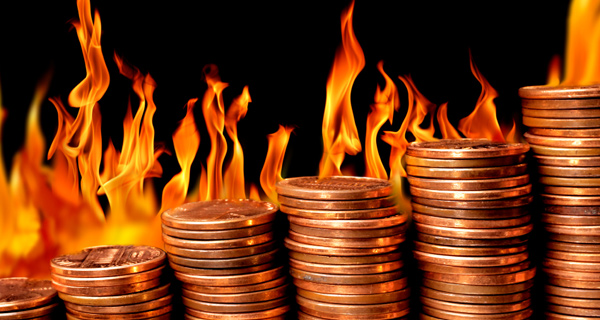 It's an exciting time for penny stocks, especially hot penny stocks like IntriCon (IIN), American Apparel (APP), and Cbeyond (CBEY)…
IntriCon (NASDAQ: IIN)
IIN's making a move!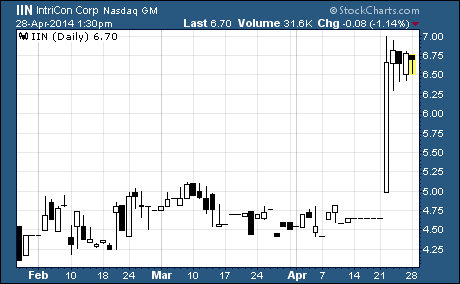 After several days of hardly any trading, IIN took off like a rocket last Tuesday.  The stock surged more than 40% for the day on more than 70 times average daily volume.  And by the end of the week, IIN had gained nearly 46% to its highest weekly closing price in nearly two years.
What's going on?
The maker of miniature body-worn devices for the healthcare sector reported outstanding first quarter results.  Revenue jumped 22.5% to $17.3 million.  Net income rose from a net loss of $471,000 a year ago to a profit of $517,000.  And earnings improved from a loss of $0.08 to a gain of $0.09 per share.
It was the company's strongest quarter in more than five years!
Management cited strong sales in the medical and hearing health segments as driving results.  And they're highly optimistic about the remainder of 2014.  According to CEO Mark Gorder…
"With a return to profitability and a favorable outlook from our major customers, we're on track to continue to deliver strong performance in 2014.  Our targeted focus going forward is aggressively driving our two largest growth opportunities:  value hearing health and medical biotelemetry."
The company's primary customers are Medtronic (NYSE: MDT) in the medical device segment and hi HealthInnovations in the hearing aid business.
Take a closer look at IIN for your own portfolio.  It sounds like the company is just beginning what could be a long-term growth trend.
American Apparel (NYSE: APP)
American Apparel is a Los Angeles-based manufacturer, distributor, and retailer of branded fashion basic apparel. 
The company operates 246 retail stores in 20 countries and a global e-commerce website that serves over 60 countries worldwide.  It also operates a leading wholesale business that supplies high quality T-shirts and other casual wear to distributors and screen printers.
After trending lower over the past eight months, APP surged last week…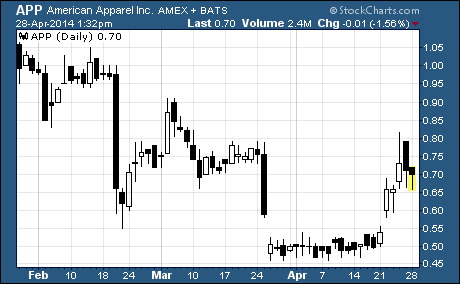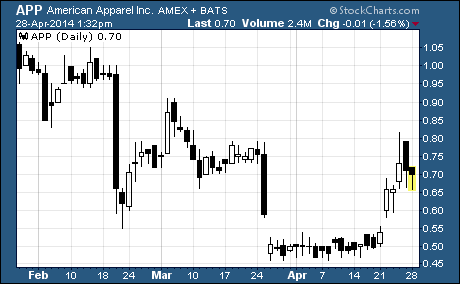 As you can see, the stock climbed from the prior week's closing price of 50 cents to a high of 82 cents before finishing the week at 71 cents per share.  The strong upward move provided shareholders with a surprising 42% gain for the week.
Why did the stock leap all of a sudden?
It looks like some investors believed the stock was deeply undervalued around the 50-cent per share level.  And a couple of recent positive articles about APP have further stoked investor interest in the stock.
In addition, after struggling in 2013, the company appears poised for stronger performance in 2014.
Management recently forecast year-over-year revenue growth of around 4% to between $634 and $658 million.  And they expect EBITDA to recover from last year's $7 to $9 million range to between $40 and $50 million this year thanks to strenuous cost-cutting in 2013.
Based on management's forecast, APP certainly has potential to be a penny stock turnaround play this year.  And with investors rotating out of small-cap growth into small-cap value stocks, the rally in APP could have legs. 
Cbeyond (NASDAQ: CBEY)
CBEY soared on big news last week…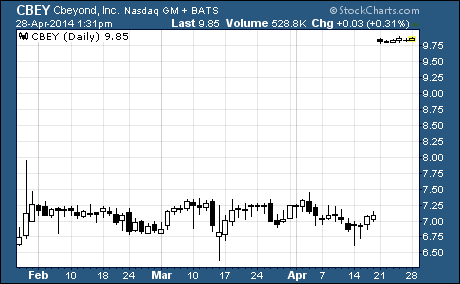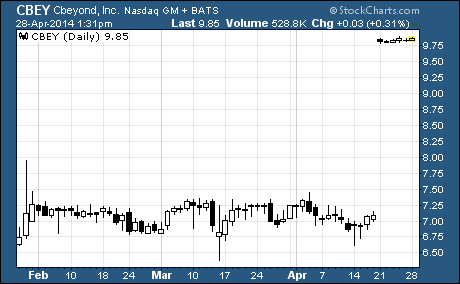 After closing the prior week at $7.08, CBEY jumped to a high of $9.85 on Monday and ended the week at $9.82.  The stock's rapid rise gave shareholders a stunning one-week gain of 39%.
I'll explain why in a moment, but first a word about the company…   
Cbeyond provides technologies and services to small and medium-sized business in the US.  It delivers cloud-based services, communications services, and network connectivity through enterprise data centers and a private, all-internet protocol enterprise network.  The company was founded in 1999 and is based in Atlanta, Georgia.
The stock soared on news that Cbeyond will be acquired by Birch Communications in an all-cash transaction valued at approximately $323 million.  Under the deal, CBEY shareholders will receive between $9.97 and $10.00 per share.
Cbeyond's board had been conducting a strategic review process over the past six months in an effort to find the best way to maximize shareholder value.  After considering a variety of options, the board determined that a sale of the company to Birch was the best way to achieve that goal.
The transaction has already been unanimously approved by the boards of directors for both companies.  And it's expected to close within the next six months.
With CBEY trading very close to the proposed acquisition price, there isn't much upside, if any, left in the stock at this point.  We suggest looking for other opportunities in the penny stock space with better growth opportunities.       
Profitably Yours,
Robert Morris
Category: Hot Penny Stocks