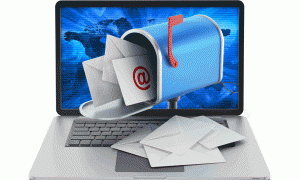 On Fridays we publish the extremely popular Pump And Dump Alert, which identifies penny stocks that are being pumped by penny stock promoters. Our goal is to expose potentially "bogus" promotions happening in the penny stock universe.
By bringing these to light, we help our readers avoid getting taken out to the woodshed.
Now, since we started publishing the Pump And Dump Alert nearly four years ago, it has become a huge hit with our readers. In fact, we receive email almost every day asking for our opinions on various penny stocks.
Unfortunately, we just don't have the resources to personally respond to every email.
To remedy this problem, we frequently publish the Penny Stock Research Mailbag to answer readers' questions about penny stocks. So, if there's a penny stock you'd like our opinion on, just shoot us an email at customerservice@pennystockpublishing.com.

Also, we'd appreciate any feedback you can give us about Penny Stock Research and my investment advisory, Penny Stock All-Stars.

Let us know what you really think about the websites and the content we provide. And if you've made money or avoided losses based on our research, analysis, or recommendations, we'd love to hear those stories too.

By the way, those of you who provide feedback and/or testimonials about Penny Stock Research or Penny Stock All-Stars will be more likely to have your questions answered here!
A Penny Stock Readers Are Asking About
One penny stock that we've received multiple inquires about recently is Seychelle Environmental Technologies (OTCQB: SYEV).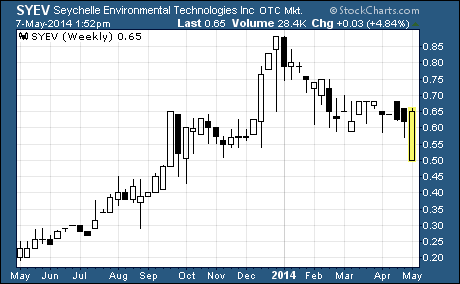 Seychelle designs, assembles, and distributes water filtration systems worldwide. It offers ionic adsorption micron filters primarily for portable filter devices that remove pollutants and contaminants found in fresh water sources. The company's products include a variety of bottles, canteens, water pitchers, pure water pumps, and filters.
Before we dig further into the company, I'd like to point out that the stock is not currently being pumped by penny stock promoters. That's a huge point in its favor compared to most of the penny stocks we review here.
In fact, our sources indicate that SYEV has been promoted just once, in October 2013, by a single penny stock promoter.
Another positive is that Seychelle is operating in a massive global market.
According to Beverage Marketing, the global pure water market is valued at around $100 billion. And the bottled water industry is generating around $16 billion in sales each year with an annual growth rate of 4% to 6%.
With that said, the company concedes that is targeting a more limited market… the portable filtration product segment.
Seychelle claims that its primary competitive advantage is superior technology.
According to the most recent annual report (February 2013), the company's water filtration systems remove up to 99.99% of pollutants and contaminants most commonly found in fresh drinking water within five major areas of concern… Aesthetics, Biologics, Chemicals, Dissolved Solids, and Radiological.
What's more, Seychelle claims it is unaware of any other portable water filtration systems that can achieve the same level of success within these five areas.
It certainly sounds like the company offers more effective products than its competitors. But Seychelle is going up against larger and more established leaders in the field like Brita, PUR, and Aquasana.
How's the company performing on a financial basis?
Over the first nine months of fiscal year 2014, revenue increased by 39% year-over-year to nearly $3.9 million. Net income rose by a whopping 555% to $480,503 ($0.02 per share). And gross profit margins are running at a hefty 49%.
Our only concern here at the moment is that most of the company's sales are two just two large customers.
Seychelle's balance sheet also looks solid.
The company has plenty of liquidity with total current assets of $3.9 million (including $2.2 million in cash) versus total current liabilities of just $533,161. Total debt is negligible at just $16,000. And the company's generating levered free cash flows to the tune of $560,000.
All in all, Seychelle appears to be a financially sound company that is growing much faster than its industry.
Our view…
Seychelle Environmental Technologies is a legit penny stock with good financials and rapid growth. If you're looking for a penny stock play in the booming pure water industry, SYEV is a solid pick with good long-term upside potential.
Profitably Yours,
Robert Morris
Category: Penny Stock Tips