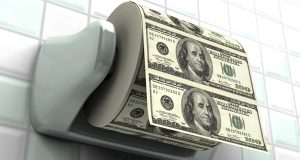 Welcome to Pump and Dump Friday, our weekly feature where we identify potentially "bogus" promotions going on in penny stocks.
Today we're exposing one of the most extensive penny stock pump and dump campaigns of the week… Pingify International (OTCQB: PGFY).
If you don't know how these schemes work, be sure to check out our free report that exposes the whole thing.
Without further ado, here is today's disaster waiting to happen:
Pingify International (OTCQB: PGFY)
PGFY is one of the most heavily hyped penny stocks of the past week. According to our sources, a whopping $6.5 MILLION has been paid to some of the 20 promoters pumping the stock through more than 70 newsletters.
You read that right…
Someone, or a group of someone's, has spent $6.5 million in an effort to drive up the price of Pingify shares. It's one of the highest funded penny stock pumps we've ever seen. And that's saying a lot!
But the crazy part is…
The promotion campaign's $6.5 million price tag isn't even the most shocking part of the story. Keep reading to find out what happened earlier this week.
Pingify is a Canadian, development stage software company based in Edmonton, Alberta. Its principal product is called the Pingify Solution, which is a combination of its Personal Internet Notification Software (PING), a mobile app, and an embedded version of the app that will run on social media networks like Facebook.
The Pingify Solution is designed to connect vendors with potential customers who are specifically interested in products or services sold by the vendor.
Now, it's not too often that an executive officer exposes a pump campaign behind his own company's stock. But that's exactly what happened when Pingify's former CFO and Director Vlad Milutin published his resignation letter on Tuesday, May 6th.
In a letter to company President, Jason Gray, Mr. Milutin said he was resigning as an act of protest against the Pingify stock promotion campaign.
He accused one or more purchasers of the company's S-1 shares of being behind the campaign, which he described as an "effort to defraud the public." And he concluded with a plea to the SEC and FINRA to not only investigate the trading in PGFY but to find the people responsible for "this pump and dump effort."
Here's an eye-opening excerpt from the letter…
"I am greatly depressed by the recently commenced promotion campaign on Pingify stock. That the public could be conned into giving this company with no assets and limited prospects, upwards of a $75 million market cap is quite distressing to me. I am not aware of any contracts or other sources of revenue at this time and no assets on the books. That emails from Mike Statler of StockTips could paint such a rosy picture as to suggest these shares are worth $5.00 each, thereby giving the company a $250 million market cap is, ludicrous."
Ouch! Mr. Milutin is clearly disgusted, and he's not pulling any punches. Click here to read the letter in its entirety.
A quick review of the company's financials show that Mr. Milutin is on point with his criticisms.
Since its inception in January 2012, Pingify has generated zero revenue while racking up losses of nearly $210,000. And the balance sheet shows no assets other than a paltry $2,209 in cash versus liabilities of $61,979.
However, despite the company's shaky financials and Mr. Milutin's incendiary accusations, PGFY is refusing to stay down…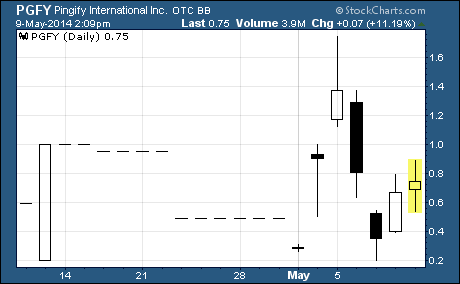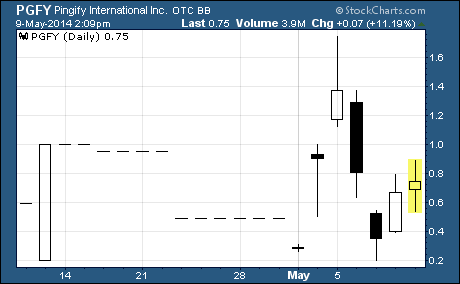 As you can see, the stock plunged after Mr. Milutin published his letter. It fell nearly 80% in the span of just two days from a high of $1.74 to a low of $0.35 per share.
But now PGFY is moving higher once again.
The stock has more than doubled off the low and is currently changing hands for 75 cents per share. It certainly makes you wonder who would buy this stock after the former CFO has publicly accused some shareholders of running "a pump and dump" scheme.
We can't urge you strongly enough to steer clear of PGFY. Risking your hard earned cash on a penny stock whose shareholders may be trying to manipulate the stock price is a sure-fire recipe for disaster.
Profitably Yours,
Robert Morris
Other Penny Stocks Being Pumped This Week
Caribbean International Holdings (OTCPINK: CIHN) – 36 promoters with 191 newsletters have been paid over $80,000 to hype CIHN so far in May.
Sterling Consolidated (OTCQB: STCC) – 21 promoters with 45 newsletters have been paid over $28,000 in May to plug STCC.
Category: Pump & Dump Alerts