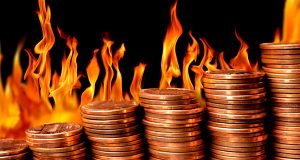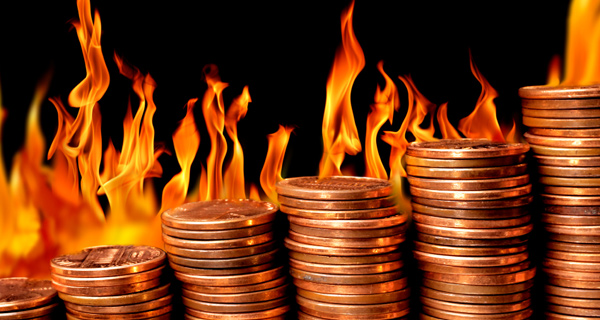 It's an exciting time for penny stocks, especially hot penny stocks like Point.360 (PTSX), Merrimack Pharmaceuticals (MACK), and Avanir Pharmaceuticals (AVNR)…
Point.360 (NASDAQ: PTSX)
Investors are going bonkers for PTSX!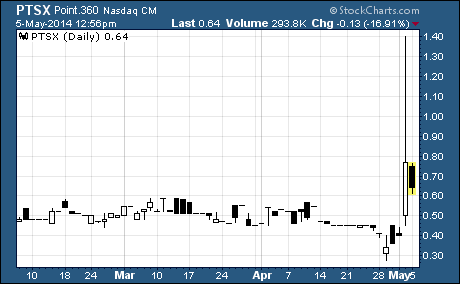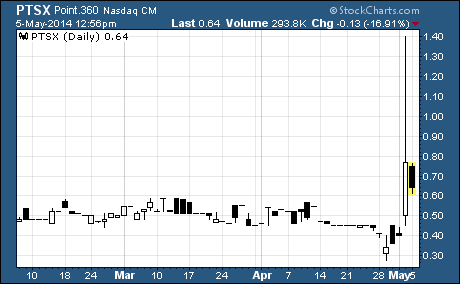 After dropping to a 52-week low of 27 cents last Tuesday, PTSX ended the week with a jaw-dropping 93% surge on Friday. The huge one-day move propelled the stock to a closing price of 77 cents and a gain of 75% for the week.
And at one point on Friday, PTSX traded as high as $1.40 per share for an intra-day profit of 250%.
It appears investors piled into the stock ahead of the company's upcoming quarterly earnings announcement. In a press release last Wednesday, management said it will conduct a conference call that will be broadcast live on the internet this Wednesday, May 7, 2014, at 1:00 p.m. Eastern Time.
Point.360 is a value added services organization that provides audio and video post-production services, creates virtual effects, and distributes Rich Media content worldwide. The company's customers include studios, independent producers, and creative agencies.
It also rents and sells DVDs and video games directly to consumers through its MovieQ retail stores.
In the quarter ending December 31, 2013, Point.360's revenues declined by 18% year-over-year to $6.3 million. And the company's net loss widened from $0.4 million ($0.04 per share) to $0.6 million ($0.06 per share).
CEO Haig Bagerdjian provided the following analysis:
"In fiscal 2014, our results have been affected by lower orders from a major customer as well as our exit from the inconsistent computer graphics market. However, we are encouraged by increases in ordering activity by another of our major clients and adaptation of content for foreign markets, often called localization. We believe diversification of customers and localization will be growth opportunities for us in the future."
Based on the stock's move last week, it looks like some investors are expecting the company to report much stronger performance for the March 2014 quarter. While PTSX has increased by 45% year-to-date, the stock is still down nearly 21% over the past 12 months.
Merrimack Pharmaceuticals (NASDAQ: MACK)
Merrimack Pharmaceuticals is a biotech that focuses on developing innovative medicines paired with companion diagnostics for the treatment of cancer. The company seeks to gain a deeper understanding of cancer biology through its systems biology-based approach. It currently has six cancer drugs in clinical development and three additional candidates in late stage preclinical testing.
After trending lower for six straight weeks, MACK took off like a rocket last week…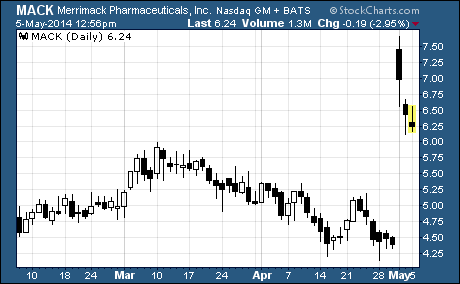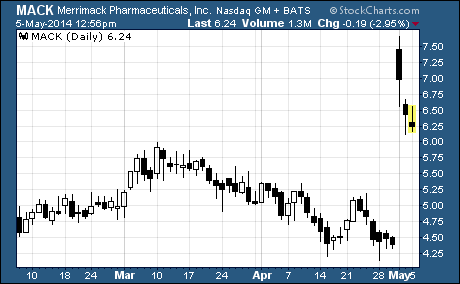 As you can see, the stock shot up from the prior week's close of $4.47 to a high of $7.65 on Thursday before finishing the week at $6.43 per share. The late-week surge provided shareholders with a stunning one-week gain of 44%.
What happened?
The biotech reported positive results from a phase 3 trial of its experimental drug (MM-398) for late-stage pancreatic cancer. According to the company, a combination of MM-398, 5-fluorouracil (5-FU), and leucovorin provided a statistically significant improvement in overall survival compared to treatment with 5-FU and leucovorin alone.
The data showed that patients treated with MM-398 achieved an overall survival of 6.1 months… nearly 2 months longer than the control arm.
CEO Robert Mulroy had this to say about the results…
"Given that there have only been a handful of successful Phase 3 trials in pancreatic cancer in the past 25 years, it is gratifying to have the first positive Phase 3 trial in the post-gemcitabine setting. The results reinforce our confidence in our entire nanoliposomal pipeline."
Pancreatic cancer is the fourth most common cause of cancer death in the US. According to the American Cancer Society, nearly 46,000 people are diagnosed with, and some 40,000 patients die from, the disease each year.
What's next for MM-398?
Merrimack plans to submit a New Drug Application to the FDA later this year. If MM-398 is ultimately approved, it would become the company's first revenue-producing product. Analysts project peak sales of $800 million a year for MM-398.
MACK has gained 135% over the past six months and is now up 21% for the year.
Avanir Pharmaceuticals (NASDAQ: AVNR)
AVNR is another biotech stock that soared last week…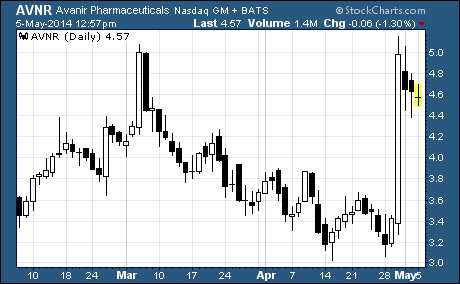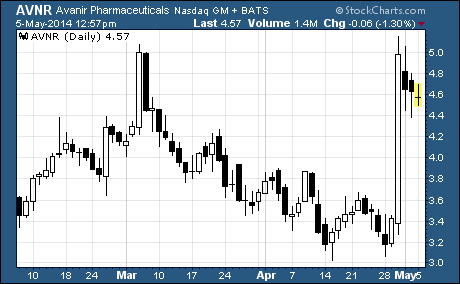 The shares climbed from the prior week's close of $3.30 to a high of $5.15 before ending the week at $4.63. Thanks to a one-day surge of 46% last Wednesday, AVNR was able to produce a 40% gain for the week.
I'll explain why in a moment, but first a word about the company…  
Avanir is a biopharmaceutical company focused on bringing innovative medicines to patients with central nervous system disorders. The company has two FDA approved products on the market… Nuedexta for the treatment of pseudobulbar affect and Docosanol 10% cream for cold sores.
And it has a rich pipeline of drugs in development for disorders like migraine, Alzheimer's disease, neuropathic pain, depression, and autism.
The stock skyrocketed last week after the company announced great news regarding its litigation with Par Pharmaceuticals and Impax Laboratories. A US District Court upheld several Avanir patents covering Nuedexta and found that proposed generic versions of the drug from Par and Impax infringed two of those patents.
The decision provides market-exclusivity for Nuedexta through 2026.
This is a huge win for Avanir as Nuedexta is the only FDA-approved treatment for pseudobulbar affect. Canaccord Genuity projects peak global sales of $650 million for Neudexta.
Despite gaining a lot of ground in short order, AVNR may still have significant upside.
Mizuho raised its rating from Hold to Buy on the news and set a price target of $10 per share. While the median analyst price target is $8.00, at least one analyst has a price target of $13.00 for AVNR.
Profitably Yours,
Robert Morris
Category: Hot Penny Stocks