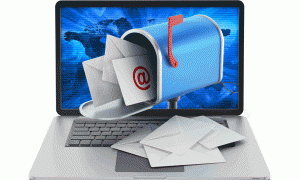 On Fridays we publish the extremely popular Pump And Dump Alert, which identifies penny stocks that are being pumped by penny stock promoters.  Our goal is to expose potentially "bogus" promotions happening in the penny stock universe.
By bringing these to light, we help our readers avoid getting taken out to the woodshed.
Now, since we started publishing the Pump And Dump Alert nearly four years ago, it has become a huge hit with our readers.  In fact, we receive email almost every day asking for our opinions on various penny stocks. 
Unfortunately, we just don't have the resources to personally respond to every email. 
To remedy this problem, we frequently publish the Penny Stock Research Mailbag to answer readers' questions about penny stocks.  So, if there's a penny stock you'd like our opinion on, just shoot us an email at customerservice@pennystockpublishing.com. 
Also, we'd appreciate any feedback you can give us about Penny Stock Research and my investment advisory, Penny Stock All-Stars. 

Let us know what you really think about the websites and the content we provide.  And if you've made money or avoided losses based on our research, analysis, or recommendations, we'd love to hear those stories too.

By the way, those of you who provide feedback and/or testimonials about Penny Stock Research or Penny Stock All-Stars will be more likely to have your questions answered here!
A Penny Stock Many Readers Are Asking About
Rightscorp (OTCQB: RIHT)
Rightscorp uses proprietary technology to identify people who illegally download music, movies, and other media in violation of the owners' copyrights.  The company then offers these copyright infringers an opportunity to settle the owners' legal claims for just $20 per violation.
Most infringers receive and settle multiple infringement notices.  Once Rightscorp receives payment, it then splits the amount 50/50 with the copyright owner, less certain costs.
The company's settlement offers have proven highly effective in resolving the owners' claims. 
You see, the infringement notice explains that each violation carries a penalty of $150,000 under federal law.  And most infringers would rather accept the settlement offer than risk being found liable for hundreds of thousands of dollars in potential damages.
According to Rightscorp, the company has closed over 60,000 cases of copyright infringement for its clients.
And they've only just scratched the surface of their potential market.  At the end of last year, the company had over 40,000 copyrights active in their system.  And it recently received approval to collect on over 1 million additional copyrights.
Rightscorp currently values its market opportunity at $2.3 billion.
Now, as you can see from the chart below, the stock has taken investors on a rollercoaster ride so far this year.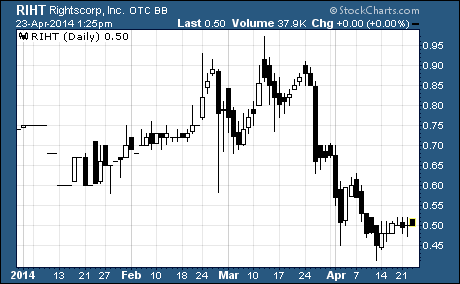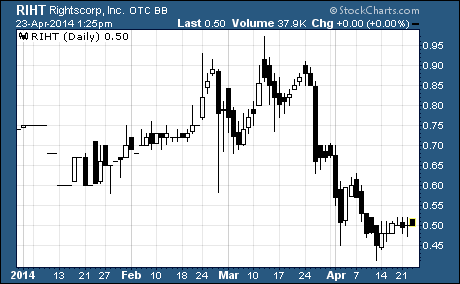 After starting the year at 75 cents, RIHT dropped to the 60-cent per share level in mid-January.  It then reversed course and proceeded to trend higher over the next few months, hitting a high of 97 cents in mid-March.
But that level proved to be the rally's peak.
Less than two weeks later, RIHT began a plunge that in hindsight rivals Six Flags Great Adventure's Kingda Ka in terms of speed and depth.  Over the next 14 trading days, the stock fell by a whopping 59% to a low of 40 cents per share.
Now, RIHT has recovered a bit off the low, but it's merely hovering around the 50-cent level as I write.  At that price, the shares are down 48% from the mid-March high and have lost a stunning 78% of their value since reaching a 52-week high of $2.25 in July 2013.
No question about it, RIHT has provided investors with a significant amount of volatility in recent months.
One reason for this could be the extensive promotion campaign for the stock.  Since February, more than 50 promoters have pumped the stock through hundreds of emails to their subscribers.  And over $120,000 has been paid to many of them for their services.
As you know, I tend to avoid penny stocks that are being hyped through promotion campaigns.  With that said, this company appears to have a legitimate business model, a sound growth strategy, and a large, fast-growing market.
I'd expect RIHT to remain highly volatile as long as it's being pumped by penny stock promoters.  However, if the company can execute its growth strategy, the stock appears to offer solid long-term growth potential. 
Profitably Yours,
Robert Morris 
Category: Penny Stock Tips