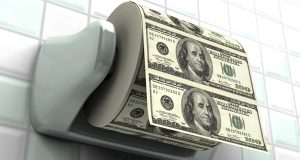 Welcome to Pump and Dump Friday, our weekly feature where we identify potentially "bogus" promotions going on in penny stocks.
Today we're exposing one of the most extensive penny stock pump and dump campaigns of the week… Well Power (OTCQB: WPWR).
If you don't know how these schemes work, be sure to check out our free report that exposes the whole thing.
Without further ado, here is today's disaster waiting to happen:
Well Power (OTCQB: WPWR)
WPWR is one of the most heavily hyped penny stocks of the past week.  According to our sources, over $45,000 has been paid to many of the 25 promoters pumping the stock through more than 80 newsletters this month. 
And the promotion is just starting to bear fruit.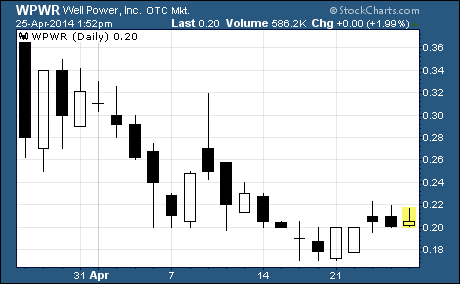 As you can see, the stock has traded up from 17 cents on April 16th to a current price of 20 cents per share.  That's an 18% rise since this latest promotion began a little over a week ago.
I say this latest campaign because it isn't the first one for WPWR.  In fact, the hype machine has been touting the stock since early February. 
Our sources show that the campaign to push WPWR higher has a total production budget of over $4 million!  Clearly, there are some people out there with a serious desire to drive up the price of this stock.
And they had a lot of success back in February and March.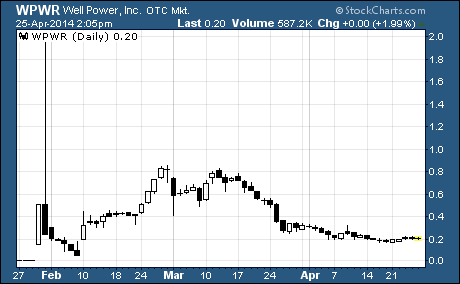 The above chart shows WPWR soared by a whopping 490% on February 10th, the first day of the initial campaign.  And it didn't stop there.  Over the next few weeks, WPWR traded up to a high of 86 cents. 
That rally produced a mind-boggling 1,600% gain off the pre-campaign closing price of 6 cents per share set on February 7th.
No wonder the pumpers keep banging the table on this stock.
But keep in mind, WPWR has lost 77% of its value since hitting that 86 cent high in February.  That's the nasty flipside of a huge promotion campaign.  And the shares could still lose a lot more value going forward.
Here's why…
Well Power is a development stage company whose major asset is a license acquired from ME Resource Corp. (OTCPINK: MEEXF) to distribute Wellhead Micro-Refinery Units (MRUs) in Texas.  These machines are intended for deployment near wellheads to process raw natural gas into liquid fuels and clean power.
While that sounds interesting, the truth of the matter is that the product is still under development at ME Resource.  Management expects to have a product it can sell within a year, but that is just an estimated timetable at this point.
Of course, as the company admits, it won't be able to "realize any revenue… until the development has completed and a commercialized product is ready for launch."
In the meantime, the company hopes it can continue to remain operational. 
According to the most recent quarterly report, Well Power has "insufficient cash to operate [their] business at the current level for the next twelve months and insufficient cash to achieve [their] business goals."  As you might expect, the company plans to fund its operations through debt and/or equity financing arrangements.
Bottom line… it's hard to fathom how Well Power deserves its current market cap of $21 million.
The only asset the company has of any value is the right to distribute a product that hasn't even been fully developed.  What's more, Well Power doesn't even own the MRU technology… ME Resource does. 
And ME Resource currently trades for just 9 cents a share with a market cap of $4.7 million.  In other words, the company with the mere distribution rights for a product is currently valued four times higher than the company developing the actual product.
No question about it, Well Power's stock price is highly inflated right now due to the massive promotion campaign behind it.  Stay away from WPWR if you value your money.
Profitably Yours,
Robert Morris
Other Penny Stocks Being Pumped This Week
Horizon Energy (OTCQB: HORI) – 37 promoters with 118 newsletters have been paid over $140,000 this month to hype HORI.
Solaris Power Cells (OTCQB: SPCL) – 22 promoters with 54 newsletters have been paid over $150,000 in April to plug SPCL.
Category: Pump & Dump Alerts