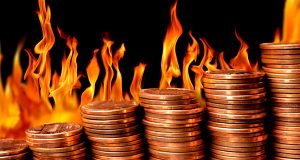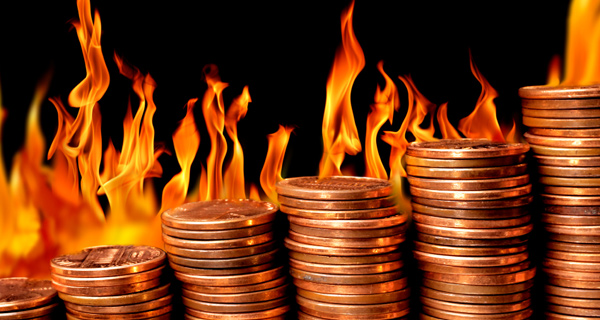 It's an exciting time for penny stocks, especially hot penny stocks like FX Energy (FXEN), SmartPros (SPRO), and Wave Systems (WAVX)…
FX Energy (NASDAQ: FXEN)
FXEN's on fire!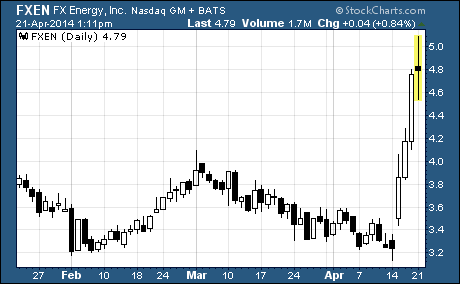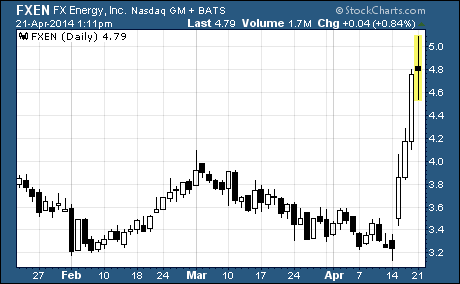 After posting a stunning one-day gain of 19% on Tuesday, the stock continued to climb throughout the week.  It strung together three straight higher daily closes.  And on Thursday, the shares hit a high of $4.80 before finishing the holiday-shortened week at $4.75.
All in all, the surprise rally produced a gain of 44% for the week.
FX Energy is an independent oil and gas exploration and production company based in Salt Lake City, Utah.  The company's activities are focused primarily on the exploration of Rotliegend sandstones in Poland's Permian Basin.
Why is the stock surging?
Last week, the company announced that its Tuchola-4K well showed "excellent porosity and gas saturation" throughout a 70-meter interval.  The Tuchola-4K is an appraisal well of the Tuchola-3K discovery made last year in north-central Poland.
According to VP of Operations Andy Pierce, the "data from the Tuchola-4K well up to this point exceeds [their] expectations."
This is exciting news because it suggests FX Energy may have a significant new exploration play in which it has a 100% interest.  The company expects to put numbers to this new discovery as soon as possible.
SmartPros (NASDAQ: SPRO)
SmartPros is a leading provider of accredited professional education and corporate training products.  Its clients include Fortune 500 companies as well as the major firms and associations in each of its professional markets. 
The company's subscription library features hundreds of courses and over 2,300 hours of accredited education.  This content is available through a variety of media, including internet, CD-ROM, video, and live seminars.
It looks like investors are excited about the company's prospects as SPRO took off last week…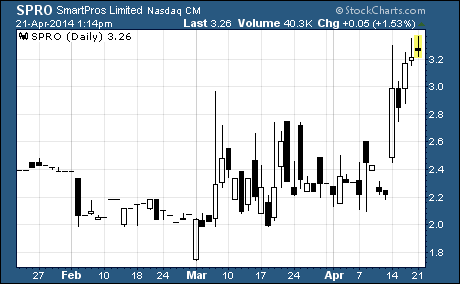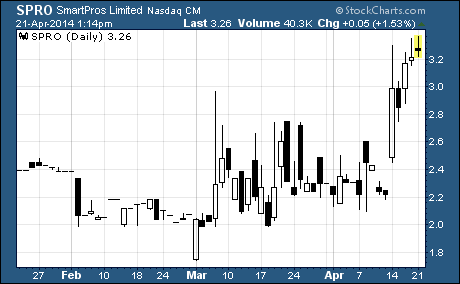 The stock traded up from the prior week's closing price of $2.22 to a high of $3.35 before ending the week at $3.21.  That's a solid 43% gain for the week.  And the shares have now more than doubled over the past year.
The surging share price follows a major news event.
In late March, SmartPros announced the release of its new eLP-Mobile eLearning Platform.  This new service allows customers to access continuing education and training courseware directly from supported phones and tablets.
As Chief Technology Officer Joseph Fish said, this new service addresses "the growing demand for mobile eLearning by busy professionals."
And the company recently reported decent growth for 2013.
Revenue increased 6% year-over-year to $16.8 million.  Net income improved from a net loss of $1.9 million to a profit of $143,000.  And earnings went from a loss of $0.40 per share to a gain of $0.03 per share.
What's more, SmartPros recently paid a dividend of $0.15 per share.
SPRO may be worth a closer look by investors seeking a value play in the small-cap area.  At a recent price of $3.26, the stock has a price-to-sales ratio of 0.90 and a price-to-book ratio of 1.57.   
Wave Systems (NASDAQ: WAVX)
WAVX went bonkers last week…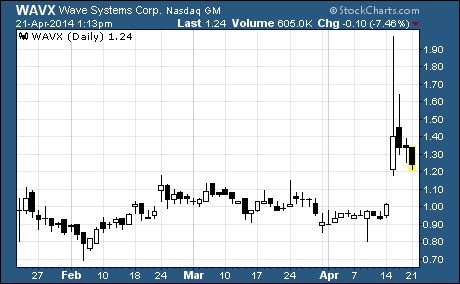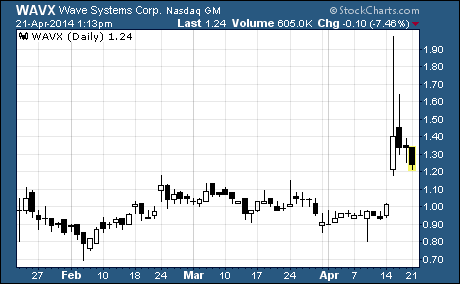 After moving slightly higher on Monday, the stock soared to a high of $1.97 on Tuesday for a stunning intra-day gain of 95%.  However, it failed to hold onto those gains and finished the day at $1.40 per share. 
WAVX then traded down over the next two days and closed out the week at $1.34 for a gain of 41%.
Wave Systems is a provider of hardware-based digital security products in the US and internationally.  Its products are based on the Trusted Platform Module, a hardware chip that not only enables secure protection of files and other digital secrets but also performs critical security functions as well. 
Unlike other vendors who try to secure information by adding layers of software for security, Wave Systems leverages the security capabilities built directly into endpoint computing platforms themselves.  As a leading expert in this growing trend, the company is leading the way with first-to-market solutions.
Here's why the stock jumped last week…
On Tuesday, Wave Systems announced it will collaborate with Micron Technology (NASDAQ: MU) to develop new products focused on the detection and remediation of advanced persistent threats.  These threats are the most advanced forms of malware capable of infecting a wide array of IP-connected devices.
This new collaboration expands on the two companies' ongoing activities around management for Micron's self-encrypting SSD drives.
No question about it, the expanded partnership creates huge potential for Wave Systems.
Micron Technology is a leading producer of memory chips for computers, servers, tablets, mobile phones, and other electronic devices.  And it counts Intel and Hewlett Packard among its largest customers. 
The two companies expect to announce new products in development during the second half of 2014.
Profitably Yours,
Robert Morris
Category: Hot Penny Stocks