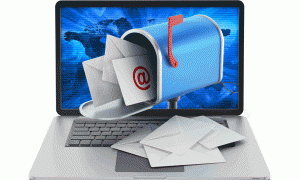 On Fridays we publish the extremely popular Pump And Dump Alert, which identifies penny stocks that are being pumped by penny stock promoters. Our goal is to expose potentially "bogus" promotions happening in the penny stock universe.
By bringing these to light, we help our readers avoid getting taken out to the woodshed.
Now, since we started publishing the Pump And Dump Alert nearly four years ago, it has become a huge hit with our readers. In fact, we receive email almost every day asking for our opinions on various penny stocks.
Unfortunately, we just don't have the resources to personally respond to every email.
To remedy this problem, we frequently publish the Penny Stock Research Mailbag to answer readers' questions about penny stocks. So, if there's a penny stock you'd like our opinion on, just shoot us an email at customerservice@pennystockpublishing.com.

Also, we'd appreciate any feedback you can give us about Penny Stock Research and my investment advisory, Penny Stock All-Stars.

Let us know what you really think about the websites and the content we provide. And if you've made money or avoided losses based on our research, analysis, or recommendations, we'd love to hear those stories too.

By the way, those of you who provide feedback and/or testimonials about Penny Stock Research or Penny Stock All-Stars will be more likely to have your questions answered here!
A Penny Stock Readers Are Asking About
One penny stock that we've received plenty of inquiries about in recent weeks is a tiny biotech called Nuvilex (NASDAQ: NVLX).
The company was originally formed in 1996 as DJH International to create software tracking for fresh fruits and vegetables. Since then, it has changed its name and its business multiple times.
From 2000 to 2011, the company engaged in a variety of different businesses without much success. These businesses included food safety, organic foods, scar-reducing cream, nutritional supplements, acne treatment, health food bars, and tattoo ink.
The company changed its name to Nuvilex in 2009 and two years later purchased SG Austria Private Limited (SG Austria).
The acquisition of SG Austria included its two subsidiaries, Austrianova Singapore Private Limited and Bio Blue Bird AG, subject to certain conditions. But it wasn't until July 2013 that Nuvilex was able to finally complete the acquisition of Bio Blue Bird.
The acquisition of Bio Blue Bird was key to the company's business strategy.
It provided Nuvilex with exclusive worldwide rights to use a proprietary cellulose-based live-cell encapsulation technology called "Cell-in-a-Box". The company is now using this technology to develop treatments for cancer and diabetes.
The treatment for pancreatic cancer involves the widely used anti-cancer prodrug ifosfamide, together with encapsulated live cells, which convert ifosfamide into its active or "cancer-killing" form. Nuvilex believes this novel treatment will be highly effective with fewer side effects than the current standard of care for advanced pancreatic cancer.
According to management, the company's treatment combo performed well in a phase 1 study involving 14 patients with advanced, inoperable pancreatic cancer. They claim it improved median survival time and the one-year survival rate compared to historical data for gemcitabine, the only FDA approved single-agent drug for advanced pancreatic cancer.
And now, Nuvilex says it's preparing to initiate a phase 2b trial that will compare its treatment head-to-head with the current "gold standard" treatment of advanced pancreatic cancer… the combination of gemcitabine with Celgene's Abraxane. With that said, the company has not indicated when this trial is scheduled to begin.
But that's not all…
Nuvilex has also recently formed another clinical stage biotech subsidiary called Medical Marijuana Sciences. This company is focused on developing cancer treatments based upon chemical constituents of marijuana known as cannabinoids.
Here's my take on Nuvilex…
First off, the company appears to have a history of rotating into businesses that are fashionable with investors. It jumped into the dot-com frenzy in the late 1990s, transitioned into the organic food trend in the early 2000s, and then moved into the always fashionable nutritional supplements business.
And now, Nuvilex is trying to cash in on two trends that have received heavy interest from investors in recent years… biotech and marijuana.
Second, the stock has frequently been the subject of penny stock promotion campaigns dating back to at least May 2011. The most recent one began in January 2013 and ended in early February 2014. During that time, NVLX climbed from just 3 cents per share to a high of 62 cents for a monster 20-fold gain.
However, since the promotional emails stopped going out, the stock has dropped more than 50% from the high to a current price of 29 cents.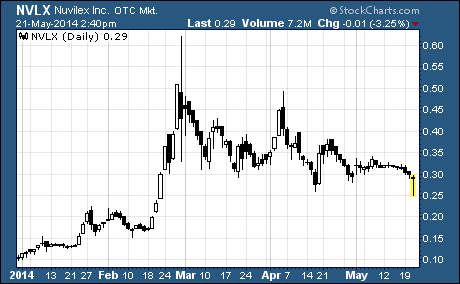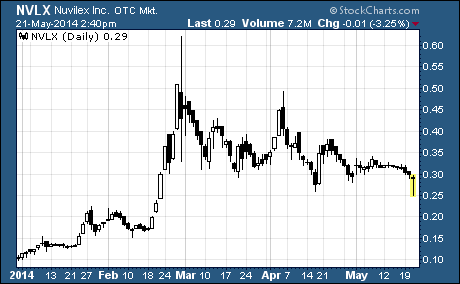 Third, as is common for development-stage biotechs, Nuvilex is in precarious financial shape.
According to the most recent quarterly report (January 2014), the company has "not yet established a regular source of revenue sufficient to maintain its operating costs…" And as of January 31, 2014, it had an accumulated deficit of $52.2 million and had incurred a net loss for the nine-month period ending January 31, 2014 of $10.8 million.
The company has survived thanks to investments from both individual and institutional investors. But it will need a lot more money to move its drug candidates through clinical testing.
At the end of January 2014, Nuvilex had just $864,895 in cash on hand.
According to a recent article in Forbes, it costs about $350 million to bring a single drug through clinical testing. And the odds of it getting approved are very low as 95% of drugs fail in clinical development.
Based on all of the above, there's no question that Nuvilex is a highly speculative penny stock.
Its future success depends entirely on being able to consistently raise the enormous capital it requires to move its drug candidates through clinical testing. And there's a huge risk of failure every step of the way.
In addition, management has a history of jumping from one business fad to the next. This makes it unlikely in my mind that management will stick with the biotech business when it goes out of favor (and don't be fooled, every business cycles through periods of favor and disfavor with investors).
And finally, it seems that NVLX only moves higher when there's a concerted promotion campaign behind it. History shows that as soon as a campaign ends, the shares lose a good portion of their value.
The upshot…
I believe NVLX is likely to fall further before it moves higher. As such, I suggest you look for better opportunities in the penny stock space. And if you already own the shares, you should consider locking in your profits or cutting your losses.
Profitably Yours,
Robert Morris
Category: Penny Stock Tips