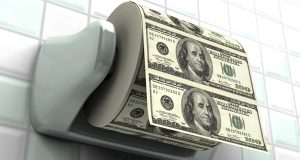 Welcome to Pump and Dump Friday, our weekly feature where we identify potentially "bogus" promotions going on in penny stocks.
Today we're exposing one of the most extensive penny stock pump and dump campaigns of the week… Propanc Health Group (OTCQB: PPCH).
If you don't know how these schemes work, be sure to check out our free report that exposes the whole thing.
Without further ado, here is today's disaster waiting to happen:
Propanc Health Group (OTCQB: PPCH)
PPCH is one of the most heavily hyped penny stocks in May. No less than 13 promoters are pumping the stock through 58 different penny stock newsletters. And more than $75,000 has been spent just this month to drive up the price of this stock.
One look at the stock chart shows the campaign is off to a good start…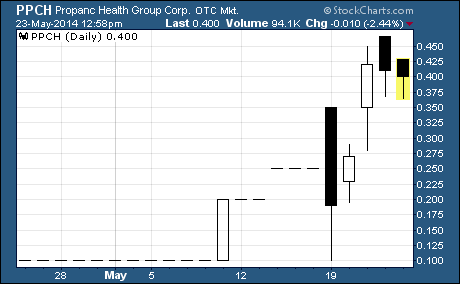 As you can see, PPCH has climbed from just ten cents per share on May 5th to a current price of 40 cents. That's a stunning 300% gain in less than three weeks' time. And the company now sports a market cap of nearly $30 million.
But like most pump and dump penny stocks, PPCH does not deserve such a rich valuation.
The company is a development stage biotech out of Richmond, Victoria, Australia. It's focused on developing cancer treatments targeting high risk patients who need a follow-up, non-toxic, long-term therapy which prevents the cancer from returning and spreading.
That's a bold mission statement to be sure, but Propanc is a long way off from having a marketable drug. In fact, the company's lead product candidate hasn't even reached the pre-clinical testing stage yet. It's still being tested on animals to determine if it will be safe enough for testing in humans.
In other words, the company is at the very beginning of what will be a very long and expensive clinical development process.
It can take over a decade to move a drug candidate from the pre-clinical testing stage to FDA approval. And according to a recent article in Forbes, the cost of developing a single drug is about $350 million.
What's more, the odds of this drug ultimately being approved by the FDA are slim to none.
Only 5 out of every 5,000 drugs that enter the pre-clinical testing stage progress to human testing. And of those 5, only 1 will get approved by the FDA. To put it another way, the odds of a new drug actually making it to market are 5,000 to 1.
Not very good odds at all.
And as I mentioned above, Propanc's lead drug candidate hasn't even made it to the preclinical testing stage.
Another problem with PPCH is the company's exceptionally weak financial situation.
The most recent quarterly report shows the company's total assets at the end of March 2014 amounted to just $40 in cash! That's not a typo. Propanc currently has no property or equipment to develop its cancer treatment… just a couple of twenty dollar bills.
I have more cash in my pocket right now than a company with a $30 million market cap.
While the firm's assets are quite meager, it has had no problem racking up liabilities. The balance sheet lists total current liabilities of over 1 million dollars. That's quite the liquidity crunch.
What's more, as a development stage biotech, Propanc is piling up net losses year after year without generating any revenue. In fact, since the company's inception in October 2007, Propanc has produced a comprehensive net loss of $17.6 million.
No question about it, this company's financial situation is about as dire as one can get.
It's hard to see how PPCH deserves a $30 million market cap. Its leading drug candidate has yet to enter the preclinical testing phase. The company only has 40 bucks to develop a drug that will require an investment of around $350 million. And it's racking up millions of dollars in losses every year.
The only reason PPCH is moving higher right now is because of the pump campaign.
That means it's only a matter of time before the dumpers take over and drive these shares into the ground. Save your money and your dignity… look for better opportunities in the penny stock space than PPCH.
Profitably Yours,
Robert Morris
Other Penny Stocks Being Pumped This Week
Unique Pizza & Subs (OTCPINK: UPZS) – 25 promoters with 110 newsletters have been paid more than $44,000 to hype UPZS this month.
Axxess Pharma (OTCPINK: AXXE) – 30 promoters with 89 newsletters have been paid over $115,000 in May to plug AXXE.
Category: Pump & Dump Alerts