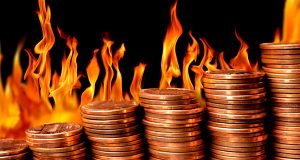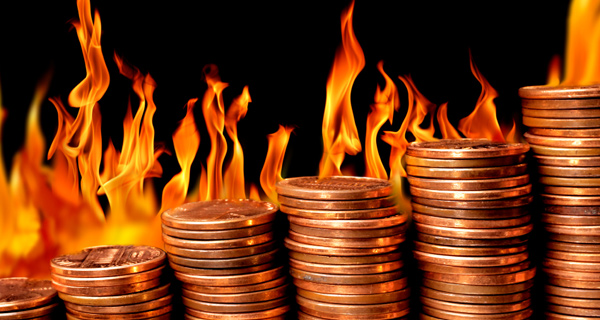 It's an exciting time for penny stocks, especially hot penny stocks like Summer Infant (SUMR), ZaZa Energy (ZAZA), and Uranium Energy Corporation (UEC)…
Summer Infant (NASDAQ: SUMR)
SUMR's moving higher in a hurry!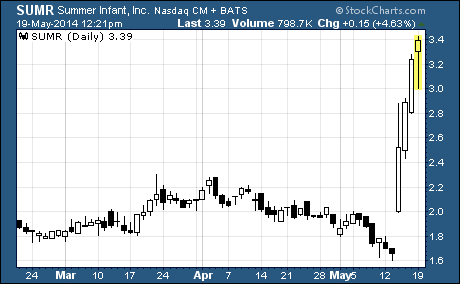 After dropping nearly 7% on Monday and Tuesday, shares of Summer Infant reversed course and finished the week with a bang. The stock put together three consecutive days of double-digit percentage increases, including a stunning 52% rise on Wednesday, to finish the week with a hefty gain of 82%.
I'll explain why in a moment, but first a word about the company…
Summer Infant markets a wide range of products designed to promote the health, safety, and wellness of children aged zero to three. Most of these products are marketed under the company's Summer® and Born Free® brand names through large North American and European retailers. Significant products include baby monitors, bath tubs, blankets, bottles, high chairs, car seats, strollers, and nursery furniture.
So, why is the stock rocketing higher?
That's an easy one… the company beat analysts' first quarter revenue and earnings estimates!
Revenue rose 14% over fourth quarter 2013 levels to $50.8 million on stronger demand from the company's retail partners. And earnings improved from a loss of six cents to a profit of five cents thanks to the company's focus on cutting costs and selling higher margin products.
Analysts' were expecting revenue of $45 million and a loss of one cent per share.
What's more, it looks like the new uptrend in SUMR could have legs.
Management says it expects the bottom line to continue improving this year and the top-line to start showing year-over-year growth in the second half of 2014. As I write, the stock is up more than 4% today to $3.37 per share.
ZaZa Energy (NASDAQ: ZAZA)
ZAZA is another penny stock jumping on strong first quarter results. This small oil and gas company is focused on exploration and production in the Eaglebine and Eagle Ford shale trends of Texas.
Here's a quick breakdown of ZaZa's most recent numbers…
During the quarter, revenue rose 7% year-over-year to $3 million thanks to the company's recent acquisitions of oil and gas producing properties in East Texas. And the bottom line improved from a loss of $2.9 million ($0.03 per share) in the year ago period to a loss of $1.4 million ($0.01 per share).
But perhaps the most exciting part of the earnings release was the huge reported increase in production volume. According to the company, production surged from 34,364 barrels of oil equivalent (BOE) in the first quarter of 2013 to 57,954 BOE in the most recent quarter.
That's a year-over-year increase of 69%!
As you might imagine, ZAZA's rocketing higher on the bullish news.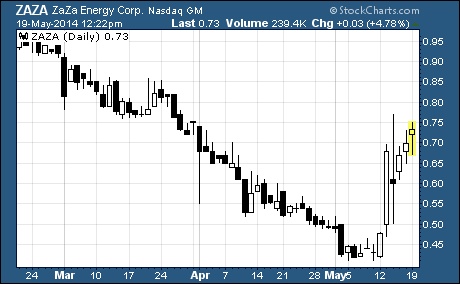 The shares soared from the prior week's close of 43 cents to a high of 77 cents before finishing the week at 70 cents per share. It was a furious rally that propelled the stock to a one-week gain of 63%.
Most of that rise was due to the 41% increase on Tuesday after the first quarter results were published.
And it doesn't appear the rally is about to let up anytime soon.
ZAZA is up more than 4% intra-day to 73 cents per share on higher than average volume. If it ends the day above 70 cents, it will be the fifth higher close in the past six trading days.
Uranium Energy Corporation (NYSE: UEC)
UEC's on fire!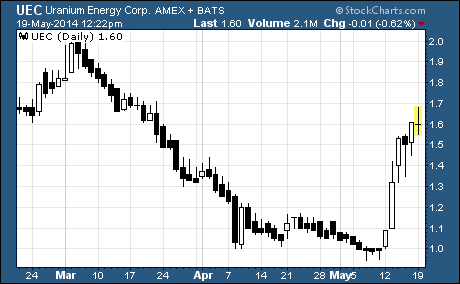 After falling from a high of $2.02 on March 4th to a low of $0.95 on May 9th, the junior uranium miner recovered to $1.61 last week. That's a 63% gain in just one week's time. And the rally was supported on significantly higher than average volume.
What's going on?
Investors are snapping up shares in anticipation of a recovery in uranium prices.
The stock had been declining steadily since the accident at Japan's Fukushima Dai-Ichi nuclear facility in March 2011. After the accident, China imposed a moratorium on nuclear projects, Japan shut reactors down for safety reviews, and Germany shut down 8 of its 17 nuclear power units.
These actions helped drive down the price of uranium from a high of $72 per pound in early 2010 to a recent price of around $32.50.
But now the global nuclear power industry appears poised for a comeback.
According to the World Nuclear Association, 72 new reactors are under construction, 173 are on order or being planned, and another 309 are in the proposal stage. And don't forget, there are 434 operable nuclear reactors in 30 different countries around the world.
The addition of so many new reactors to the already large number of reactors operating currently is expected to drive demand for uranium through the roof for years to come. And all of this new demand will be materializing as supplies of uranium have dropped due to production cuts in the face of falling prices.
In other words, it appears there is a massive supply-demand imbalance in the uranium marketplace.
This favorable macro-economic backdrop bodes well for Uranium Energy.
The company has a number of uranium properties, in various stages of development, in Texas, Colorado, Arizona, New Mexico, Wyoming, and Paraguay. It has total uranium reserves of 89.1 million pounds. And the company is a low-cost producer thanks to its situ recovery mining technology.
Take a closer look at UEC if you're looking for a way to play a potential recovery in uranium prices. While the stock certainly carries high-risk, it could produce high rewards if the price of uranium takes off.
Profitably Yours,
Robert Morris
Category: Hot Penny Stocks