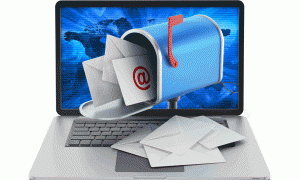 On Fridays we publish the extremely popular Pump And Dump Alert, which identifies penny stocks that are being pumped by penny stock promoters.  Our goal is to expose potentially "bogus" promotions happening in the penny stock universe.
By bringing these to light, we help our readers avoid getting taken out to the woodshed.
Now, since we started publishing the Pump And Dump Alert nearly four years ago, it has become a huge hit with our readers.  In fact, we receive email almost every day asking for our opinions on various penny stocks. 
Unfortunately, we just don't have the resources to personally respond to every email. 
To remedy this problem, we frequently publish the Penny Stock Research Mailbag to answer readers' questions about penny stocks.  So, if there's a penny stock you'd like our opinion on, just shoot us an email at customerservice@pennystockpublishing.com. 

Also, we'd appreciate any feedback you can give us about Penny Stock Research and my investment advisory, Penny Stock All-Stars. 

Let us know what you really think about the websites and the content we provide.  And if you've made money or avoided losses based on our research, analysis, or recommendations, we'd love to hear those stories too.

By the way, those of you who provide feedback and/or testimonials about Penny Stock Research or Penny Stock All-Stars will be more likely to have your questions answered here!
 

A Penny Stock Many Readers Are Asking About
Drinks Americas Holdings (OTCPINK: DKAM)
One penny stock that many of our readers are asking about right now is DKAM.  It's getting a lot of attention thanks to a massive promotion campaign and a steady stream of press releases.
Drinks Americas distributes and markets unique premium alcoholic beverages to wholesalers throughout the US.  According to recent press releases, the company is having great success selling its Mexican Day of the Dead craft beer line, which is now available in 32 states.
With that said…
DKAM has been the subject of an ongoing promotion since November of 2013.  Our sources indicate that a good number of promoters have been paid well over $100,000 to hype the stock.
And as you might expect, the campaign has driven the share price significantly higher.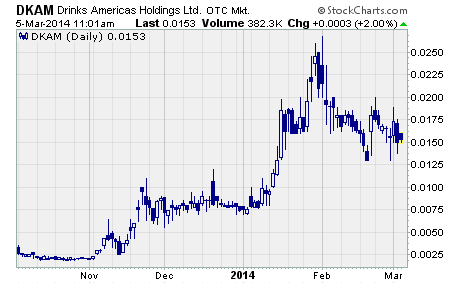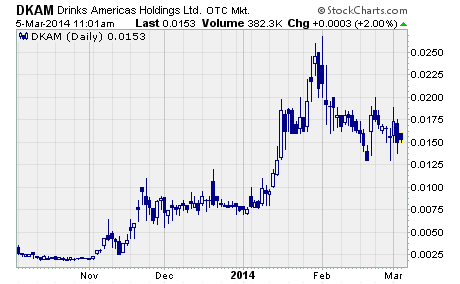 DKAM has climbed from just $0.002 in early November to a current price of $0.0153 per share.  That's a whopping 665% gain in just a little over four months' time.
What's more, this huge gain remains after the stock has pulled back from its recent 52-week high.  In late January, the stock traded as high as $0.026 per share for an incredible 13-fold gain off the early November price level.
No question about it, DKAM has provided great returns for investors who bought it in November, December, and early January.
But perhaps the most amazing part of this story is that the stock hasn't plunged… yet. 
Yes, it's down more than 40% from the recent high, but we haven't seen the 80% or 90% drop that we usually see in penny stock pump and dumps.  However, just because a huge drop has not yet occurred doesn't mean that it won't happen in the future. 
The true test for DKAM will take place when the promotion campaign ends and the company stops issuing the regular press releases that are keeping it in the public eye.
When those two events come about, I doubt DKAM will be able to hold its value let alone continue moving higher.
You see, the company lacks a solid financial situation.  According to the most recent filing (for the quarter ending January 31, 2013), Drinks Americas had just $22,119 in cash and total assets of $159,589.  That compares to over $16.5 million in total current liabilities.
Again, the term "current" is a misnomer here as we're talking about the company's financial picture from a year ago.
The report also shows a disturbing trend on the income statement.  While the company reported a year-over-year increase in revenue from $2.5 million to $4.4 million for the nine month period ending in January 2013, it also showed a whopping rise in operating expenses from $1.8 million to $11.8 million.
Thanks to these skyrocketing expenses, Drinks America reported a hefty net loss of $11.5 million ($0.40 per share) for the period.  That compares to a net loss of just $547,479 ($0.19 per share) in the prior year period.
Another red flag for Drinks Americas is that it has not kept up with its required regulatory filings.
The company has not filed a quarterly report since the one filed for the quarter ending in January 2013.  And it hasn't filed its annual report for fiscal year 2013, which according to the company's prior filings, should have been published this past August.
The end result is that we have no idea what has happened with the company's financial situation over the past 13-plus months.  In other words, anyone who owns this stock is investing in the company on blind faith alone.
That's a scary situation that usually doesn't end well.
Profitably Yours,
Robert Morris
Category: Penny Stock Tips, Pump & Dump Alerts