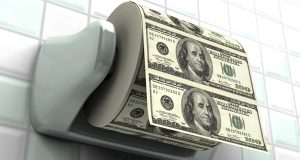 Welcome to Pump and Dump Friday, our weekly feature where we identify potentially "bogus" promotions going on in penny stocks.
Today we're exposing one of the most extensive penny stock pump and dump campaigns of the week… Quint Media (OTCQB: QUNI).
If you don't know how these schemes work, be sure to check out our free report that exposes the whole thing.
Without further ado, here is today's disaster waiting to happen:
Quint Media (OTCQB: QUNI)
QUNI is one of the most heavily hyped penny stocks of the past week.  According to our sources, 24 promoters have pumped the stock through more than 45 newsletters since Wednesday.  And over $50,000 has been paid to a good number of these promoters for their services.
There's no question that somebody's going to great lengths to get investors to buy this stock.
And so far, the campaign's working like a charm.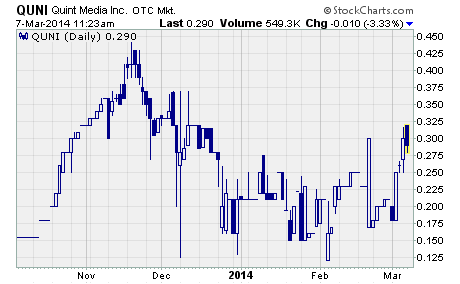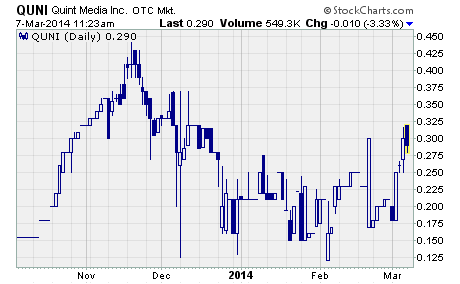 QUNI has soared from just $0.18 at the end of last week to a current price of $0.29 per share.  That's an impressive 61% gain in just one week's time.
What does the company do?
Following a change of business in early 2013, Quint Media is now a digital and social media company.  They plan to launch digital channels on the internet that will connect people with content relating to their passions, interests, and each other. 
Revenues are expected to come from advertising and subscriptions.
Management boldly claims it expects its "dynamic content communities to transform the way the world discovers, creates, shares, and consumes digital media."  But they clearly have a big job ahead of them. 
After all, Quint will be competing with the likes of Gawker, Glam, Pinterest, and Facebook.  These are well established websites with millions of users, regular advertisers, and brand name recognition.
It will be no easy task for a start-up like Quint to compete with these heavyweights.
And don't kid yourselves.  At the moment, Quint Media is nothing more than a development stage company with big plans.  Anyone investing in QUNI right now is just gambling that the company can make a go of its latest business plan.
They're certainly not investing in QUNI based on fundamental analysis.
Just look at the company's current financial picture…
Since its inception in March 2005, Quint Media has failed to generate any revenue whatsoever.  However, it has managed to rack up over $2.9 million in net losses over that same time.
What's more, the company needs a substantial cash infusion before it can realize its new digital media dream.  According to the most recent quarterly report…
"If Quint is unable to raise additional capital or secure additional lending in the near future, management expects Quint will need to curtail or cease operations."
While Quint certainly has an intriguing new business, the company still has a long way to go before it's self-sufficient.  Investors at this stage must realize that this is a speculative penny stock and is only appropriate for those with the highest of risk tolerances.
Profitably Yours,
Robert Morris
Other Penny Stocks Being Pumped This Week
Rightscorp (OTCQB: RIHT) – 34 promoters with 94 newsletters have been paid over $90,000 this month to hype RIHT.
Bonamour (OTCQB: BONI) – 12 promoters with 38 newsletters have been paid more than $55,000 in March to plug BONI.
Category: Pump & Dump Alerts