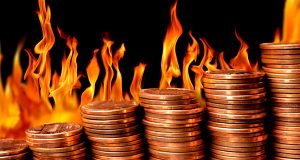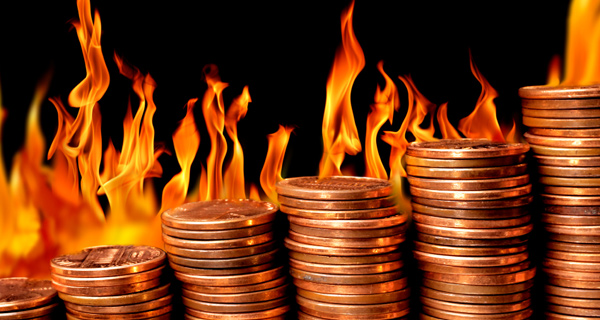 It's an exciting time for penny stocks, especially hot penny stocks like Highpower International (HPJ), China BAK Battery (CBAK), and China Ming Yang Wind Power Group (MY)…
Highpower International (NASDAQ: HPJ)
HPJ is soaring!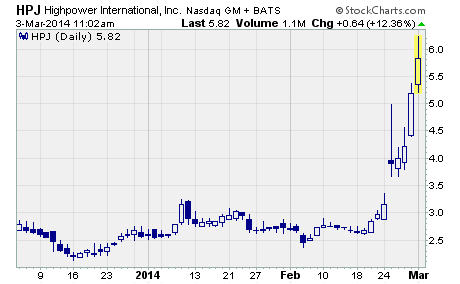 As you can see, the stock rose from $2.98 to a high of $5.37 last week for a gain of 80% to the high.  And while the stock pulled back to finish the week at $5.18, it still provided investors with a hefty one-week gain of 74%. 
What's more, the stock registered its highest weekly close since March 2010.
Highpower is a China-based provider of nickel-metal hydride and lithium-based rechargeable batteries.  Its batteries are used in a wide range of applications, including electric bikes, energy storage systems, power tools, medical equipment, electronic devices, personal care products, and lighting.
So, why is the stock taking flight?
The company announced a major new order from an important new customer last week.  Huizho Yipeng Energy Technology, a system integrator serving various large bus manufacturers in China, placed its first-ever order with Highpower for large format lithium batteries.  The batteries will be used in buses from Huizho Yipeng.
The order represents a significant milestone for Highpower.  It's the first order it has ever received from a company involved in the fast growing electric vehicles segment.
Highpower expects sales to Huizho Yipeng will range between $4 million and $5 million during fiscal year 2014.
Furthermore, this could be the beginning of a longer-term growth opportunity for Highpower.  The Chinese government plans to increase annual production of pure EV and plug-in hybrid EVs to 500,000 by 2015 and to 5 million by 2020.
HPJ is continuing to move higher this week on the news.  As I write, the stock is up more than 12% to $5.82.
China BAK Battery (NASDAQ: CBAK)
CBAK is moving higher as part of a larger rally in battery stocks.  Last week, a number of battery makers soared following publication of a bullish report on Tesla Motors (NASDAQ: TSLA) by a Morgan Stanley analyst.
In the report, the analyst predicted that Tesla will sell 700,000 electric cars by 2025 and over 1 million in 2028.  But that's not all.  According to Forbes, the analyst also opined that "the combined battery packs of [Tesla's] cumulative 7.2 million global fleet [will] become a viable alternative to conventional power generation."
In other words, the analyst believes Tesla could become a major disruptive force in both the auto industry and the electric utility industry.
What's more, Tesla announced last week that it will build a US car battery plant that could supply lithium ion battery packs for 500,000 vehicles by 2020.  The factory is expected to cost between $5 billion and $6 billion to complete.
Thanks to all the hype over Tesla, investors are scrambling to scoop up shares of rechargeable battery makers, including CBAK.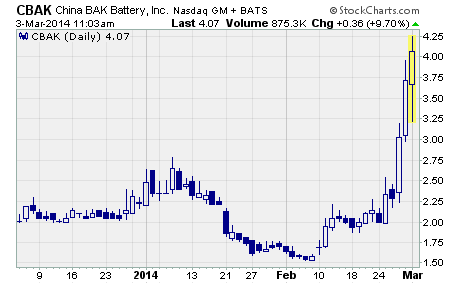 As you can see, CBAK soared last week from $2.14 to a high of $3.95 before closing out the week at $3.71.  It was a furious rally that provided shareholders with a solid 73% gain for the week.
And it's not done yet…
The stock is continuing to move higher today in morning trade.  As I write, the stock is up nearly 10% at $4.07 per share.
China BAK Battery is a Chinese company that manufactures both standard and customized lithium ion rechargeable batteries.  Its battery cells are the principal component of rechargeable batteries used to power cell phones, smartphones, tablets, notebooks, portable electronic devices, electric bikes, and electric vehicles.  The company's customers are primarily original equipment manufacturers in China, Taiwan, Hong Kong, and the US.
China Ming Yang Wind Power Group (NYSE: MY)
MY is surging on a bullish outlook for China's wind power industry…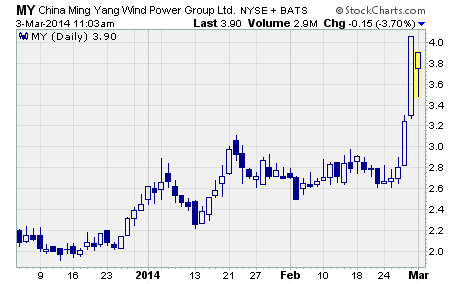 As you can see, the stock rallied hard from the prior week's close of $2.65 to finish last week at $4.05.  That's a 53% gain in short order.  And the stock closed at the high for the week.
China Ming Yang Wind Power Group supplies megawatt-class, grid-connected, and horizontal-axis wind turbines in China.  Its customers are state-owned electric power producers, regional alternative energy investment companies, regional electric power producers, and private sector wind farm operators.
Investors are flocking to the shares on news the sector bottomed out in 2013 and is poised for strong growth over the years ahead.
According to an article that appeared on RenewableEnergyWorld.com, newly installed wind power capacity in China increased by 24% last year.  And the bid invitation price jumped 15% while the average year-on-year annual wind farm utilization rate increased by more than 100 hours.
What's more, the author projects newly installed wind power capacity in China to rise by 20% annually over the next few years.
MY has moved higher in a hurry, but the rally could be just getting started.  Take a closer look at this stock if you're looking for a play on China's booming renewable energy industry.
Profitably Yours,
Robert Morris
Category: Hot Penny Stocks