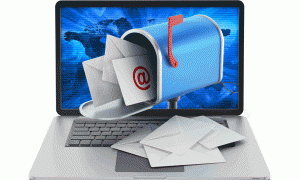 On Fridays we publish the extremely popular Pump And Dump Alert, which identifies penny stocks that are being pumped by penny stock promoters.  Our goal is to expose potentially "bogus" promotions happening in the penny stock universe.
By bringing these to light, we help our readers avoid getting taken out to the woodshed.
Now, since we started publishing the Pump And Dump Alert nearly four years ago, it has become a huge hit with our readers.  In fact, we receive email almost every day asking for our opinions on various penny stocks. 
Unfortunately, we just don't have the resources to personally respond to every email. 
To remedy this problem, we frequently publish the Penny Stock Research Mailbag to answer readers' questions about penny stocks.  So, if there's a penny stock you'd like our opinion on, just shoot us an email at customerservice@pennystockpublishing.com. 

Also, we'd appreciate any feedback you can give us about Penny Stock Research and my investment advisory, Penny Stock All-Stars. 

Let us know what you really think about the websites and the content we provide.  And if you've made money or avoided losses based on our research, analysis, or recommendations, we'd love to hear those stories too.

By the way, those of you who provide feedback and/or testimonials about Penny Stock Research or Penny Stock All-Stars will be more likely to have your questions answered here!
A Penny Stock Many Readers Are Asking About
Crown Marketing (OTCQB: CWNM)
One penny stock that many of our readers are asking about right now is CWNM.  The stock is getting a lot of attention after spiking to the highest level seen in nearly a year.
What's going on? 
Did the company report surging sales of a new product?  Did it announce the posting of a profit in the last quarter?  Did the company say it has signed a memorandum of understanding or a letter of intent to one day do business with some company that has cash to spend?
No, No, and NO!
The stock soared because it was featured by several well known penny stock promoters as a hot penny stock to buy.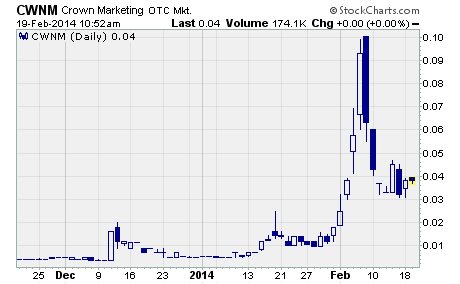 As you can see, CWNM climbed from a low of $0.01 in late January to a high of $0.10 on February 7th.  It was a whopping 10-fold gain in just eight trading days.  An amazing run for a stock that had been trading below $0.01 per share over the prior six months.
But this shocking windfall was just too juicy for some investors to ignore. 
As soon as the stock hit the 10 cent level, sellers began dumping shares in a frenzied effort to lock in profits.  They drove CWNM down 67% over the next three days.  And while the stock has recovered a bit to a current price of $0.04, it's still down 60% from the recent high.
That's some impressive pumper-inspired volatility!
And this isn't the first time the stock has been pumped by the penny stock hype machine.  
CWNM was heavily promoted over the first six months of 2013.  Our sources indicate that more than 100 emails pumping the stock were sent out during that time as part of a $1 million promotion campaign.
That campaign was accompanied by several press releases announcing the company's new business direction.  Apparently, Crown Marketing is getting out of the satellite launching business and into the nutraceutical, pharmaceutical, and medical marijuana businesses through various different subsidiary companies. 
One press release touted the company's new agreement with a "$100 Million Dollar Fund" to help medical marijuana producers secure financing for their commercial real estate needs. 

Another boasted of a record-breaking reorder rate for the company's "signature specialty" nutraceutical products.

And yet another press release announced the company is developing "a tamper resistant oxycodone product based on its novel, patented Controlled Drug Delivery Device."
The last press release was issued on July 1st, which appears to be the final day of the six-month promotion campaign.  Just a coincidence?  Or was it the last piece of a carefully orchestrated stock promotion campaign?
I'll let you be the judge.
Regardless of who was behind the campaign, there is one fact that is indisputable.  The company has not issued any further press releases since that final one on July 1st.
Of course, that's a bad sign.  If things were going great, you'd think the company would be shouting its success stories from the mountain tops.
Perhaps the reality of the situation is more accurately described in Crown Marketing's fiscal year 2013 annual report that was filed in October.  This report is for the twelve month period ending June 30, 2013.
The report clearly indicates that Crown Marketing is a development-stage company with a shaky financial situation.
At the end of the fiscal year, the company had just $19,746 in cash and current assets compared to $107,369 in current liabilities.  It had produced a net loss of $108,800 on revenue of just $6,627.  And total liabilities exceeded total assets by $227,273.
In fact, the report itself states "there is substantial doubt about the Company's ability to continue as a going concern."
The bottom line…
It's hard to see how the stock's recent success is due to anything other than the efforts of penny stock promoters.  If you own these shares, you should seriously consider locking in your gains or cutting your losses.  And if you're thinking about buying this stock, I suggest you look for a higher quality penny stock for your investment dollars.
Profitably Yours,
Robert Morris 
Category: Penny Stock Tips, Pump & Dump Alerts