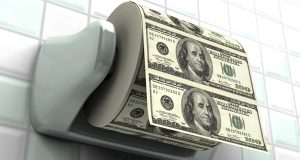 Welcome to Pump and Dump Friday, our weekly feature where we identify potentially "bogus" promotions going on in penny stocks.
Today we're exposing one of the most extensive penny stock pump and dump campaigns of the week:  New China Global (OTCPINK: NCGI).
If you don't know how these schemes work, be sure to check out our free report that exposes the whole thing.
Without further ado, here is today's disaster waiting to happen:
New China Global (OTCPINK: NCGI)
NCGI is one of the most heavily hyped penny stocks of the past week.  According to our sources, 31 promoters have pumped the stock through more than 63 newsletters.  And over $380,000 has been paid to many of them for their services.
What does the company do?
New China Global claims to be an educational services provider specializing in research, translation services, and editing assistance.  However, the company is only in the development stage at the moment. 
A review of the most recent quarterly report (September 2013) shows New China Global hasn't generated a penny of revenue since its inception in August 1983.  And I couldn't find any way to purchase any services from the company today through its new website.
In fact, the report itself admits that…
"The Company does not currently have an established ongoing source of revenues sufficient to cover its operating costs to allow it to continue as a going concern."
However, New China is racking up losses hand over fist… those now stand at $259,230 since inception.
What's more, the balance sheet doesn't inspire much confidence.  The company has over $60,000 in current liabilities but no cash or other current assets.  And the shareholder deficit has now grown to over $300,000.
These difficult facts are the likely reason why NCGI has failed to gain any ground despite a rather robust penny stock promotion campaign. 
Take a look at the chart…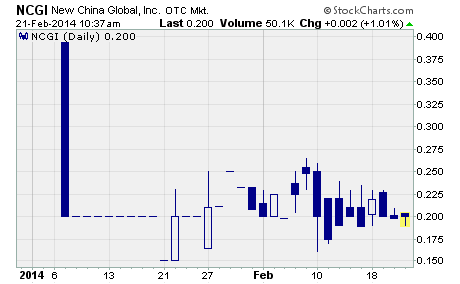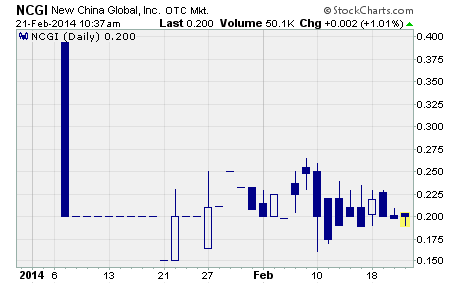 As you can see, the stock was cut in half at the beginning of the year.  And it has been moving sideways ever since.  This has to be pretty disappointing for the people who have shelled out nearly 400 GRAND to pump the stock.
No question about it, New China Global doesn't offer investors much of anything at the moment.  I suggest you steer clear of it and look for better opportunities in the penny stock space.
Profitably Yours,
Robert Morris
Other Penny Stocks Being Pumped This Week
 Extreme Biodiesel (OTCPINK: XTRM) – 24 promoters with 62 newsletters have been paid nearly $45,000 this month to hype XTRM.
Monarchy Resources (OTCQB: MONK) – 16 promoters with 53 newsletters have been paid over $100,000 in February to plug MONK.
Category: Pump & Dump Alerts