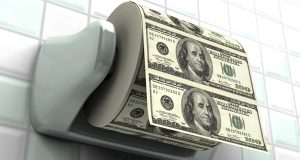 Welcome to Pump and Dump Friday, our weekly feature where we identify potentially "bogus" promotions going on in penny stocks.
Today we're exposing one of the most extensive penny stock pump and dump campaigns of the week:  Eco Depot (OTCPINK: ECDP).
If you don't know how these schemes work, be sure to check out our free report that exposes the whole thing.
Without further ado, here is today's disaster waiting to happen:
Eco Depot (OTCPINK: ECDP)
ECDP is one of the most heavily hyped penny stocks of the past week.  According to our sources, 28 promoters have pumped the stock through more than 150 newsletters.  And over $140,000 has been paid to a good number of these promoters for their services.
What does the company do?
Eco Depot is a development stage company that hopes to one day become a manufacturer and distributor of eco friendly products. 
The company claims to be the exclusive distributor of the WaterGeeks™ brand of water filtration products.  And a recent press release says Eco Depot has signed a letter of intent with Water Technologies Development, Inc. to distribute its new portable water-purification device called the WaterGizzi™.
The pumpers are hyping Eco Depot as a company that offers a solution to the world's shrinking water supply problem.  And many of them are pointing to a report by Global Industry Analysts that projects the global water treatment equipment and supplies market will reach $38.2 billion by 2015.
So, what is Eco Depot's contribution to this industry?
At the moment, a big fat zero!
According to the 2013 annual report, the company has not generated a single penny of revenue since its inception in November 2004.  And it has racked up a net loss since inception of $569,000.
But the pumpers aren't about to let the facts get in the way of a good story.
What's even more concerning is Eco Depot's shaky balance sheet.  At the end of 2013, the company had just $500 in cash compared to nearly $280,000 in debt.  And the company's shareholder deficit had grown to $173,678.
Nevertheless, the pump is working like a charm.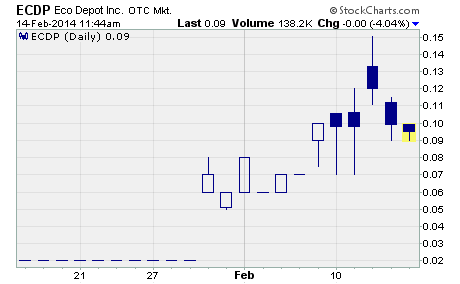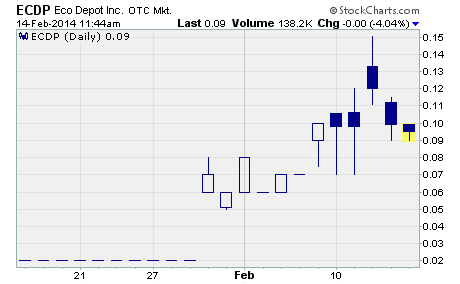 As you can see, the campaign drove the stock up from six cents on February 4th to a high of 15 cents on February 12th.  And even thought ECDP has since pulled back from the high, it's still hovering around 10 cents per share.
That's a gain of 150% in just a little over a week's time.
Now, if you're thinking about trading this stock, you should know what happened the last time ECDP was promoted.  In April 2013 (around news of the distribution deal with Water Geeks™), the stock soared from around a penny per share to a high of 18 cents in two-week span.
But then the bottom dropped out of the stock.
After hitting the intra-day high of 18 cents, ECDP finished the day at just 10 cents per share.  Over the next few months, it proceeded to fall to 6 cents then 5 cents and finally to 2 cents per share.  And the stock remained at the 2 cent level until the current campaign began.
All in all, ECDP lost 89% of its value in a relatively short period of time. 
This situation has all the classic signs of a pump and dump operation.  I'd suggest you look for better opportunities in the penny stock area for your investment dollars.
Other Penny Stocks Being Pumped This Week
Amogear (Suspended: AMOG) – 22 promoters with 67 newsletters have been paid over $100,000 so far this month to hype AMOG.
Suburban Minerals (OTCPINK: SUBB) – 25 promoters with 95 newsletters have been paid almost $75,000 in February to plug SUBB.
As you know, penny stocks are a great place to invest your money.  You just have to do your due diligence to stay away from all the schemes and scams out there these days!
Profitably Yours,
Robert Morris
Category: Pump & Dump Alerts