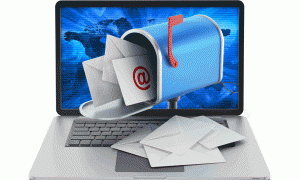 On Fridays we publish the extremely popular Pump And Dump Alert, which identifies penny stocks that are being pumped by penny stock promoters.  Our goal is to expose potentially "bogus" promotions happening in the penny stock universe.
By bringing these to light, we help our readers avoid getting taken out to the woodshed.
Now, since we started publishing the Pump And Dump Alert nearly four years ago, it has become a huge hit with our readers.  In fact, we receive email almost every day asking for our opinions on various penny stocks. 
Unfortunately, we just don't have the resources to personally respond to every email. 
To remedy this problem, we frequently publish the Penny Stock Research Mailbag to answer readers' questions about penny stocks.  So, if there's a penny stock you'd like our opinion on, just shoot us an email at customerservice@pennystockpublishing.com. 

Also, we'd appreciate any feedback you can give us about Penny Stock Research and my investment advisory, Penny Stock All-Stars. 

Let us know what you really think about the websites and the content we provide.  And if you've made money or avoided losses based on our research, analysis, or recommendations, we'd love to hear those stories too.

By the way, those of you who provide feedback and/or testimonials about Penny Stock Research or Penny Stock All-Stars will be more likely to have your questions answered here!
A Penny Stock Many Readers Are Asking About
Fresh Start Private Management Inc. (OTCQB: CEYY)
CEYY has received quite a bit of help from various penny stock promoters in recent months.  Our sources indicate the stock has been hyped by a number of different promoters since October 2013.  And we've found that more than $50,000 has been paid to some of these newsletters to get the word out on CEYY.
Here's a little background on the company.
Fresh Start Private Management, Inc. provides an alcohol treatment program through its wholly owned subsidiary, Fresh Start Private, Inc., in Santa Ana, California.  According to the company, the program offers a unique two-step approach for the treatment of alcohol addiction.
First, the patient receives a Naltrexone implant through an outpatient procedure performed by a licensed physician.  The company claims that the drug Naltrexone is "an opiate antagonist that significantly reduces physical cravings for alcohol…
Next the patient participates in a one-on-one counseling program with a specialized life coach.  The program, according to Fresh Start Private, is "specifically tailored for the treatment of alcoholism."
This certainly sounds like a novel approach to treating alcohol addiction.
But perhaps the most impressive thing is… the company says "the treatment program has an 85% success rate with individuals that complete the program."  Now, the program has only been operating for a little over two years, so it will be interesting to see if this high success rate holds as more patients go through it.
Another interesting development is the company's recent efforts to expand into other areas of the country. 
An announcement dated January 29, 2014 states that the company has entered into a letter of intent to sell the exclusive license and distribution rights of its Start Fresh Program to Fresh Start NoCal, LLC.  The pending agreement relates to the states of Maryland, Virginia, West Virginia, North Carolina, and the District of Columbia.
Fresh Start NoCal, LLC apparently acquired the licensing and distribution rights for Northern California last year.
I must admit that the program's early success has me intrigued.  And I applaud management's effort to expand the business into new markets (keeping in mind that the deal is not yet completed).
However, I am a bit concerned with the company's current financial condition…
The most recent quarterly report (September 2013) shows the company had just $1,766 in cash and  that accounts receivable had mushroomed from $1 million to $1.8 million.  Furthermore, current liabilities of nearly $3.1 million were significantly larger than current assets of $1.9 million.
With that said, Fresh Start Private managed to increase revenue over the first nine months of 2013 from around half a million dollars in the prior year period to $1.16 million.  And the company was able to reduce net losses year-over-year from $618,352 to $338,616 for that same time frame.
So, it looks like the company is moving in the right direction.
But it's not out of the woods yet. 
The company itself concedes that its continuation "as a going concern is dependent upon obtaining additional capital and upon the Company attaining profitable operations."  It further admits that it needs a substantial amount of funding "to build a sales and marketing organization, and to fund additional losses which the Company expects to incur over the next few years." (Emphasis added.)
My take…
Fresh Start Private Management appears to offer a unique and innovative service for the treatment of alcoholism.  And judging by the early results, the program is having great success.  However, the company is still in the very early stages of development and needs a substantial capital infusion if it has any hope of growing.
What's more, it's hard to tell if the stock's recent gains will stick after the ongoing stock promotion campaign ends.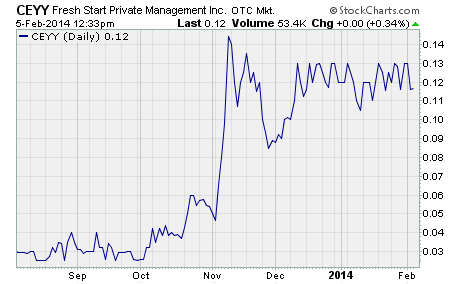 CEYY has gained a whopping 362% since the campaign began in early October 2013.  And the company's market cap has increased to nearly $14 million or nine times sales in the process.  You have to believe that most of this appreciation is due to the promotion of the stock by penny stock newsletters. 
Where the stock goes from here is anybody's guess. 
It's not trading on fundamentals as the company has a limited operating history, insignificant revenue, ongoing net losses, and management expects further losses over the next few years.  Investors are essentially betting that the upward trend will continue from here once CEYY completes the current consolidation pattern.  However, you need to ask yourself how likely that will be, especially if the promotion campaign is discontinued.       
Profitably Yours,
Robert Morris 
Category: Penny Stock Tips, Pump & Dump Alerts