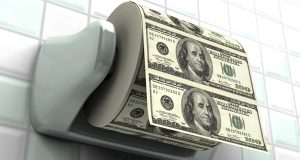 Welcome to Pump and Dump Friday, our weekly feature where we identify potentially "bogus" promotions going on in penny stocks.
Today we're exposing one of the most extensive penny stock pump and dump campaigns of the week:  NaturalNano (OTCQB: NNAN).
If you don't know how these schemes work, be sure to check out our free report that exposes the whole thing.
Without further ado, here is today's disaster waiting to happen:
NaturalNano (OTCQB: NNAN)
NNAN is getting a lot of help from the penny stock hype machine.  According to our sources, 42 promoters have been paid over $180,000 to pump the stock through more than 91 newsletters so far in February. 
And the month is just getting started.
NaturalNano develops unique and proprietary processes for refining naturally occurring nanotubes and other nanomaterials that add competitive properties to a range of applications.  Some of these include applications in engineered plastics and polymers, electronic components, cosmetics, and other personal care products.
And just recently, NaturalNano acquired MJ Enterprises LLC dba General Silver Plating LLC, which provides chrome plating services for products used in the auto and household appliance industries.  According to a recent press release, this business generated $12 million in revenue last year and "produces plated items for products marketed by five of the top seven car manufacturers, Proctor & Gamble and Whirlpool."
The acquisition was paid for with 60 million shares of NNAN.  And if General Silver Plating generates $20 million or more in revenue by September 30, 2015, the former owners will receive an additional 20 million shares of NNAN.
Thanks to the promotion campaign and this acquisition, NNAN has been trending higher.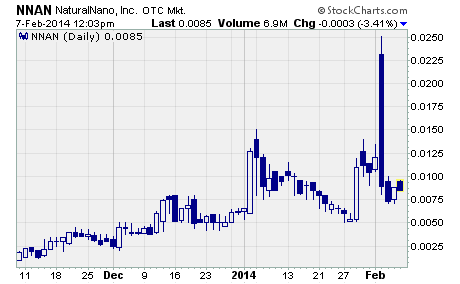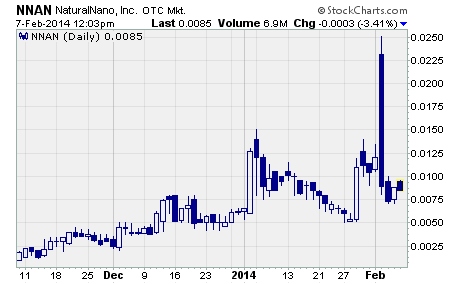 As you can see, the stock has traded up from a recent low of $0.005 to around $0.0085 today.  And the stock hit a high of $0.025 earlier this week when news of the acquisition hit the wires.
All in all, NNAN has gained 70% in the past eight trading days.
The big question now is whether the acquisition will help fix the company's ailing financial condition.  The most recent quarterly report shows a pretty dismal situation.
As of September 30, 2013, NaturalNano had just $10 in cash and $51,000 in current assets compared to $6.4 million in current liabilities.  What's more, the company had negative working capital of $6.3 million and a stockholders' deficiency of $6.4 million.
And although the company managed to generate $18,674 in revenue over the first nine months of 2013, it produced a net loss of $45,197 over that same time period.
No question about it, NaturalNano must overcome a number of challenges if it hopes to continue operating as a going concern. 
In fact, the quarterly report states that the company must "generate sufficient cash flow to meet its obligations… obtain additional financing, renegotiate the terms of existing financing obligations and ultimately… attain successful operations."
Given these significant challenges, NNAN remains a highly speculative penny stock at the moment.  Investors must ask themselves if they truly believe NNAN will hang on to the recent gains, let alone climb higher, once the current stock promotion campaign ends. 
Other Penny Stocks Being Pumped This Week
New China Global (OTCPINK: NCGI) – 12 promoters with 92 newsletters have been paid nearly $200,000 so far this month to hype NCGI.
Pan Global (OTCQB: PGLO) – 29 promoters with 86 newsletters have been paid almost $40,000 in February to plug PGLO.
As you know, penny stocks are a great place to invest your money.  You just have to do your due diligence to stay away from all the schemes and scams out there these days!
Profitably Yours,
Robert Morris
Category: Pump & Dump Alerts