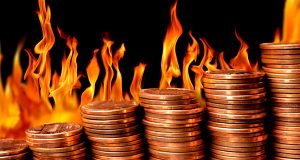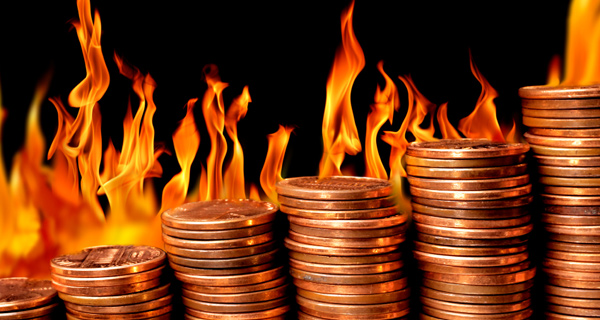 It's an exciting time for penny stocks, especially hot penny stocks like Dialogic (DLGC), Siebert Financial (SIEB), and China Gengsheng Minerals (CHGS)…
Dialogic (NASDAQ: DLGC)
DLGC took off like a rocket last week!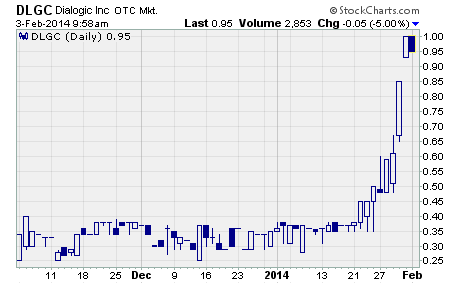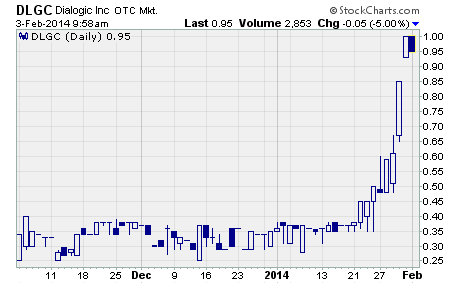 After finishing the prior week at $0.50, the stock soared to a high of $1.00 and closed there for the week.  That's an outstanding 100% gain in just five trading days.  Not too shabby.
Dialogic provides various communication products and technologies to wireless and wireline service providers. 
These products and technologies help transport, transcode, manage, and optimize voice, video, and data traffic.  More specifically, these software-based solutions enable application developers to develop and monetize a range of value-added services, such as messaging, short message service, video calling, ringtones, lawful intercept, voicemail, conferencing, and other location-based services.
It looks like the stock rallied on strong earnings and positive guidance recently reported by competitor Crown Castle International (NYSE: CCI). 
CCI beat estimates on both the top and bottom lines in the fourth quarter of 2013.  And the company raised its revenue and earnings guidance for 2014 above consensus estimates.
It appears that investors are piling into DLGC with the expectation for similar strong results when that company reports its fourth quarter and full year 2013 numbers.  Dialogic has not yet announced when it will report those figures.
Siebert Financial (NASDAQ: SIEB)
Siebert Financial is a retail discount brokerage and investment banking firm in the US.  The company was founded in 1975 by Muriel Siebert, the first woman to own a seat on the New York Stock Exchange.  Ms. Siebert passed away at the age of 84 in August 2013.
After trading sideways for the past two years, SIEB climbed sharply higher last week.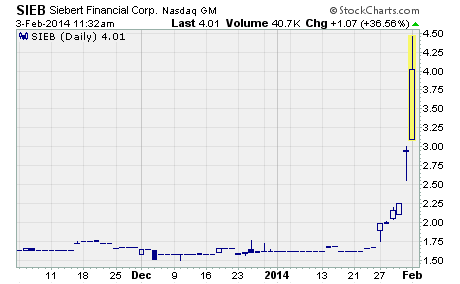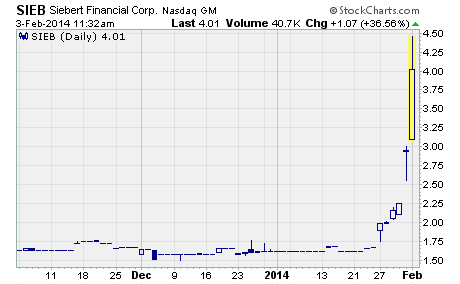 As you can see, the stock traded up from $1.67 to a high of $3.00 before finishing the week at $2.94 per share.  The strong move provided shareholders with a stunning 76% gain for the week. 
And the rally is continuing this week.
As I write, SIEB is up more than 35% to just under $4.00 per share!
It looks like Siebert Financial is another stock rising on the heels of a competitor's strong earnings report.  Late last week, Investment Technology Group (NYSE: ITG) reported fourth quarter earnings that were 37% higher than the analyst estimate.
In other words, it appears investors are piling into SIEB with the expectation that it too will report strong growth in the final quarter of 2013. 
The company is expected to announce earnings sometime between March 31st and April 4th.  Unfortunately, no analysts are covering the stock at the moment so there are no published earnings estimates.
China Gengsheng Minerals (NASDAQ: CHGS)
CHGS is on fire!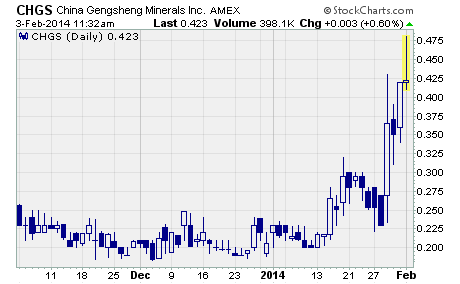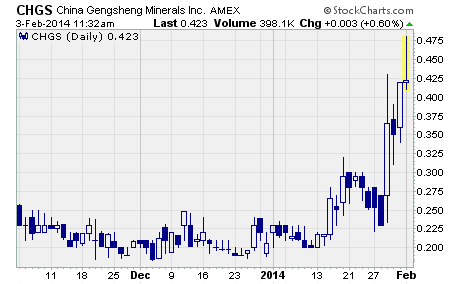 The stock rallied last week from $0.25 to a high of $0.43 before closing just off the high at $0.42 on Friday.  That's a 68% rise in just one week's time.  And the stock has gained more than 320% since hitting a low of $0.10 in early July 2013.
It's an impressive rally to say the least.
What does the company do?
China Gengsheng Minerals is a China-based manufacturer of mineral-based, heat resistant products for the iron, steel, oil, glass, cement, aluminum, chemical, and solar industries.  The company sells its products to customers in China and other parts of Asia as well as North America and Europe.
Why is the stock soaring now?
Unfortunately, it's not clear why CHGS is rising so rapidly in recent days.  There has been no breaking news that would explain why investors have been piling into the stock.  And the company has not yet reported fourth quarter and full year 2013 earnings.
It could be that the rally is being driven solely by technical analysis.  Or perhaps, there is some big news that will be released in the near future.  Whatever the reason, there's no doubt the uptrend in CHGS is gathering momentum.
Profitably Yours,
Robert Morris
Category: Hot Penny Stocks