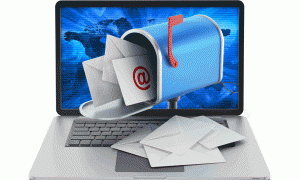 On Fridays we publish the extremely popular Pump And Dump Alert, which identifies penny stocks that are being pumped by penny stock promoters. Our goal is to expose potentially "bogus" promotions happening in the penny stock universe.
By bringing these to light, we help our readers avoid getting taken out to the woodshed.
Now, since we started publishing the Pump And Dump Alert nearly four years ago, it has become a huge hit with our readers. In fact, we receive email almost every day asking for our opinions on various penny stocks.
Unfortunately, we just don't have the resources to personally respond to every email.
To remedy this problem, we frequently publish the Penny Stock Research Mailbag to answer readers' questions about penny stocks. So, if there's a penny stock you'd like our opinion on, just shoot us an email at customerservice@pennystockpublishing.com.
Also, we'd appreciate any feedback you can give us about Penny Stock Research and my investment advisory, Penny Stock All-Stars.
Let us know what you really think about the websites and the content we provide. And if you've made money or avoided losses based on our research, analysis, or recommendations, we'd love to hear those stories too.
By the way, those of you who provide feedback and/or testimonials about Penny Stock Research or Penny Stock All-Stars will be more likely to have your questions answered here!
A Penny Stock Readers Are Asking About
One penny stock that we've received plenty of inquiries about in recent weeks is a tiny oil and gas exploration company called Bison Petroleum (NASDAQ: BISN).
This company was originally formed in February 2010 as GreenChoice International to market prefabricated log cabin homes in countries outside North America. But in November 2013, management gave up on its original business plan and decided to engage in the oil and gas industry.
This decision was accompanied by a massive promotion campaign for the company's stock.
Our sources indicate that a third party named Chennai Media spent at least $645,000 on the campaign. Those funds covered the costs of producing a research report on Bison and having it distributed through well known penny stock pumpers.
And the effort was a huge success…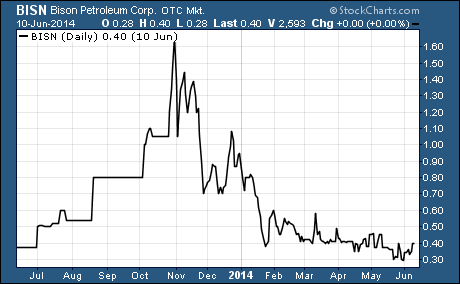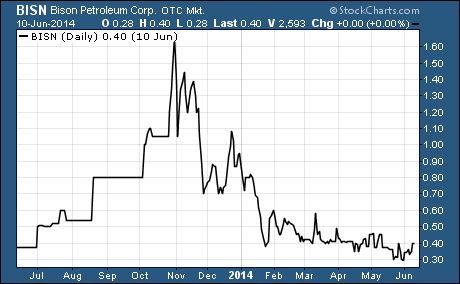 As you can see, BISN was trading for just 38 cents a share back in June 2013. It moved up to the 50 cent per share level in sporadic trading throughout July. And by the end of August, the stock was changing hands for 80 cents per share.
But in October, when the campaign began, BISN rocketed up to a high of $1.66 per share. And on November 1st the stock hit an all time high of $1.70.
At that price, the stock had gained a whopping 347% off the June low and 113% since the end of August.
However, as we've seen time and again with these pumped up penny stocks, the uptrend didn't last very long. In fact, BISN peaked just as the first round of promotional emails came out.
By late January 2014, the stock had plunged to a low of $0.31 per share. And it traded as low as 26 cents in the months that followed.
As I write, BISN is going for just 40 cents a share… that's 76% below the stock's all time high set in November.
The bad news for shareholders is that the stock isn't worth the paper it's printed on.
The company's balance sheet is rather flimsy at best. At the end of January, Bison had just $205 in cash, current assets of $150,205, current liabilities of 236,814, and a shareholder deficit of $86,609.
What's more, the company's not able to improve its financial condition organically as it is still in the development stage. Bison hasn't generated a penny of revenue since its inception. And over that same timeframe, the company has produced a net loss of nearly $1.7 million.
While Bison has acquired properties in Wyoming that may one day produce oil and gas, the company's merely in the initial exploration stages. It has a lot of work to do before it pulls anything out of the ground. And it will have to spend a good chunk of money just to find out if its properties have any resources in marketable quantities.
If you own BISN, I suggest you sell your shares immediately. There are better opportunities in the penny stock space than those being pumped by the hype machine.
Profitably Yours,
Robert Morris
Category: Penny Stock Tips